Range Rover SVAutobiography Dynamic 2017 Road Test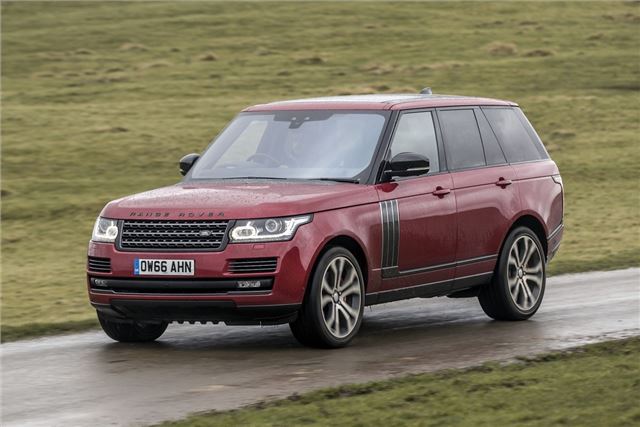 This is it kids – the most powerful production Range Rover in the world today. Its name? The SVAutobiography Dynamic. Catchy... well, maybe not. But when your main rival is called Bentayga, anything is an improvement.
And make no mistake, this is a car aimed squarely at its rivals. Having practically invented the luxury off-roader market 48 years ago, Land Rover's not keen about all these young whippersnappers with their fancy names coming along and nicking its ideas. The arrival of the big Bentley was the final straw for the boys from the West Midlands.
So JLR decided to re-route a few Rangeys off the production line and over to its fledging Special Vehicle Operations to, you know, see what would happen. Letting the grafters at the beating heart of Britain's motor industry get their hands on cars has almost always gone well – whether it was hiding the MG XPowerSV from BMW, or putting a V8 in, well, anything really.
The result is a Range Rover that's as quick as a Ferrari… albeit the 456GT from the 1990s. Actually, it would probably give a 911 Targa a scare thanks to the supercharged 558PS 5.0-litre V8 under the bonnet. The huge dollop of torque (680Nm) is certainly enough to rearrange your internal organs and contemplate if a butter-soaked bacon sandwich smothered in brown sauce really was the best thing to have for breakfast.
I know what you're thinking, 'how will I know that this really is a quick Range Rover and not just a Halfords special?'. Lucky for you, JLR has stuck a few things on it you can't buy from motor factors to make sure you know just who you're dealing with on the mean streets of the Home Counties.
For a start, there's an awful badge on the back with a spectacular clash of typefaces – part muscle car, part Italian design house. Also at the rear are four shiny chrome tailpipes while true car spotters will note some fancy side-vents and a poshed up grille. While the SVAD (as we're calling it for short) will be a rare species, you'll be able to spot sleeping ones from a mile away because not only are they lowered they're also sporting a clear warning to the unwary predator - bright red Brembo brake callipers… just like your mate Daz has on his 15-year-old Seat Leon Cupra R.
Inside, the driver will be constantly reminded that he's spent £132,000 on a Range Rover with some extra buttons (including one about dynamics) and two red aluminium flappy paddles. Because, as we all know, it's not a proper sports car unless it's got flappy pedals. Trouble is – this Rangey isn't a proper sports car, either. It's way better. Practically 'bostin' as the locals would say.
From the second you hit start and that big V8 burbles into life, you know that everything from this point forward is going to be brilliant. Lightly touch the throttle and the world suddenly lurches past your window. That'll be the more responsive throttle, then. Floor it you'll be a ton up before you know as the ZF gearbox rattles through most of the eight gears as quick as you like.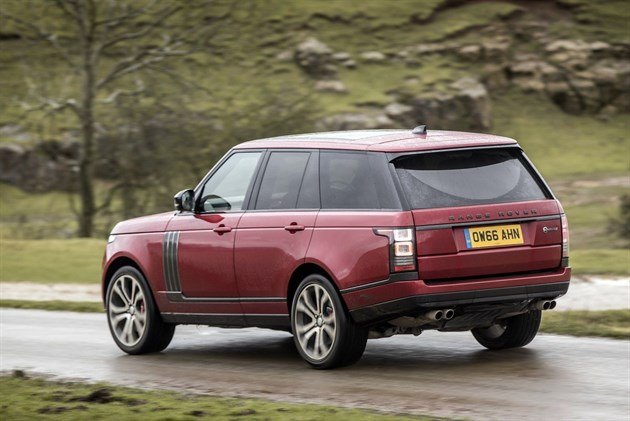 As well as the loud pedal, the steering's also been improved to feel a bit heavier and more dynamic. This, as well as some clever damping (see below) and a lowered ride make it feel nimble – in a way that a house on wheels never should. Impressive stuff.
Other 'improvements' include the ride. Which hasn't been improved at all. In fact, it's positively jittery on Britain's falling-to-pieces B-roads. It's the one thing that lets this car down… as any budding pub landlord will tell you.
We suspect this might be down to the 'adaptive dynamics' which, ahem, '…monitors vehicle movements up to 500 times a second, reacting to driver inputs and changes in the road surface to provide greater control.' That said, driver aids are generally a good thing and whatever the boffins have done it's worked - this crazy muscle car/4x4 stays firmly planted on the black stuff with minimal body roll.
Whatever the shortcomings, the SVDA is still nicer than my house and quicker. Sadly, people like me won't be able to afford the mortgage on one so it'll be sold either to rich footballers in Cheshire or sent to live abroad.