Land Rover Discovery Sport 2019 D180 SE Road Test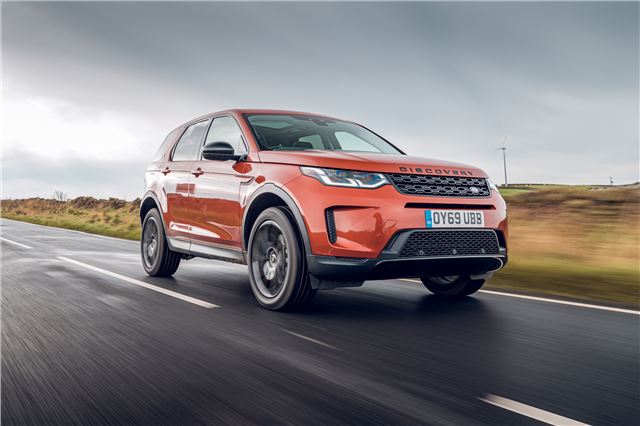 In 2014 Land Rover rebranded the Freelander and began calling it the Discovery Sport. It was officially to do with model harmonisation or something, but in reality it was a simple way of giving it some additional Discovery kudos by proxy. Plan worked. Despite being only average, really, Land Rover has shifted tens of thousands of Discovery Sports.
Here's the mid-life facelift. But far from being your bog standard revised grille plus new seat fabric kind of thing, Land Rover has put the Discovery Sport on a whole new chassis, given it a new interior, mild hybrid tech across the range, better off-road capability and significantly more interior storage. You do wonder why Land Rover didn't redesign the lights a bit more and call it a whole new model?
The answer becomes obvious when driving the thing - it's improved a bit in most ways but it's ostensibly the same car. That's fine, because it's now above average. But still not brilliant…unless you take it off-road, where it absolutely shines and will certainly do a better job than its natural showroom rivals, stuff like the Audi Q5, BMW X3, Volvo XC60 and, at a stretch, the Skoda Kodiaq and some Korean stuff.
The problem is, all of the aforementioned do a better job at being the archetypal school run SUV than this does. For all the Discovery Sport has improved, especially the interior, it's still a fairly lacklustre driving experience, and saying nothing of the reliability and dealer woes that plague the brand. Land Rover was placed 23rd in the Honest John Satisfaction Index 2018.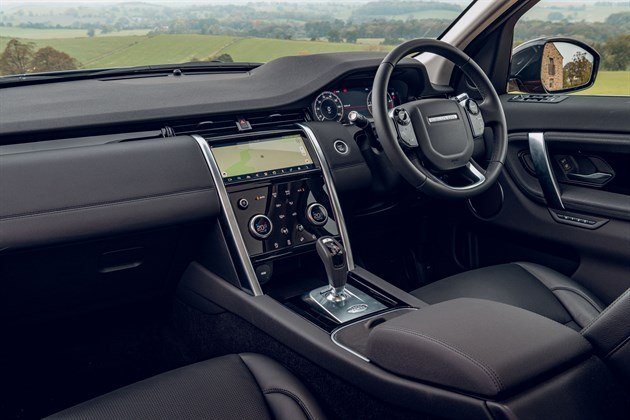 Anyways, let's talk about the good stuff. Starting with the interior, which is now comprehensively de-cluttered with a dual touchscreen setup in the centre console. It's neat but it's also intuitive because it retains a couple of massive multi-function knobs for temperature control and such like. It's also remarkably similar to what you'd find in the latest Range Rover Evoque. Land Rover's infotainment is ever improving too, featuring full Apple and Android connectivity, wireless charging and mostly intuitive software. It's standard across the range.
Some clever tech underpins the Discovery Sport, including a new Terrain Response system that detects grip – or lack of it – and adjusts the drivetrain accordingly. It also has four-wheel torque vectoring and a locking rear differential. As before it's five-seats as standard but all versions come with a seven-seat option. That means a huge boot: 754 litres with the seven-seater, or 897 if you do without. Plus Land Rover has bumped up all the interior storage...heck, there's even a new pair of cupholders for the rearmost passengers. This is a very practical family car, basically. That, combined with the lure of the Land Rover brand, will be enough to make sure the Discovery Sport keeps selling well.
Unfortunately there are a couple of fairly significant sticks in the mud. Firstly, the reality of being behind the wheel of this thing just isn't that illuminating, especially where the engines are concerned. The main reason that Land Rover has replaced the chassis is to accommodate its pledge to electrify its entire range in some way by 2020. That means there'll be a plug-in hybrid Discovery Sport at some stage, but for the time being all versions bar the basic 150PS diesel FWD manual get a mild hybrid system. In a nutshell it's a big battery - 48v - that harvests energy from deceleration and uses it to boost the engine a bit, improving performance and economy.
Nice idea, but the two versions of the Sport that we tried – the D180 diesel and the P200 petrol – both returned disappointing fuel economy for us (in the twenties) across 100-150 miles each of driving on varying road types. The outgoing Sport currently achieves a 35.8mpg Honest John Real MPG average across the range, for reference. Still, Jaguar Land Rover's four-cylinder petrol and diesel engines are gradually becoming quieter and more refined with each passing application. They remain a little course though, and in both cases fairly torque deficient; the sense that the Discovery Sport is a little too heavy for its engine is prevalent in both the D180 and P200, but more so in the latter. 
We prefer the diesel to the petrol – strangely, they seem pretty much on par in noise terms at the lower end of the rev range – and most buyers will find driving either version in gentle fashion perfectly agreeable. The nine-speed automatic transmission is reticent to kick down but it's smooth enough, and the Sport's ride quality is definitely on the luxurious side – if anything allowing too much body roll, albeit that's a necessity of the car's brilliant off-road ability. And although wind noise can be an issue around the pillars, it's no worse than anything else with this sort of upright bulk.
Ultimately, and to perhaps state the obvious, what you need from your SUV-shaped car will determine how appealing the Discovery Sport is. There's no doubt that its off-road ability is unmatched in this class – it wades deeper than the outgoing Defender, for example, and would easily get to the top of that mountain in Russia quicker than Rocky did – and it packs seven-seat space into a thing that doesn't feel too bulky. It's also perfectly adequate to drive and to look at.
The issue is that most buyers don't care about the off-road stuff and can find any number of SUVs with higher ostensible quality, more interesting interiors and a more interesting driving experience – and for a lower price. It doesn't necessarily feel any nicer or better put together than a Kia Sorento, a car that will give you seven seats (should you need them) and for many thousands of pounds cheaper than this. 
And so while the Discovery Sport is certainly improved and remains impressive enough to stay appealing, it remains a car with too many caveats to wholeheartedly recommend.
It's on sale now priced from £31,575.