Kia XCeed 1.4 T-GDi 2019 Road Test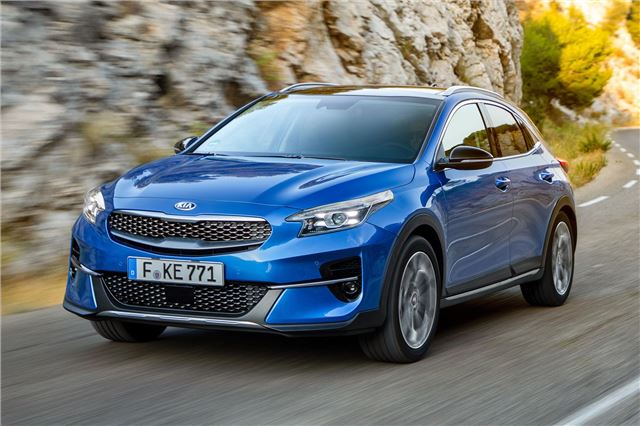 A Kia Ceed with a higher seating position and those oh-so-desirable crossover looks, the XCeed is a strong alternative to the likes of the Ford Focus Active and Volkswagen T-Roc. With prices starting at £20,795, it's around £2000 more expensive than the equivalent Ceed hatch - but we think it still represents good value for money.
As well as filling another niche in the SUV market, the XCeed broadens the Kia Ceed line-up - alongside the hatch, Sportswagon and ProCeed shooting brake. Unlike the Ford Focus Active, this is more than simply a Ceed on stilts, however. The only door panels it shares with the hatch are the front doors, and it sits 37mm higher than the regular car.
The interior feels very similar to the hatch, with lots of premium materials (more so than the larger Sportage) and some fresh technology including a new 10.25-inch media system. This widescreen system is standard on all but the entry-level '2' grade models, and offers a great deal of customisation, allowing drivers to switch profiles and view up to three apps at the same time. 
It's an easy infotainment system to use, and you also Apple CarPlay and Android Auto are standard across the range - a bonus that shouldn't be taken for granted when you consider expensive alternatives like the BMW X2 don't have this. It occasionally feels a little slow to respond but the directions from the navigation system are clear and the screen's position high up on the dashboard means it's easy to glance at during driving.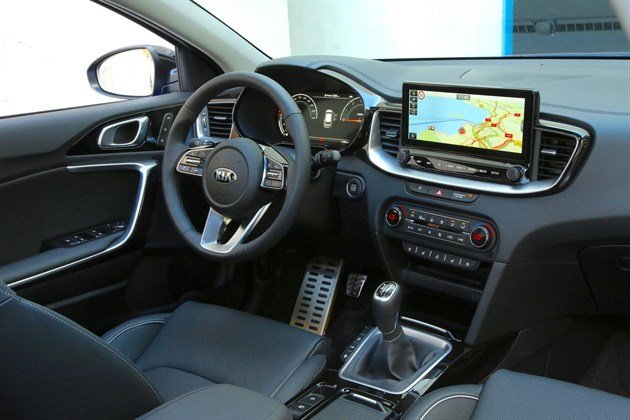 There's also a new 12.5-inch digital instrument cluster on the XCeed. Although a bit basic compared to premium rivals like Audi's Virtual Cockpit, it's clear to read and selecting sport mode changes the graphics. Kia says it'll have more tricks up its sleeve when plug-in and mild hybrid versions of the XCeed arrive in 2020.
In terms of space, there's plenty of it up front, with the XCeed providing a slightly elevated seating position - although you don't get the commanding view you get in bigger SUVs. Things are OK in the back, too, with enough room for a couple of adults, although it's not as roomy as the Sportage. The same could be said for the boot, which has a fairly high lip and the XCeed's sloping roofline means it's quite shallow. At 426 litres, it's comparable to rivals (and the rear seats can be dropped easily), but you'd be better looking elsewhere if practicality trumps style on your wishlist.
The most popular engine choice is expected to be the 1.4-litre turbocharged petrol, which we've tested here. It's a lively unit, offering enough performance for most buyers (covering 0-62mph in 9.5 seconds combined with the DCT automatic gearbox), although those seeking hot hatch thrills will be disappointed - the 204PS 1.6-litre petrol used in the ProCeed GT is available elsewhere but isn't destined for the UK.
Still, the 1.4-litre is a combination of performance and economy, officially returning between 45.6 and 49.6mpg - figures that are likely to be fairly realistic if the Ceed is anything to go by. We rate the 7-speed dual-clutch transmission - there can be a slight hesitation detected from time to time, but it's quicker to respond than the DSG gearbox used in Volkswagen Group alternatives. There's a six-speed manual available, too, which is fine to use - with a light clutch and precise change, if not as slick as that in the Focus.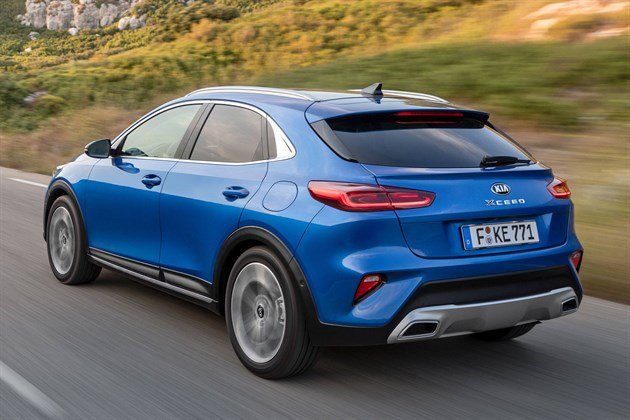 Kia's just announced a plug-in hybrid version of the XCeed. This combines a 1.6-litre petrol engine with a 44.5kW electric motor and a 8.9kW battery pack. We're yet to drive it but Kia says it's aiming for an electric range of around 37 miles. This means if you can charge a car at home and regularly cover short journeys, it might be worth holding on for.
In the meantime, the XCeed is a versatile car, equally at home in the city or the open road. Its ride is very good - a little harsh at car park speeds but smoothing out when you pick up the pace, even on larger 18-inch alloy wheels. It's a softer set-up than the Ceed hatch, meaning it might be worth paying the extra cash if you're looking for a car that can tackle bumpy roads without causing too much discomfort in the cabin.
In terms of handling, its steering is light and void of feel, but there's plenty of grip on offer and confidence soon builds on winding roads. Naturally, it's higher centre of gravity introduces a bit more lean in bends compared to the hatch, but it's not going to make your passengers carsick.
Not everyone will understand the logic behind the XCeed (why spend more than a Sportage on something less practical?), but it's an easy car to like. It looks the part and, while it's around £2000 pricier than the equivalent Ceed, it still represents good value for money compared to more premium alternatives. The interior is boosted by the new infotainment system and standard equipment is pretty generous.
The Kia XCeed is on sale now with deliveries expected from late September. Prices start at £20,795.
(Separate Road Test of KIA XCeed 1.0T-GDI '2 Spec' here.)