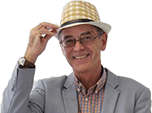 KIA Stonic 2017 Road Test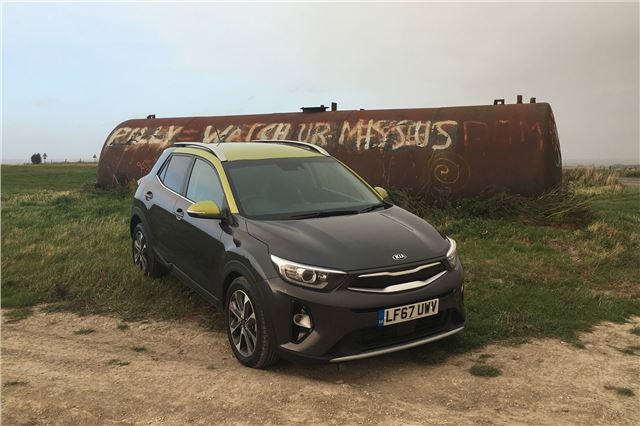 In the new KIA Stonic the first thing that strikes you from the driver's seat is how intuitive all the controls are.
Instead of impenetrable multi-page touch-screen i-drive, MMI or Command menus, everything has a switch within easy reach where your hand or your fingers naturally find it.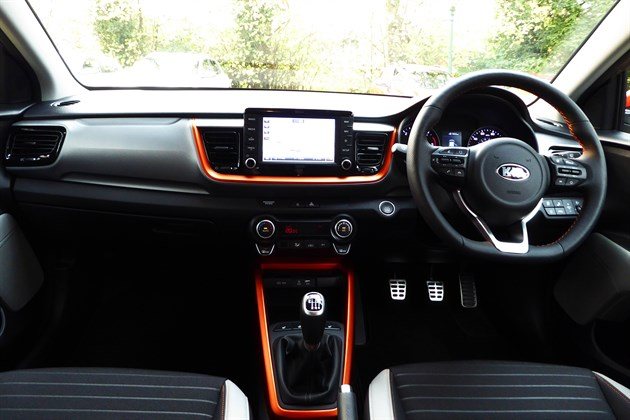 Big round knobs for the heating, ventilation and aircon. A slightly cluttered steering wheel with radio stations and volume controls on the left; cruise control and drive computer info on the right. Even the satnav works in an obvious way, instead of a German way. Touch the speaker icon and you can increase the stridency of the lady's instructions by a bar graph (instead of waiting until she speaks then desperately twiddling the radio volume). There's a proper dash with a digital speed readout that you can flip to fuel consumption with a twitch of your thumb. You even get a handbrake.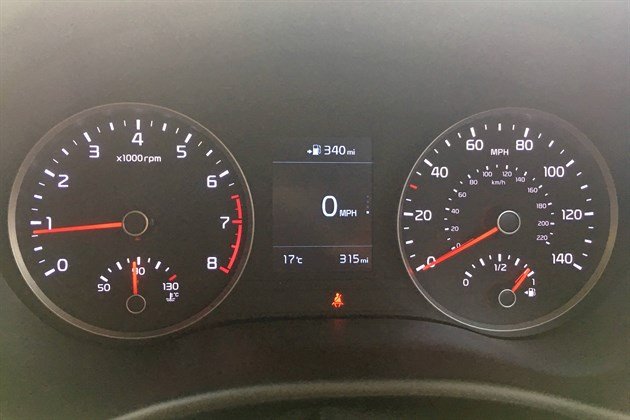 The result is that people of a certain age (over 30) are instantly at home and familiar with everything.
No wobbles across the road when the screen mists up and you need to redirect the air to it. No confusion with the cruise. No having to stop and read the manual to find out how to get Radio 4.
Outside it's as cheerfully nondescript as the rest of the new crop of high-riding mini-SUV crossovers that now include the original Nissan Juke, Peugeot 2008, Renault Captur, Honda HR-V, SEAT Arona, MG GS, Hyundai Kona, Ssangyong Tivoli, Suzuki Vitara, Ford EcoSport, Vauxhall Crossland X, Citroen C3 Aircross and Volkswagen T-Rock.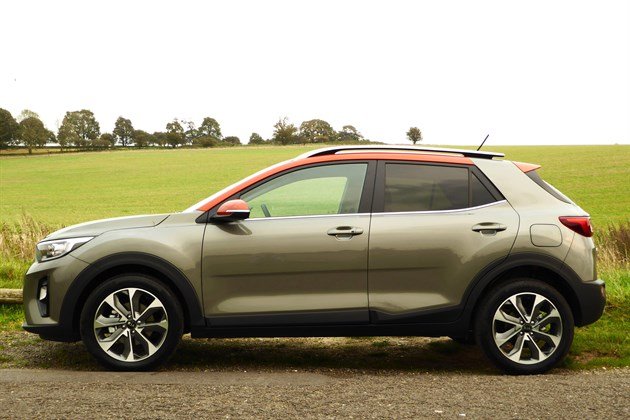 Sensible, Renault-like black plastic bump-strips adorn the door bottoms. Chunky 205/55 R17 tyres fill the wheel arches. 'First Edition' models are cheered up with two-tone paint in colour combinations such as met grey and light green that read odd on paper but actually look great on the car.
The seats are decent, with enough lumbar support at the base of the spine not to need an extra adjustment for it. The door pockets are massive with litre-bottle shaped alcoves.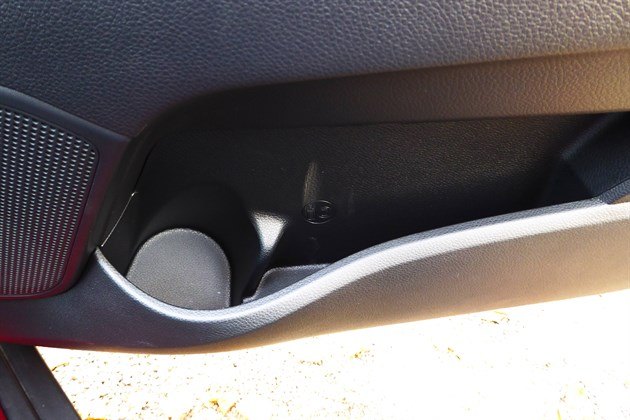 Under the bonnets is a choice of 998cc 3-cylinder 120HP turbo petrol and 1,368cc 4-cylinder 100HP MPI petrol engines, or a 1,582cc 110HP diesel, all with smooth shifting 6-speed manual transmissions. Prices kick off at £16,295 for a 2 spec 1.4 petrol and round off at £20,495 for a 1/6 diesel 'First Edition'. In line with the class average, but with the very significant benefit of a 7-year warranty rather than the usual 3, 4 or 5.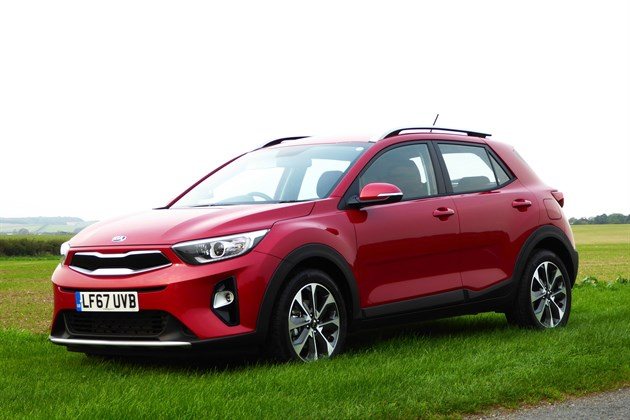 We drive a red '2 Spec' 1.0T GDI, a grey and orange 'First Edition' 1.6CRDI, and a grey and green 'First Edition' 1.0T GDI.
First impressions of the first were a perky, but slightly gruff engine and light steering, but a good combination of ride comfort and roadholding as we drove into the teeth of storm Ophelia that had a peculiar atmospheric effect on the sun, turning it into a sinister small orange orb. It was okay, more Vauxhall Crossland X than Peugeot 2008, but not bad. Over 62 miles, average fuel economy on the dash readout was 36.2mpg.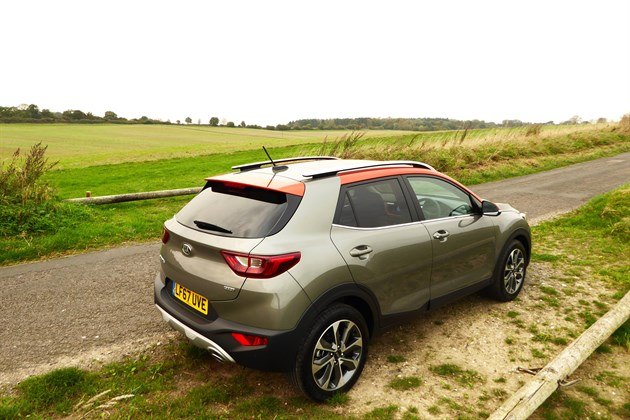 The 'First Edition' 1.6CRDI felt 'meatier' with more weight over the front wheels and, of course, greater familiarity on the part of the driver. With a lot more torque from the same 1,500rpm it also felt like it had a bit more grunt. (Far more than the KIA Rio that has to make do with a 90HP 1.4CRDI.) But that torque seemed to challenge the drivetrain that could occasionally give a momentary clunk when changing up from 2nd to 3rd. (KIA confirmed it does not have a dual mass flywheel.) Over 32 miles of country roads it averaged 43.1mpg.
Finally, I tried a 'First Edition' 1.0T GDI and I'm glad I did. This one had a more miles on it than the red '2 spec' car and was a lot livelier. I suspect it also had a bit less air in the tyres because the steering felt more positive. And, of course, by then Ophelia has all but given up in Oxfordshire. So this drive was delightful. Characterful. Fun. Out-cornering the inevitable Audi sitting on its back bumper. And rolling home after turning in 41.9mpg over the same 32 miles as the diesel.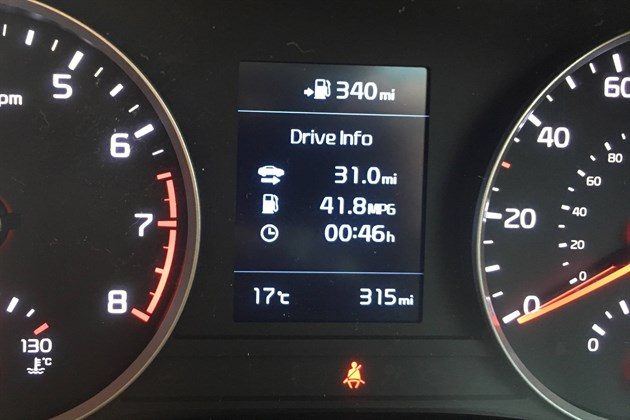 So that would be my choice.
More at KIA