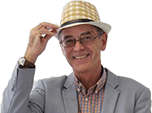 KIA Stinger 3.3 GT S 2018 Road Test

The spec sheet of the new 2018 KIA Stinger reads like something Audi, BMW or Mercedes might have concocted.
365HP, 510Nm, 3.3 litre turbocharged V6; 8-speed automatic transmission; 0-60 in 4.7 seconds; top speed 168mph.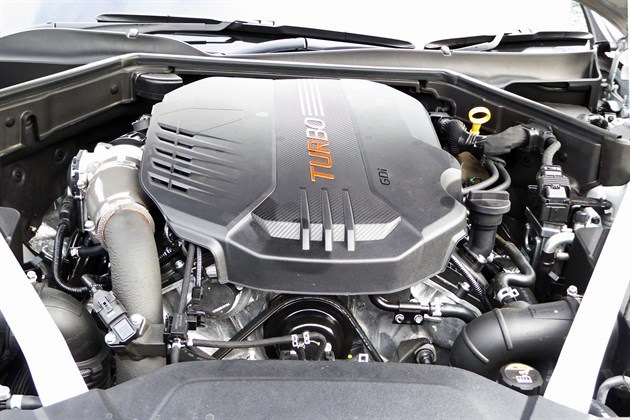 What was a value brand like KIA thinking about? Well, actually, £41,140 is very good value for a car that has all of this and a huge standard spec as well. And lucky you. Because, even though the on-the-road price is £41,140, subtracting the first year VED of £1,200 pulls that back to £39,940 so you don't get 'stung' with £450 a year VED for years 2 to 5.
You get 8-way electrically adjustable leather seats with multi adjustable lumbar support and powered cushion extenders; electric folding door mirrors with blind spot detectors; 8-inch satnav touch-screen; a head-up colour speed and satnav display; a heated steering wheel; 360 degree surround view when reversing, blind spot information in the mirrors and the HUD, an electric sunroof, a 15 speaker Harmon Kardon premium sound system with Clari-Fi and Quantum Logic Surround Sound; special paint. That sort of stuff alone can add £15,000 to the price of an Audi or a BMW.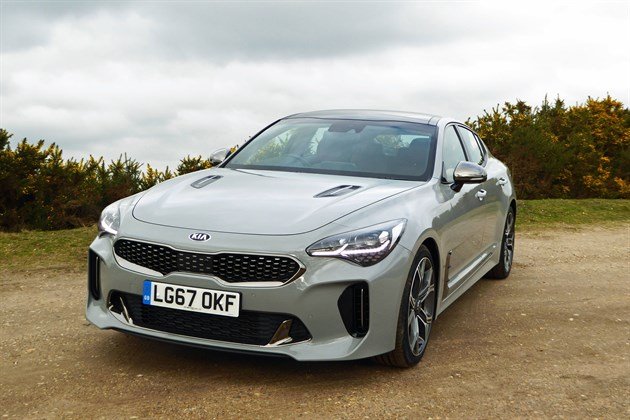 In the UK, we don't get four-wheel drive because it's not compatible with right-hand drive. So a certain amount of circumspection is required when accelerating hard on cold tyres on cold surfaces. KIA's 'Centrifugal Pendulum Absorber' reduces torsional vibrations and the traction control system makes sure the tyres don't overtake the car in normal driving. More about that later.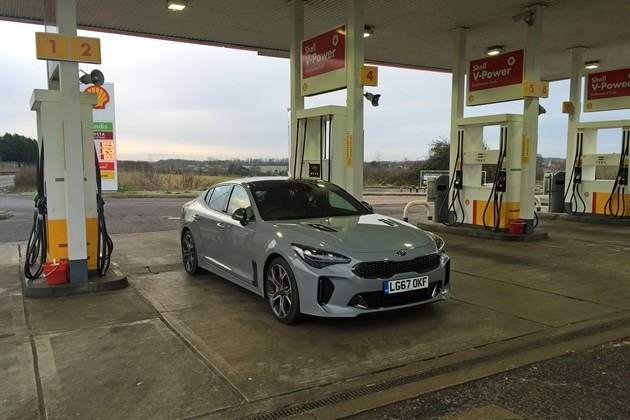 There are other Stingers apart from the 3.3 T-GDI GT S. You can even get one with a 197HP 2.2 R-Type diesel engine (as in the Sorento), or with a 244HP 2.0 litre 'Gasoline Direct Injected' petrol engine. On the Road prices start at £31,995. But this week we're driving the 3.3 GT S.
Peter Schreyer (the man who came up with the original Audi TT) and Gregory Guillaume designed the Stinger as a 'Grand Tourer', not as a sports car. "For the journey", rather than getting there as quickly as possible. And, on my first 200-mile return journey I saw 32.4mpg on the meter, which is rather better than the 28.5mpg NEDC combined.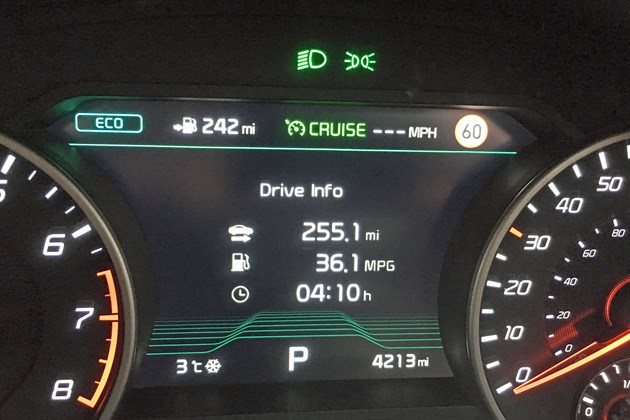 Later, on a 260 mile motorway run, I saw 36.1mpg on the meter and the calculated average over 609 miles, including 150 miles of harder running on A and B roads, came to 32mpg. This from a car that can do 0-60 in 4.7 and 168mph isn't bad. Slightly better than the 28.62mpg we got from a BMW M2 DCT over 1,452 miles.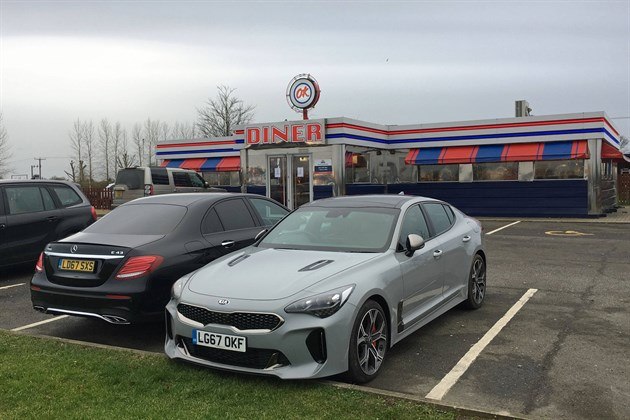 A week and a total of 800 miles with the Stinger taught me one thing. Don't listen to the opinions of anyone who has driven it for less than a day. There is so much to this car that you cannot discover all of it on short acquaintance.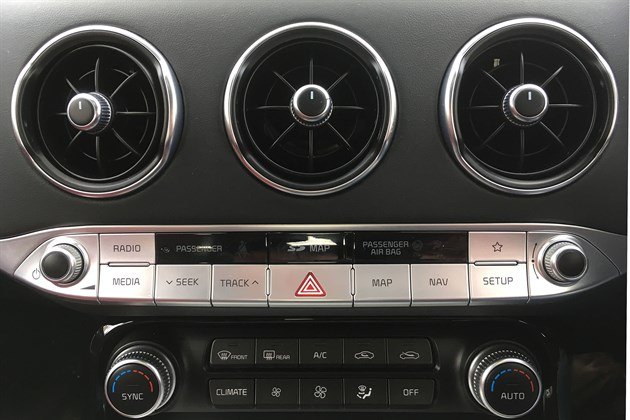 For example, many the essential controls are duplicated or even triplicated, so you don't have to fumble around in an impenetrable touch-screen menu just to adjust the climate control. You can turn up the radio on the steering wheel, by using a knob, or in one of the function menus: whatever suits you. Everything you want to know is easy to find. And all the switchgear is beautifully laid out and neatly designed.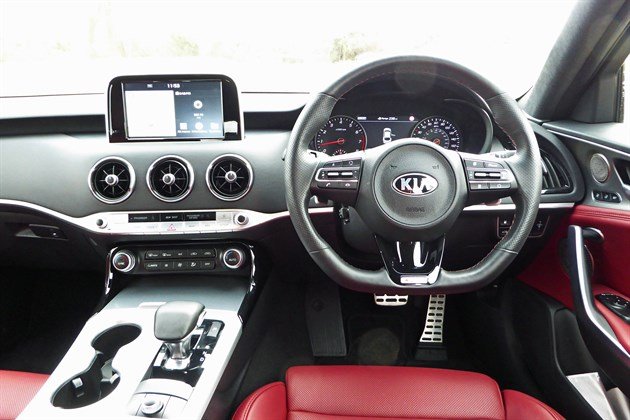 The Stinger has one of the best interiors I've ever been in. Very high quality, but not excessive. Steel and leather. No wood. No strange veneers. No trying too hard to give an impression of quality. This is the real thing. Perfect. Even down to the three central and two rear ventilation nozzles that work beautifully and look like they came from a 1999 Audi TT (I wonder why that can be?).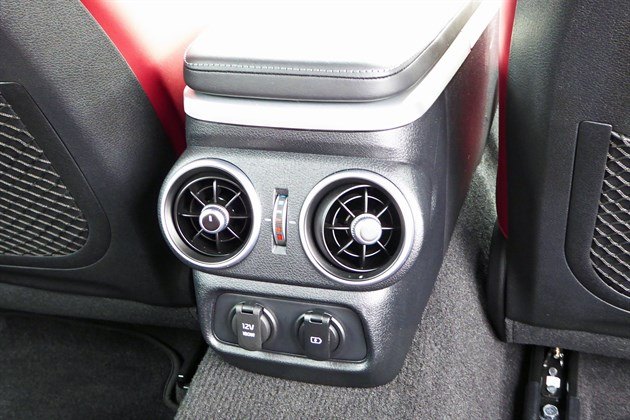 You don't have to mess about with over-complicated MMI or iDrive to change the drive mode. You just use a simple switch on the console. Default is 'Comfort', that actually gives a remarkably good ride for a car on steel springs and 35 profile rear tyres. You can switch to Eco, that got me that 36.1mpg cruising at 70 on the motorway. Then there's 'Smart', which is the smart choice because it gives you comfort, then tightens the car up a bit on the twisty bits. If you want to go nuts, select 'Sport', that holds the automatic gears up to 5,000rpm and, if you like to live dangerously, go for 'Sport +' that turns off the ESC and TCS and might be fun to paddle-shift in the summer, but isn't a great idea at ambient temperatures between minus 2 and plus 3 centigrade. It does feel quick, though. And stiffens the steering to build up your biceps.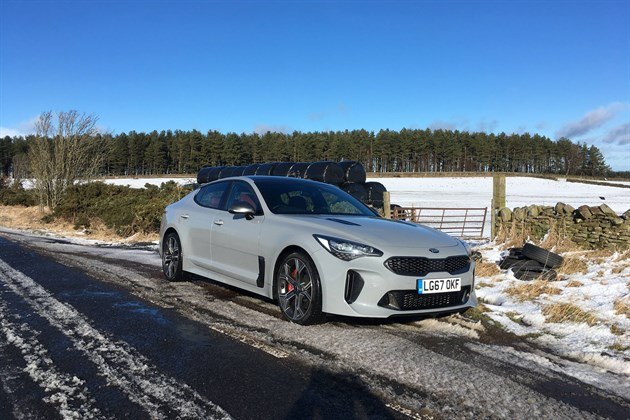 Faults and potential problems: There's no rear wiper, but the gently sloping rear window doesn't need one because muck is not flung up onto it. There's no spare wheel either, and not enough room under the load deck for a suitable space-saver. And the battery and significant electrics sit in a deep well under the load floor that could be vulnerable to water ingress (as in the case of the E60 5-Series).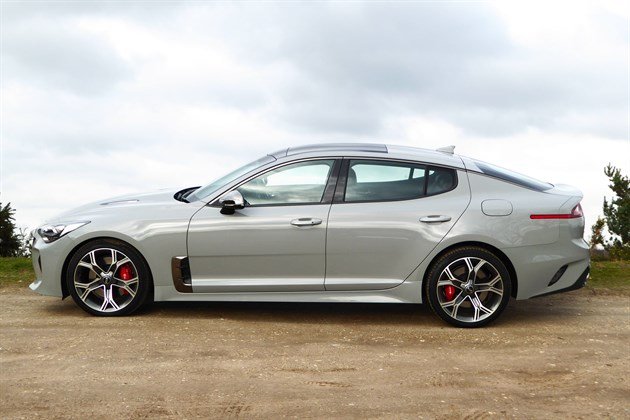 KIA is careful to label the Stinger a 'Gran Turismo', rather than a sports car. And, though the performance can be ferocious, they don't pitch it against the likes of an Audi RS4  or a BMW M3, or a Mercedes C63 AMG. You can drive it like a limo, using the acceleration only for overtaking.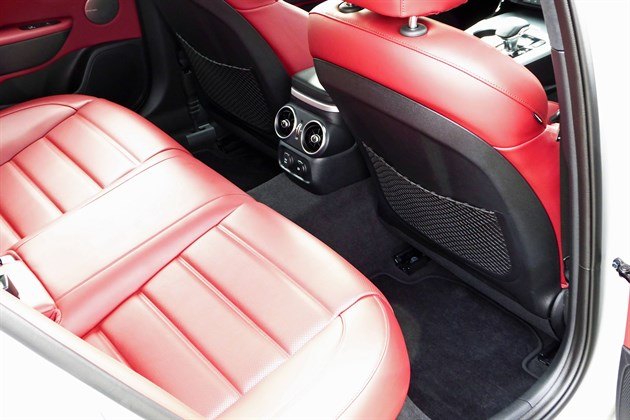 What is extremely impressive about the Stinger is its completeness (unlike the Germans you don't have to spend a fortune on extras because they're all there anyway). Its quality, because it is beautifully built, feels extremely solid and the materials, trim and ergonomics are first class. Its pricing, that puts its Road Taxable list price under £40k, even with special paint, so it doesn't get hit with £450pa VED. And its fuel economy because 32-36mpg is brilliant for this level of performance.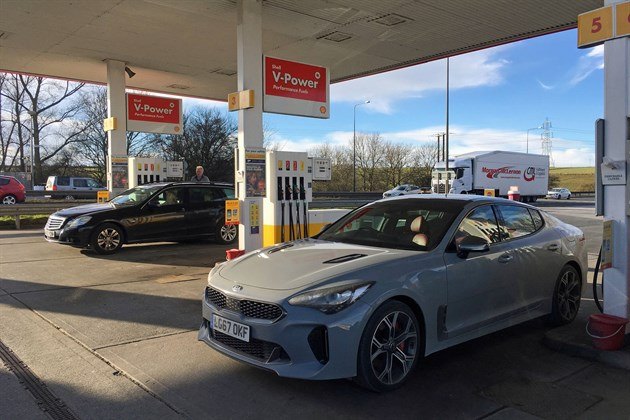 KIA wanted to prove a point, took eight years to develop the Stinger as its halo model, and used those 8 years to get everything exactly right.
If I were voting for Car of the Year 2018, the KIA Stinger would be my choice.
More at KIA