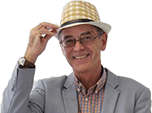 KIA Proceed GT 2013 Road Test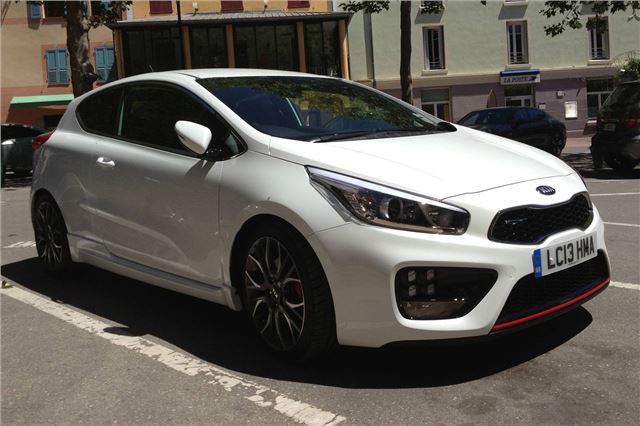 The KIA pro_cee'd, we drove in March was a great looking car looking for a great engine. The KIA pro_cee'd GT might have found it.
Power is 201PS at 6,000rpm, courtesy of a watercooled turbo on the familiar 1.6GDI. Torque is 265Nm, from 1,750-4,500rpm, with 212Nm from 1,500rpm. So, in theory, it should be up there with the similarly priced Peugeot 208GTi, RenaultSport Clio and Nissan Juke Nismo, and the much cheaper Ford Fiesta ST.
The figures are: 0-60 in 7.4, top speed 143mph, which is the same top speed as a 208GTI, but a second slower to 60. 
Is that the point, though?
Arguably not, because the pro_cee'd GT is a bigger, posher, full 5 seater car that simply goes as well as it looks as if it would go without having to beat everything else.
You pay between £19,995 and a stiffer £23,995, which is about the same as a 208GTI and at least £5,000 cheaper than a VW Golf GTI.
But, of course, there's no chance of converting a Golf GTI fan or even a Scirocco aficionado to a pro_cee'd GT. They won't budge.
And it's a bit juicy, offering only an EC 38.2 mpg compared to 47.9 for the 208GTI and Fiesta ST, and 171g/km CO2, which puts it into the £200pa VED bracket, whereas the 208GTI and Fiesta ST get away with just £125pa.
You sit in a pair of part-leather Recaro bucket seats, both height adjustable and both with electric lumbar adjustment.
The speedo answers criticisms of the standard cee'd speedo, being TFT LCD and offering an analogue face with economy meter, or a yellow digital speed readout with natty torque and turbo boost displays. And you can easily switch between kmh and mph.
KIA honestly told us, "Although it was rigorously tested there, the GT is not aiming for ultimate Nurburgring Nordschleife times."
So we began our test drive with lowered expectations, on the same roads on which we'd driven the Fiesta ST and Peugeot 208GTI, but, interestingly, in the opposite direction.
You don't get a choice of steering settings on the GT and, though the steering is a bit lower geared than on the Fiesta ST, there still appears to be plenty of 'feel' through the wheel.
Uphill hairpin bends require a degree of commitment to keep the engine on the boil in 2nd gear, but when you're sure a mobile home or a peleton of pedallists aren't coming in the opposite direction the car works well and understeer is well contained.
On more open corners it's pretty damn good. Ultimately a Fiesta ST is just that extra bit sharper, but I wouldn't say that a 208GTI was. Maybe that's because you can play with the pro_cee'd GT a bit more. You can make it understeer, or make it grip, or make it drift, you can feel what's going on, and you never get any nasty surprises.
Ride's not bad either on those 225/40 R18 tyres. Though, on the same roads, ride wasn't bad in the Fiesta ST and 208GTI either.
It wasn't so much fun on the vicious rumble strips at Nice airport, that even set off the ABS for the first time on our drive. So I can't say for certain how it will ride on our 13 years of mismanaged pothole and hump strewn roads in the UK.
But, like all cee'ds (and Hyundai i30s) the pro_cee'd GT is properly sprung, independently at the back as well as at the front, like a Focus ST and a Golf GTI.
Later, there is almost certain to be a 5-door cee'd GT that doesn't quite have the coupe like looks of the pro_cee'd GT, but is a lot easier to strap kids into the back of.
There's no doubt that the British carbuying public has taken to KIA styling in a big way. There are now more than half a million on our roads. I can even imagine two-KIA households, with a Sportage or Carens for kiddie ferrying jobs and a pro_cee'd or pro_cee'd GT for business.
And with a 7 year/100,000 mile transferable warranty on all of them, those households won't have gone far wrong.
Road Test and Video of KIA pro_cee'd 1.6GDI and 1.6 CRDI.
More at KIA