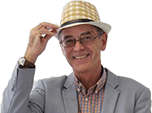 KIA Niro 2016 Road Test

The KIA Niro is KIA's first petrol hybrid available in the UK, and also one of the first mid size petrol hybrid SUVs in the UK.
It has the same puppy dog look as the current Sportage at the front and is hard to distinguish in a rear view mirror. Eyes a bit wider apart, perhaps, and the side has the shape of a scaled-down Sorento.
Plenty of room inside. Comfortable multi-adjustable seats. And a metre wide load deck 780mm long that extends to 1,600mm with the rear seatbacks down.
Beneath the bonnet you get Hyundai/KIA's familiar 1.6GDI engine, here running an Atkinson cycle, like a Prius, that better suits a hybrid drivetrain. The engine puts out 105HP and the electric motor 43.5HP, giving combined power after losses of 140HP and 265Nm torque, which is respectable for a car of this size.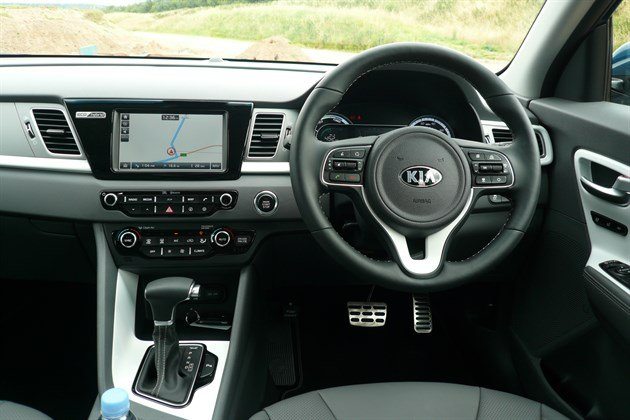 Unlike a Prius it has a 6-speed double clutch transmission, so there is a much more direct correlation between the engine speed and the speed of the car than with an epicyclic CVT. A new 'Transmission-Mounted Electric Drive' allows the power and torque of both petrol and electric motors to be transferred in parallel to the front wheels with minimal energy loss. So, with that 265Nm combined torque from just 1,000rpm, it's actually quite punchy. Enough that we passed a Porsche 911 on a hill, though obviously the Porsche wasn't trying.
That doesn't mean blistering burn-outs from a start. I couldn't actually get the wheels to spin. Yet, once on the go, you can fling it about a bit, while the American style foot operated parking brake provides the potential for 'footbrake turns' on a loose surface.
We drove both a Grade 2 spec and a First Edition spec. Apart from a higher level of kit in the First Edition, including autonomous emergency braking, blind spot detection, smart cruise control and rear cross traffic alert for backing out of parking spaces, the First Edition gains smart grey leather upholstery and glossy white trim panels like those on the latest Toyota Prius. Either you'll like these or you won't.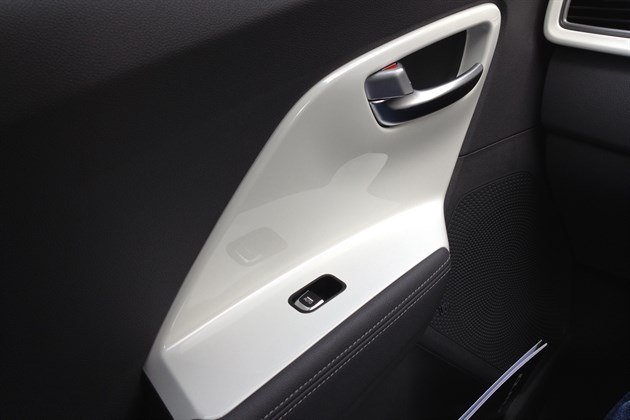 The external distinction between Grade 2 and First Edition is 16-inch wheels with 205/60 and 18-inch wheels with 225/45 tyres. Since there wasn't much difference in steering feel or cornering grip, we recommend the 205/60 R16s that bring the Niro in at 88g/km CO2 (free VED) and a NEDC 74.3mpg combined rather than the 101g/km and 64.2mpg of the 225/45 R18s.
All have giant bottle sized door bins front and rear.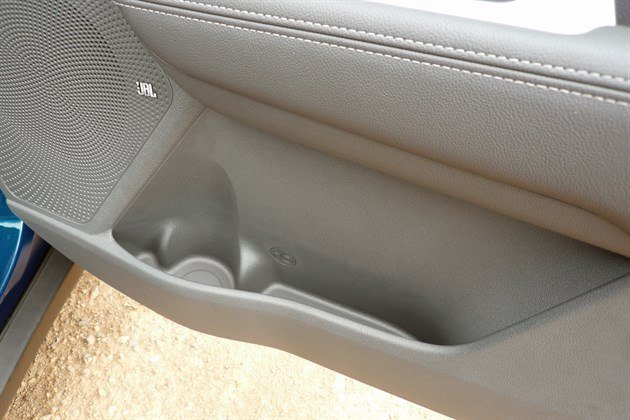 Apart from the lack of diesel rattle, in Real MPG terms this puts the Niro neck and neck with diesel SUV crossovers such as the Honda HR-V in which I'm currently averaging 59mpg. While impending legislation is likely to make cities a lot friendlier towards petrol hybrid SUVs than towards diesels.
The KIA Niro isn't a country car like the Dacia Duster also tested this week. There is no four wheel drive option and the 2WD won't take you down muddy lanes and across fields. It's very definitely a suburban SUV where its environmental friendliness, fully automatic driving characteristics, good looks and decent quality trim are better suited to school runs, supermarket shopping and garden centres. And, of course, getting in and out for those a bit stiff of limb.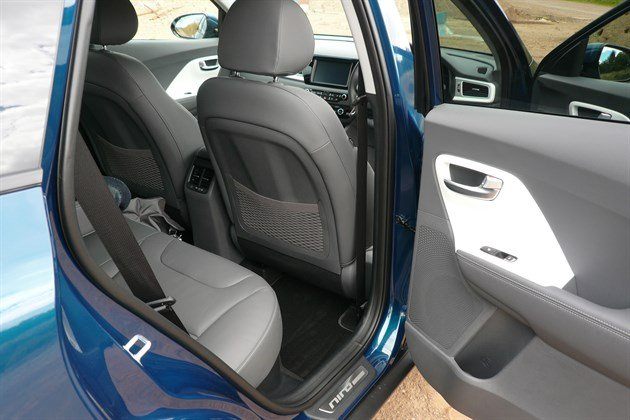 It's well priced against Qashqai, Kadjar, HR-V, Tucson and KIA's own popular Sportage diesels. Forthcoming petrol hybrids from BMW, Audi and Volkswagen will be significantly more expensive.
So KIA has found another niche to fill and, prior to this test we were already receiving enquiries.
More at KIA