Jaguar XKR-S 2011 Road Test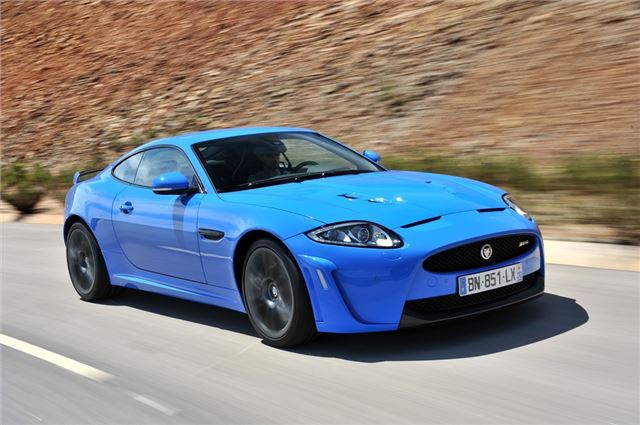 It's easy to think the XKR-S is just a marketing ploy by Jaguar. After all, the standard XKR isn't exactly short on pace with 510PS on tap from its 5.0-litre V8 engine.
So what better way to make an even more exclusive model than by boosting power, sticking on a bodykit and upping the price. Oh and add an 'S' on the end of the name too.
But while it's true the XKR-S is considerably more expensive, with an eye-watering list price of £97,000 (about £20k more than the XKR) and more powerful with 550PS from the same supercharged engine, this Jaguar is a very different animal from any other XK. The brand is well known for making powerful and quick motors but agility hasn't always been a strong point. However, the XKR-S changes all that. It's a proper sports car that's good enough to sway even the most committed of Porsche or Aston Martin owners.
It's not just about sheer power though. True, the XKR-S is the most powerful production Jaguar ever made with an identical output to the famous Jaguar XJ200 and even more torque with 680Nm. This gives it a 0-62mph time of 4.4 seconds - that's 0.4 of a second faster than the XKR if you're wondering while the limited top speed has also been upped from 155mph to 186mph.
But these figures only tell a small part of the story. Compared to the already impressive XKR, the S takes everything up a big notch with more of a focus on agility and dynamics. The Adaptive Dynamics suspension system, which helps control body movement plus pitch and roll, has been changed so there's a bigger range between the softer and firm settings. The result is that while the XKR-S feels noticeably firmer than the XKR, it's still comfortable enough in everyday driving. This is no stripped out track day special.
In fact around town and at low speeds, the XKR-S is a very civilised coupe. It's everything you'd expect from a Jaguar with great refinement and smoothness. Apart from the low rumble of the V8 engine, there's little to hint at the performance it's capable of - from behind the wheel at least. The interior isn't particularly different from a standard XK aside from stitching on the leather and new Performance Seats with more side support (especially good around your shoulders). There is a nice finish to the doors too with a sort of carbon-fibre look in the weave though.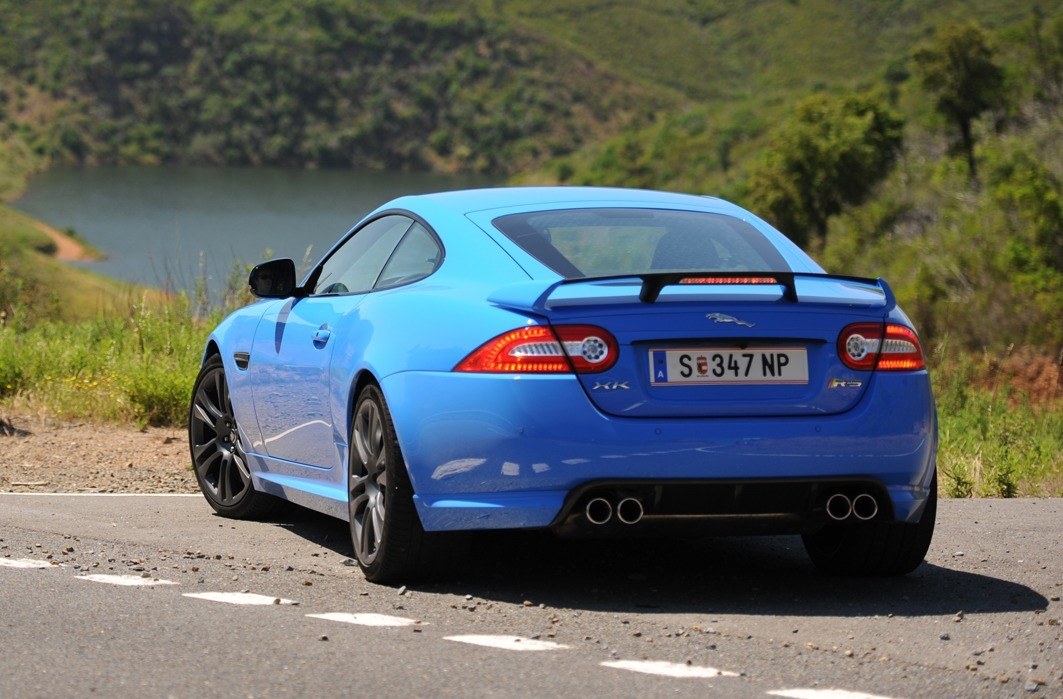 It's on the outside where the XKR-S really stands out. There's no mistaking this for any other XK thanks to its unshamedly hardcore performance look. At the front it's got a new nose with a deep carbon splitter plus two new vertical fins at the bumper sides to aid aerodynamics. The standard alloy wheels are big 20-inch affairs which come in the matt black you see in our pictures plus chrome silver and gloss black finishes. It also has different front wings while at the back there's a unique bumper, revised rear light clusters and a new bootlid complete with a fixed carbon spoiler. This is one Jaguar with some serious road presence.
To cope with the extra power Jaguar has upgraded the suspension, gearbox and steering. The XKR-S sounds immensely good too. Those four exhausts emit a purposeful low roar when you press the engine start button although at low speeds they don't sound that different from an XKR. However, put it into Dynamic Mode and it comes to life with great V8 sound that sounds like a Spitfire at full throttle. The noise is reminiscent of American 60s muscle cars of the Ford Mustang ilk and it's worth a quick prod of the accelerator for the sound alone.
Dynamic Mode adjusts the torque delivery and gives faster gear shitfs, while firming the suspension up. It also shows what the XKR-S is really capable of. The handling is simply breathtaking with immense levels of grip, most impressively so at the front. For a big coupe, the XKR-S is amazingly nimble and even if you throw it into a corner a bit too quick, it's very forgiving and will rarely understeer, instead flowing neatly in the direction you point it. Helped by revised front suspension and stiffer springs and dampers.
Even with all that torque going through the back wheels the XKR-S never feels unruly and puts its power down without any fuss. If you really push it on a corner-ridden road you can find the DSC traction control starting to intrude a fair bit. But Jaguar has the answer with its Trac DSC. This is bespoke for the XKR-S and allows a bit more slip before it kicks in, so you can make quicker progress and have fun, but still with the stability control safety net there should it all go wrong.
The steering has been recalibrated so it's now quicker and more responsive and there's even a bit more feel too. This was one change that came about following feedback from current XK owners who said the steering was too light. So Jaguar has made the steering on the standard XK far more reactive and it's a real highlight in the XKR-S. The chassis is superbly balanced too and makes this Jaguar an absolute joy to drive. Unlike other peformance cars, you don't have to be going like a bat out of hell to enjoy it, you can get just as much reward at relative sedate speeds.
The mammonth V8 under the bonnet is a thing of wonder and provides seemingly never-ending acceleration so that the XKR-S will pull superbly in any gear. The power delivery is linear, predictable and smooth while the huge brakes provide great stopping power, instilling plenty of confidence from behind the wheel. It's stormingly fast away from standstill  but what is more impressive is the mid-range acceleration from around 50mph. On the motorway it will sit at 70mph without even breaking a sweat while at Autobahn speeds it's supremely refined and incredibly stable.
The likes of Porsche may be more recognised for performance coupes, but the XKR-S is right up there with the best the German brand has to offer. Best of all it genuinely has that feelgood factor about it that's not always evident in some of its rivals, believe it or not. This Jaguar is one seriously good car and an absolute riot to drive. And you don't have to sacrifice everyday comfort just for the sake of performance. We're already saving up for one...