Jaguar XF 2.0d 180 AWD 2016 Road Test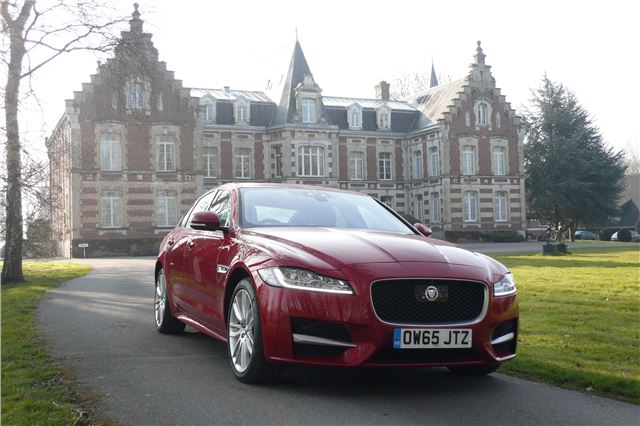 Driving the new Jaguar XF 2.0D AWD 700 miles from Chambery to Hearthrow wasn't the most comprehensive test of the car, but it did at least confirm its surefooted cruising ability.
You'll find a range test of the Jaguar XF here, covering the Ingenium engined 2.0 litre 180PS/430Nm diesel, the 3.0 litre 380PS 3.0i S/C and the tremendous 300PS/700Nm 3.0S diesel. Our long-distance car had the 180PS/430Nm 2.0 diesel engine and 8-speed autobox.
The first point worthy of note is the odd shape of the trunk. At 540 litres it's big enough, but the floor slopes upwards over the rear suspension, so cases simply slide down to the rear until other stuff is loaded to keep them in place.
The second is that, though there's more rear legroom than in the Jaguar XE, there's not a huge amount behind a tall driver.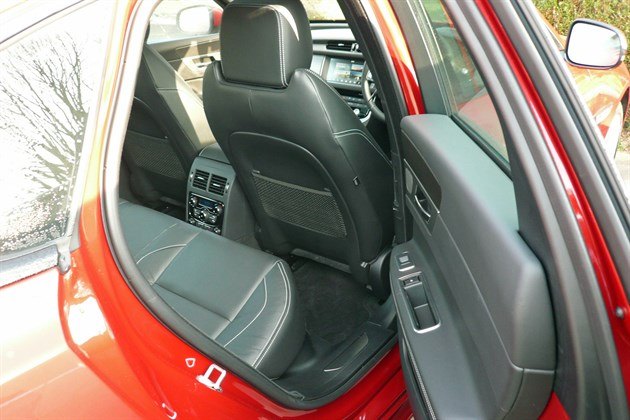 But these are relatively minor quirks. Our test proved conclusively that the car is extremely comfortable, economical and safe to drive long distances.
Cruising at the 82mph French limit and the 70mph UK limit, without hitting traffic, we averaged 43mpg on the trip meter. That's only a few mpg worse than in a 1.7 litre KIA Optima on a similar journey on mostly the same roads. We don't yet have any Real MPG figures to compare this with, but I think, in the UK, with its endless stretches of 50mph 'smart' motorway upgrades, I'd probably get about 50mpg.
Obviously we couldn't check the car's cornering grip because, apart from motorway slip roads, our route didn't take us round any corners. However, what was impressive was the feeling of security imparted by the four-wheel drive system. The car simply stayed planted, unaffected by crosswinds or vortexes caused by huge XPO Logistics (formerly Norbert Dentressangle) trucks. We did get a bit of frost on the second morning but none of it on the roads to affect the 245/40 R19 Pirelli summer tyres.
Despite the low profiles, the suspension and tyres provided excellent, absorbent and unwallowy ride comfort. Unfortunately, neither Michelin nor Nokian yet do all weather tyres for the XF with either 18" or 19" wheels, so for winter conditions it means a swapover every November to full cold weather tyres, or a wheel change to 17s and 225/55 R17 CrossCimates or Weatherproofs.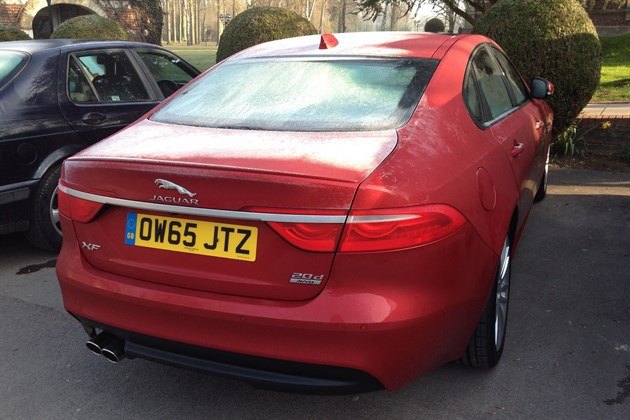 The engine develops 430Nm torque from 1,750-2,500rpm, and 8th is geared at 40mph per 1,000rpm. That means when cruising at 70 to 100 you're running at the ideal maximum torque. But you don't get a slug of torque at lower speeds, accelerating out of roundabouts, for example. So while the XF 2.0d 180 is an excellent, effortless cruiser, you do feel it putting the effort into acceleration. Of course, if you want sublime, strong acceleration anytime, you can go for the 3.0d S with its monster 700Nm torque.
Our final test was to load the XF up with wine: 30 bottles in the rear footwell and 60 in the trunk. This didn't seem to affect the car's composure at all, even driving on and off 'le shuttle', so Mike Cross and his gang of suspension specialists at Jaguar seem to have got their springing and damping exactly right.
And that's it. All that remains is the money that, at an average £2,000 more than the rear wheel drive XF, seems a fair price to pay for the extra security and stability of the XF AWD.
More at Jaguar