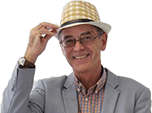 Jaguar F-Type 2013 Road Test

The Jaguar F-TYPE has finally arrived, more than 50 years after Jaguar launched the E-Type to an awestruck world.
And Jaguar is back to building sportscars, as well as grand tourers and saloons.
Just as the E-Type's separate passenger tub and engine frame were revolutionary in their day, the F-TYPE breaks new ground with a combined body and chassis made out of recycled aluminium that weights a mere 261 kilos. Two men can pick it up.
Add everything else and the entire car weighs 1,600 – 1,665 kilos, which is still light for a sportscar with engines offering 340 to 495PS.
(On a good day the original 3.8 E-Type offered just 265PS.)
It comes as a roadster only, with a canvas top that goes up or down in 12 seconds. And there's logic in that. The F-TYPE is a fun, fair weather car for people who have something else as well. It isn't built to pound the motorways as a repmobile.
All have 8-speed 'Quickshift' automatic transmissions, which again is entirely logical. The more ratios the better for exploiting engine power and torque, and paddles that turn with the steering wheel are a far quicker way of swapping ratios than messing around with a lever between the seats. (Ferrari doesn't offer a manual option on the 458 Italia either.)
And all of the engines are supercharged, putting out 340PS and 380PS as 3.0 litre V6s and 495PS as 5.0 litre V8s and giving instant response to the accelerator switch.
0-60s are respectively 5.1, 4.8 and 4.2 seconds.
CO2s: 209g/km, 213g/km (£280 tax) and 259g/km (£490 tax). Fuel 'economy' in the EC lab tests: 31.4mpg, 31mpg and 25.5mpg.
Prices: £58,500, £67,500 and £79,950, before you start loading the cars up. Though, to be fair, they all come with such things as satnav, DAB radios, Bluetooth, Xenon headlights, Dynamic Drive system and cruise control.
To break us in gently, Jaguar put us into the 340PS 3.0V6 first, and it rapidly became apparent that to get the best out of the car you had to paddle rather than leave the box to get on with it by itself.
The cars had a significant extra: Jaguar's barely legal 'Active' exhaust that turns the burble into a banshee wail that snaps crackles and pops on the overrun a lot louder than any Rice Krispies ever did.
It's good to drive. Comfortable on standard 18" alloy wheels. A more luxurious alternative to a Porsche Boxster, if not offering quite the same level of driving "feel" and agility to perfectionists. For probably 75% of the people who buy a Porsche Boxter or specify one as their company car, it's a very viable alternative.
Next up, the 380PS F-TYPE 3.0V6 S, which we drove both on track and on the road. 
For your extra £9,000, besides more 40PS, you get 19" alloy wheels, standard Active Sports Exhaust, Sports Suspension with Active Damping, a mechanical limited slip differential, bigger brakes and some trim improvements.
This is quicker, and louder, and could be used as an occasional track day car if you were so inclined. Nice, responsive steering, easy to 'place' on the road with an astonishing absence of understeer. Even on the track, very little tyre squeal was coming over the airwaves.
The DSC is not intrusive, 'Dynamic' mode reduces it, and even switched off altogether, the car is so well balanced it's actually difficult to get out of shape rather than requiring any skill to control.
And it's a revver. Drive it quickly and you will regularly see 7,000rpm, which probably isn't very good for the catalytic converters.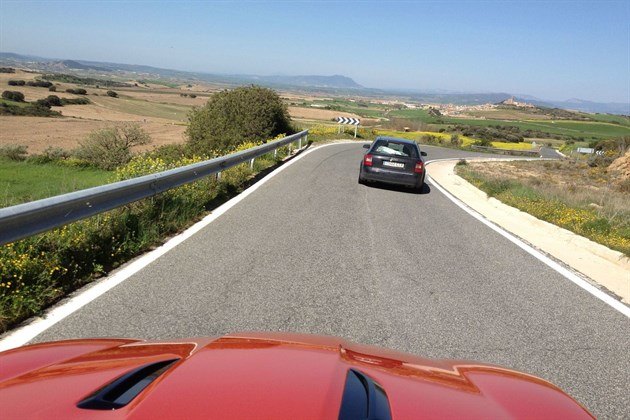 Off the track and onto the road, though, you start to feel the lower profile of the tyres (these were 20", not standard 19s). The ride itself is fine. Jaguar has Mike Cross to thank for that and he's the best chassis engineer in the business. But with less rubber between the rims and the road you do feel ridges and potholes.
Being a progressive sort of company Jaguar saved the best until last: the 495PS F-TYPE V8S and nearly 200 glorious road miles.
I got the hot seat first and was relieved to find that around town it may be a Jaguar bit it's also a pussycat.
However, switch to 'Dynamic' mode, turn the DSC off and it's a tyre smoking dragster.
In the V8S, health and safety dictates that 'Dynamic' doesn't reduce DSC as much as it does in the V6S. If you want to set fire to the back tyres on hairpin bends you have to switch it off completely. And then you may find that a bit later in your journey, it has decided to switch itself on again. After all, you are not supposed to drive cars in full blooded drifts on the public highway even though they are as controllable as this one.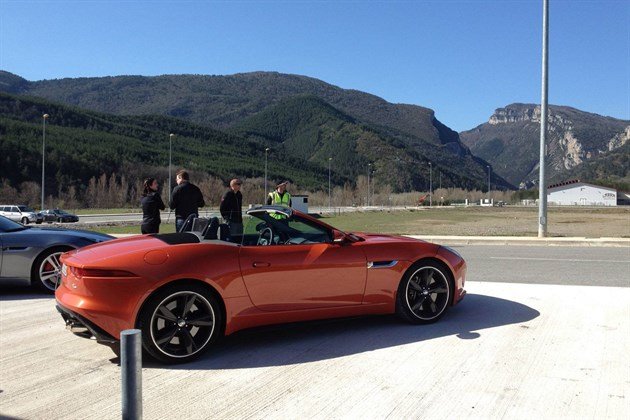 The penalty for our exuberance was a nearly empty fuel tank. So don't reckon on 25mpg if you're hooning an F-TYPE V8S. Think more along the lines of single figures.
But on the Motorway or Autoroute or Autovia, despite the ECDC 25.5mpg, if you set the cruise to 75 I reckon you'll see 30mpg plus, and 35mpg plus for the V6s.
One slight bug that begs to be mentioned is the size of the boot. It's 196 litres, spread fairly flat. Not enough to take the contents of suitcase that you'd typically take on a holiday flight. And if you specify the optional spare wheel for a 'dirty weekend' away, it will be. Because you'll have no room for a change of clothes.
Verdict? Well, all these F-TYPEs are more my kind of car than a Porsche Boxster, even though all Boxsters including the Boxster S now ride well, are cheaper and have decent luggage capacity. Even so, I'd rather burble about rather than attempt to shave milliseconds off my time from Sainsburys to Waitrose. And to my mind a Porsche 911 should have a tin top, not a folding one, plus the letters 'RS' in its name somewhere, which makes it massively more expensive than an F-TYPE.
We shouldn't forget the BMW Z4 35i, though, which, with 340PS, gives the base F-Type a run for its money, is much cheaper, has reasonable luggage capacity even with its electric folding hard top stowed and, since the 2013 revamp, steers much better than it did before.
Yet I could be an F-TYPE customer even if I'm way over the age of driver Jaguar is hoping to attract.
In my favour, though, you'll never see any car of mine parked at a golf club.
More at Jaguar
Jaguar F-Type Movie trailer 'Desire' starring Damien Lewis from 'Homeland' and, of course, a Jaguar F-Type V8S.