Hyundai i10 2014 Road Test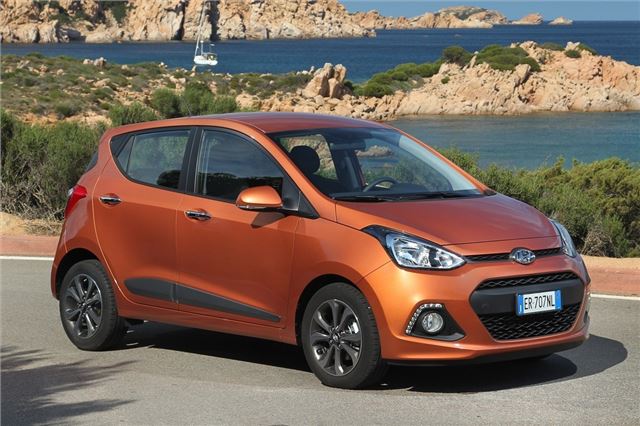 The original i10 proved a big hit for Hyundai, with its practical nature and excellent value for money ticking a lot of boxes for UK buyers. But Hyundai isn't a company to rest on its laurels and for this second generation model it's starting from scratch. In the process, it's focussed on some key areas for the new i10, in particular refinement and quality, but one thing remains and that's its strong value for money.
The new i10 starts at just £8345 which is the same price as the outgoing model and even the top model is only £10,495, yet this car is a huge step change from its predecessor. That's something we've become accustomed to from Hyundai, yet the rate of improvement is still astonishing. Compare a Hyundai from 10 years ago with a modern one and they couldn't be more different.
Of course the small hatchback market has seen some strong launches recently, most notably the Volkswagen Up and its counterparts the Skoda Citigo and SEAT Mii. Plus there's the ever popular Fiat 500 and the Kia Picanto. In terms of size the i10 straddles the line between these smaller hatches and models like the Ford Fiesta, so you're immediately getting a bit more car for your money.
It's certainly a handsome hatchback with neat lines and a far less boxy look than its predecessor. Yet it still has plenty of room inside, with especially impressive space in the back and a decent boot that's bigger than before. The interior is another highlight – it's easily one of the best in this class with a good quality feel, no exposed metals and no visible screw heads. From behind the steering wheel it's hard to believe you're in a car that costs less than £10,000.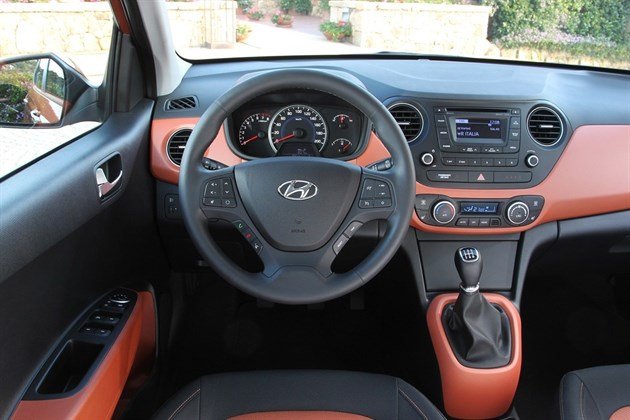 True, it may not have the same style as some rivals but it gets the key things right – the dials are simple and clear, the buttons are all well laid out and there are some nice details like the circular air vents. The coloured strip across the dash and on the doors really lifts it too and is tied in with the seat cloth – it's cream on entry-level models but on SE and Premium versions you can choose between blue or orange.
The driving position is spot on and the seats are mighty impressive for a small car with great long distance comfort. There's even good storage with bottle holders incorporated in the door pockets and useful stowage sections between the front seats. On the move the i10 also feels like a bigger car than it is and that's down to its impressive refinement.
No other car this size is as quiet at motorway speeds – there's no wind noise and barely any road noise either, thanks to details like reshaped door mirror mounts and dual door sealing strips. Sound insulation from the engine is equally as impressive and again unmatched in this class, even by Volkswagen.
While the i10 feels like a bigger car at higher speeds, it has all the qualities of a small car when it comes to handling. The steering is responsive and direct plus it has a good weight to it while the gear box has a nice positive shift. Overall it may not quite have the character of the Up but in every other respect it's not far behind, feeling nimble and agile. There's plenty of front end grip, a good ride and it's easy yet genuinely enjoyable on the move. In short it's a great little car to drive.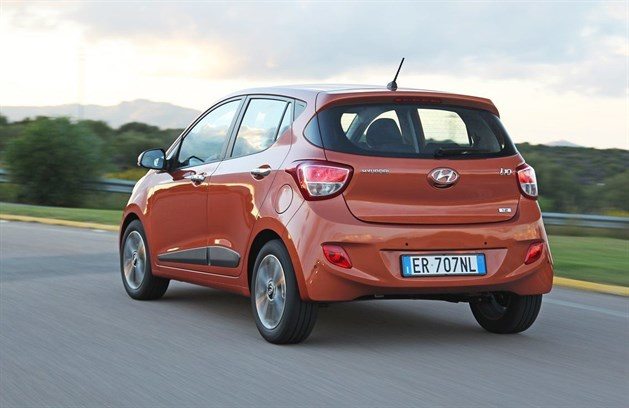 The range is very straightforward with just two engines. The more popular choice is expected to be the 1.0-litre three-cylinder petrol which has a modest 66PS. On paper it's no ball of fire and you do occasionally have to work the gearbox in order to provide a bit of get-up-and-go, but even at higher revs it remains refined. This engine is used in the BlueDrive model which drops CO2 to 98g/km and averages a claimed 65.7mpg.
The other choice is the 1.2-litre four-cylinder engine which is a bit smoother as you'd expect and has a more in-gear poke. If you're going to be driving on dual carriageways or motorways more, then this is the one to go for. It's helped by more torque with 120Nm and although this doesn't peak until quite high up the rev range, it's an engine that's quite happy to be kept buzzing along. Economy is still good with an official 57.7mpg.
So, what about value for money? Well, as you'd expect from Hyundai, standard equipment levels are impressive with entry-level S level models getting central locking, electric front windows, a CD stereo with a USB port, daytime running lights and Isofix points, although if you want air conditioning it's an extra £650. The SE represents a better option, with things like electric heated door mirrors and driver's seat height adjustment. Plus, like all cars from the Hyundai stable, the i10 comes with a five-year unlimited mileage warranty – something none of the competition can match.
What the i10 does so well is get the basics right: it's well built, good to drive and has a quality interior. Throw in two great engines along with impressive refinement and you've got a winner on your hands. After that the rest pretty much takes care of itself. True it may not have the cool factor of the Fiat 500 or the image of the Volkswagen Up, but in our opinion the smart money in this market would go on the i10. It's genuinely a great little car.