Honda CR-V 1.6 i-DTEC 2015 Road Test
It's no surprise the British built Honda CR-V is popular. It's practical, well-built and spacious. But it's also up against lots of competition and since the Swindon-built CR-V has been around since 2012, Honda is giving it a mild technical and styling refresh to keep it competitive with newer rivals.

Visually there's not a great deal to get excited about. The styling changes centred around wider bumpers and changes to the lights. The rear lights get subtly re-profiled LED units, the changes to the front of the CR-V not quite as restrained, with plenty of chrome around the front grille and driving lights. A busy facelift then, that's arguably not as handsome as its predecessor.

The looks might have become more overt, but in every other way the CR-V retains its useful and practical appeal. It's quieter thanks to some additional sound deadening in the doors, while an enhanced engine line-up increases economy and reduces emissions.
The 2.2-litre i-DTEC has gone, Honda replacing it with a 160PS version of the existing 1.6-litre turbodiesel - exclusively mated to four-wheel drive. To achieve power that's 10PS better than the larger outgoing engine it's added an additional turbo, boosting not just output, but improving responsiveness, all while reducing CO2 emissions. CO2 falls from 149g/km to 129g/km with economy improving markedly from 42.8mpg to 57.7mpg.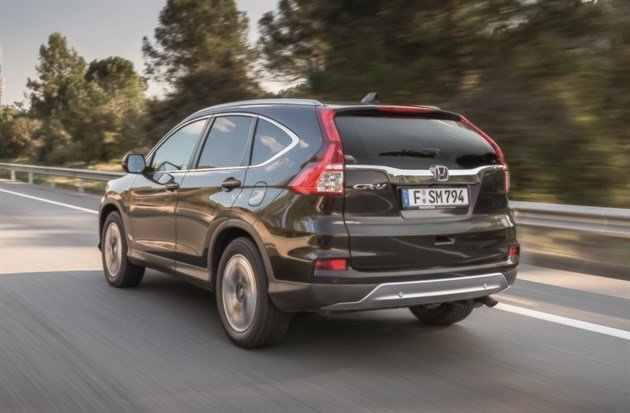 Honda also continues to offer a 120PS 1.6-litre i-DTEC in two-wheel drive manual form. There's also a 2.0-litre petrol that comes with two or four-wheel drive and the option of a dated five-speed auto which is best avoided.

What is new for this CR-V is a nine-speed automatic for the i-DTEC engine. With so many ratios on offer the gearbox might be busy, but you'll be hard pushed to notice it doing its job. Shifts are all but imperceptible, enhanced by the greater refinement from the engine. The performance is adequate rather than sparkling, 62mph arriving in 10 seconds, but mid-range the engine pulls well, though again not likely to startle.
That's not a complaint, the CR-V's overt sensibleness is part of its appeal, the security of its four-wheel drive system adding stability and traction when it's needed. Instead of outright acceleration and cornering ability then there's plenty of comfort and ease. You'll run out of desire for bends thanks to plentiful body roll, even if it's all controlled and predictable. That's to the benefit of ride comfort though, the CR-V coping with poor road surfaces with ease, but If you're looking for an SUV that puts the emphasis on the Sport element of its title rather than Utility then the CR-V might disappoint.

Where it really excels though is in space. Nothing new there over the old car then, but the revised interior makes it a far more pleasant environment. Honda has added a new touchscreen central info and entertainment interface that's got all the smartphone connectivity that today's buyers demand - or at least their kids might.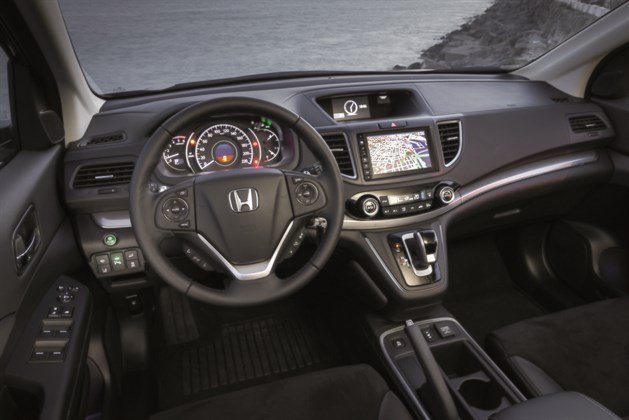 The interior really is near MPV in its practicality, with lots of head and legroom in the rear, and a boot that is so vast you'd be doing very well indeed to ever fill it. With the seats in place there's 589 litres of capacity, while folding the back seats brings 1648 litres of load space (1669 with a space saver spare tyre), dropping those seat backs being a cinch with single handle operation delivering a completely flat floor.

More equipment, greater refinement and - crucially - improved economy and lower emissions add up to a far more competitive CR-V. The styling changes might not appeal to all, but the CR-V's core appeal remains the same - its space and comfort. Honda has yet to confirm pricing, but it's anticipated to start at around £22,000, rising to £34,000 for the range-topping auto diesel. At the top end of its price spectrum it competes with some established and desirable premium competition from Audi and BMW which might have more badge cachet, but lack the Honda's rounded ability and practicality.

The CR-V has always been among the more expensive of the mainstream mid-sized SUVs though, and it's done little to dent UK, and international sales. It's likely the new car will continue that trend, which is good news with it being built in the UK. Reliability is assured too, Honda consistently doing well in customer satisfaction surveys, the CR-V coming with a three-year, 90,000 mile warranty. Keeping servicing costs sensible is the offer of a five-year service plan for £500.

All very sensible then, which will come as no surprise to existing and potential CR-V owners alike. Honda's CR-V might not be dripping in desirability, but it's difficult to not to admire, even if its chrome-covered nose makes it look like it's trying a bit too hard - when really, it doesn't need to.