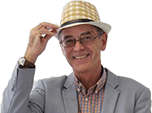 Honda CR-V 1.5 VTEC Turbo 2018 Road Test

The 2018 Honda CR-V has been on the roads in China, Thailand and the USA since April 2018 at least. It comes as a 2WD manual, a 4WD manual or a 4WD CVT-7, all with Honda's turbocharged 1.5iVTEC motor putting out up to 193PS and 243Nm torque and we will see a hybrid version next year. We'll also see a 7 seater.
It's much better looking than the slightly awkward 2012-2018 CR-V. The overall length is almost the same at 4,605mm, but the wheelbase has been increased by 30mm allowing the interior to be configured as a credible 7-seater as well as a 5-seater.
Tyre sizes are slightly bigger, so even the 19-inch wheels now come with sensible 55 profile tyres, though most buyers are likely to opt for 18-inches with 60 profile tyres. Every version comes with a spare wheel: full size with 5-seaters; space saver with 7-seaters.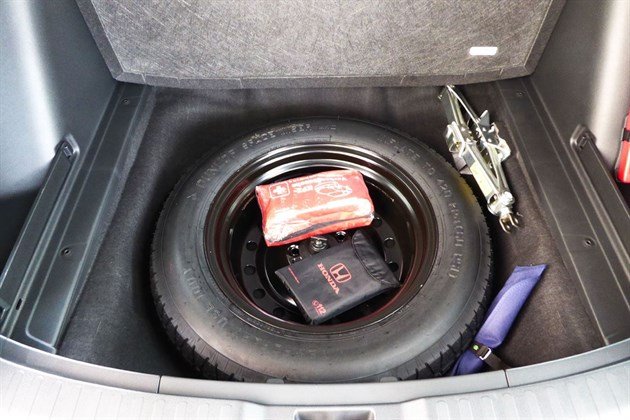 As with the Jazz, Honda makes the most of the interior of the CR-V. In the 5-seater the rear seats cantilever fold to give a flat floor and the rear load deck can be set to a lower level for ultimate carrying space.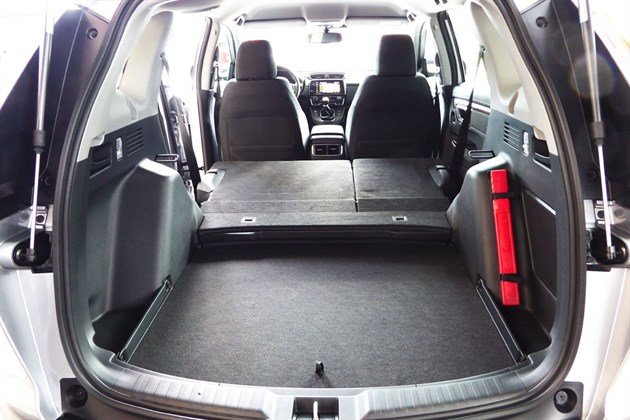 In the 7-seater, all seats fold and the centre row can be slid back to give an unimpeded flat load deck 1,820mm long.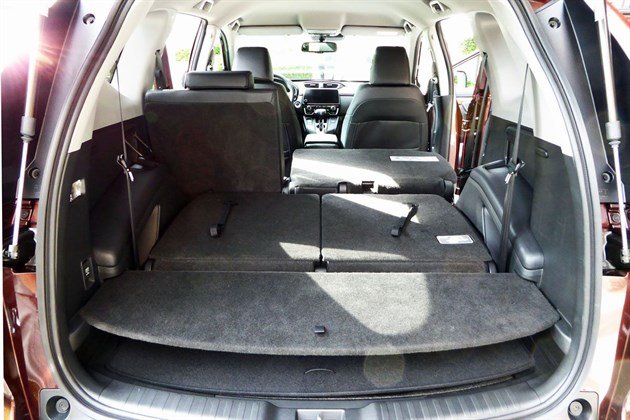 They can also be slid forward to give more legroom to rearmost passengers, and double folded to allow entry and egress. Right at the back, a shelf continues the slightly higher load deck than the 5 seater, and the rearmost seats can be tilted forward to access the space saver spare wheel underneath.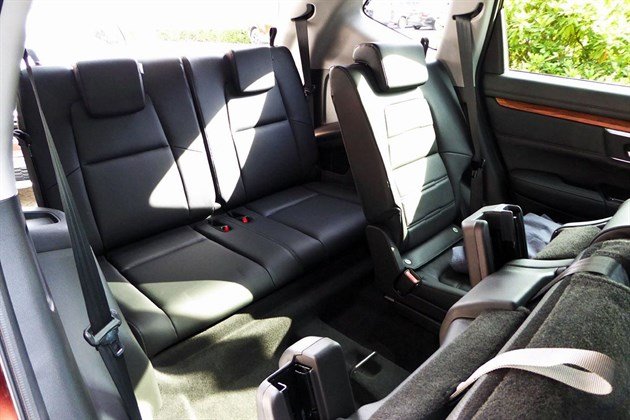 In the front, each door is shaped to take two bottles or cans and something else such as a small handbag, while the deep centre console is split up with a sliding section to take a lot of stuff. The centre armrest slides forward and is actually very comfortable.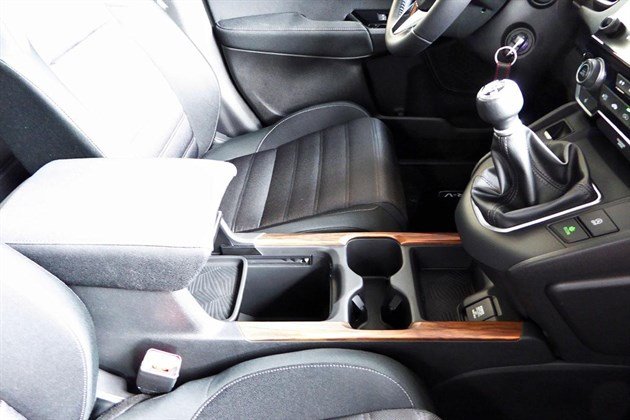 In front of the driver is a big TFT screen, topped by a rev counter with a digital speed display and repeat satnav instructions.
The centre touch screen gives the main satnav map and hooks up to Apple Car Play and Android Auto. Thankfully, the heater, a/c and fan controls are entirely separate. And the rear camera gives a very clear picture both of what's behind and how you are aiming the car so is a boon on a long reverse.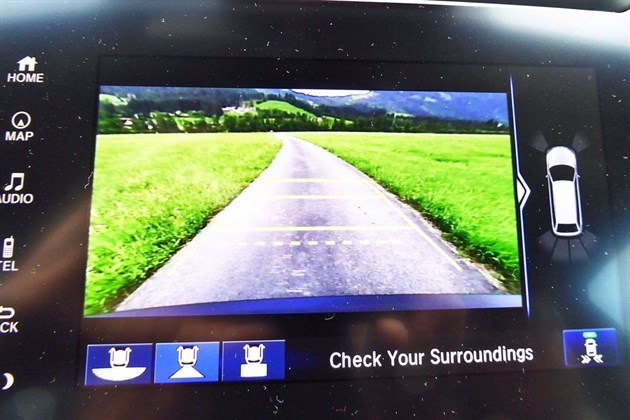 We drove a 193PS 4WD CVT-7 SR, a 173PS 2WD manual SE, a 173PS 4WD manual SR, and finally a top spec 173PS 4WD EX.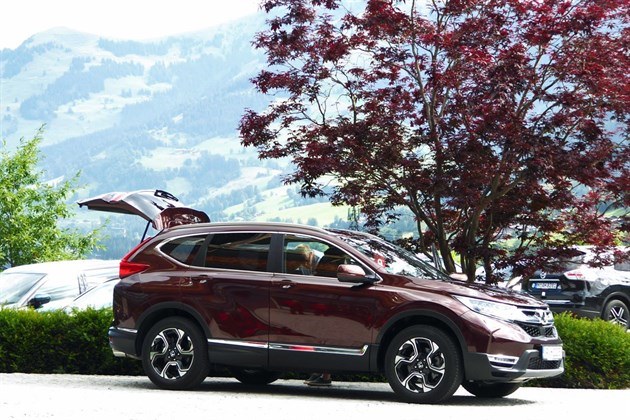 The 4WD CVT-7 is exceptionally smooth and refined for what is quite a big SUV with a mere 1.5 litre engine. With imperceptible gear ratio changes it actually drives better than a lot of torque converter automatics, and even accelerating hard uphill there is none of the old CVT sensation of clutch slip or the engine overtaking the car. Honda's faith in CVTs has been vindicated.
With less soundproofing and less power and torque the 2WD manual was a fait bit noisier, throbbing a bit like the 3-cylinder engines we are now becoming accustomed to (even though it is a four). But it's fine. And the ride on its compliant 235/60 R18 tyres coupled with the seat comfort is just as good as the 4WD SR CVT-7. We saw 6.6 litres per 100km on the meter, which is 43mpg.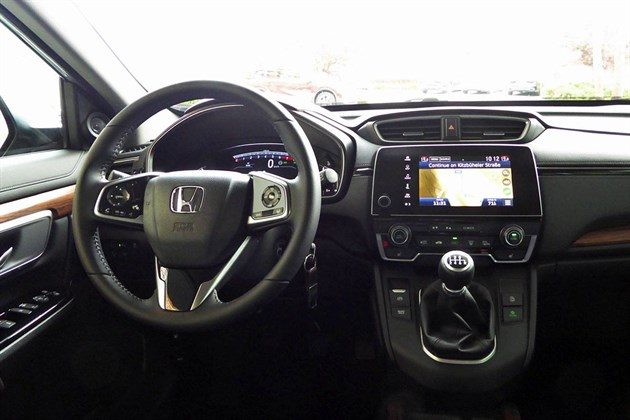 Next, the caravan tugger of the range: the 4WD 173PS manual SR. With more soundproofing, this felt more refined than the 2WD and, of course, a little surer on corners. MPG worked out at 8 litres per 100km, which is about 35.
Finally, the all-singing, all dancing EX with goodies such as an easily accessed Head Up Display, full length partially opening panoramic sunroof and hands-free rear hatchback opening. This was a 4WD 173PS manual so otherwise felt the same as the SR and had to cope with a sudden almost monsoonal cloudburst in the Austrian Tirol roads on which we were driving it.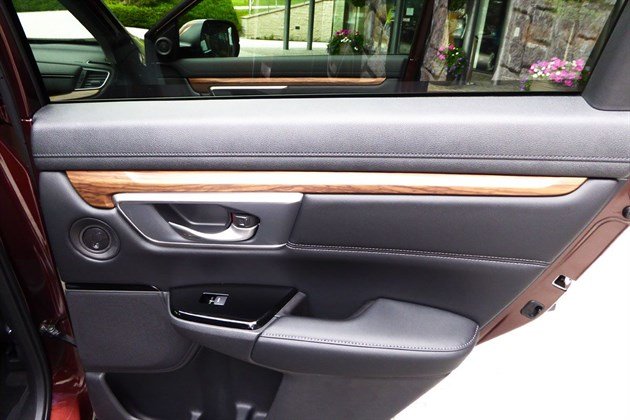 There was an Internet rumour that the 1.5 VTEC Turbo engine was contaminating its oil on China, so we checked up on this. It turned out the problem only occurred in extremely low temperatures of minus 30 centigrade when the cars were used for repeated short runs from cold that did not allow condensation from the cold starts to evaporate off. Honda corrected this with countermeasure software to change the fuel mixture and heat the engines up faster after cold starts in extremely cold conditions.
Another reader question was, "will the new CR-V tow?" Honda has given the 173PS 2WD and 4WD manuals towing weights of 2,000kg, which might be a bit ambitious, but the 193PS 4WD CVT-7 a towing weight of 1,500kg, which is more realistic, particularly bearing in mind the Caravan Club's 85% rule.
We'll fill the gaps when we get the information. In particular, final prices, specs and the forthcoming hybrid version. But on first impressions Honda has done an excellent job of recreating the World's best-selling SUV. Smooth, comfortable, safe completely up to date and a pleasure both to ride in and drive.
More at Honda