Ford Tourneo Connect 2014 Road Test

Ford happily admits that the market for its new Tourneo Connect was opened up by the French.
The Citroen Berlingo Multispace and the Peugeot Partner Teepee are now well into their second incarnations, and the Renault Kangoo combi was, until Renault withdrew it from the UK market.
(Though they could come back with the Dacia Lodgy, which is not yet sold In Britain.)
Then, of course, there's the colossal VW Caddy Maxi Life and the FIAT Doblo combi.
Ford set out to build a better vehicle than any of these, and sell it at a lower price.
It comes in two lengths: the 5-seater plain Tourneo Connect at 4,418mm and the 7-seater Grand Tourneo Connect at 4,818mm.
Inside, with all seats folded, the load decks are 1,800 and 2,179mm long. And Ford was at pains to point out it's the only vehicle of this type in which all 7 seats fold flat. (Actually, in the 5-seater version the 2nd row seats double fold leaving a lower flat floor than the 7-seater, and the front passenger seat folds flat.)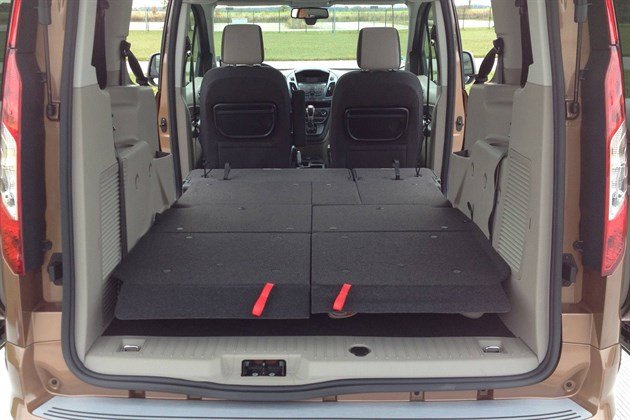 Engines are Ford's remarkable 1.0 litre 3 cylinder Ecoboost petrol available, understandably, only in the 5-seater.  Then a 95PS 1.6TDCI. Then a 115PS 1.6TDCI. And finally a 1.6 EcoBoost 150P allied to a 6-speed automatic, which I thought was a Powershift because of its low towing limit of just 750kg but which may be torque converter.
Underneath there's a conventional MacPherson strut front suspension and at the back, unlike the old Connect's plain axle, a coil-sprung torque-tube twist-beam.
The seats are all remarkably comfortable, and I mean all of them. Centre row legroom will suit big people, and even the rearmost seats give plenty of space in their rearmost position to stretch legs. (They will individually slide forwards to give more luggage room than the already reasonable 322 litres.)
The cockpit is more like a car's than a van's. Very nice. And the driver is treated to two huge double mirrors that give an excellent view of the kerb.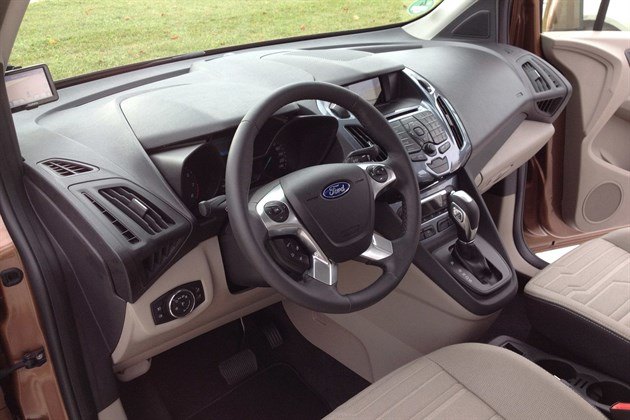 Not so hot is the internal rear view mirror, set unnaturally high.
We drove the 1.0 EcoBoost, and it works. There's enough power rather than an abundance of it and for Tourneo Connects restricted to repeated short runs from cold, it has to be the sensible choice.
Next up, the 1.6TDCI 115 which, like the 1.0 EcoBoost, comes with a 6-speed gearbox to make the most of the engine's torque, but feels a bit flat compared to a Mazda 5 with the same engine. The reason for this is tall overall gearing, equating to 37.5mph per 1,000rpm in 6th, compared to the 32.5mph per 1,000rpm of the Mazda.
And finally the 1.6 EcoBoost 150 6-speed automatic, available only in top Titanium trim and likely to be pressed into service as hotel shuttle buses. It's okay. Very easy to get on with. But the 150PS turbo petrol automatics aren't very tax or fuel economy friendly.
The Ford Tourneo Connect is one down from the 9-seater Transit Tourneo, and will be one up from the Tourneo Courier when it "probably" arrives in the UK next year.
It's going to find friends with families who can't justify paying more for less room inside in a C-Max, a Picasso, a 5008, a Mazda 5 or a Touran.
It will suit the hobbyist or gardener or small businesses such as cabinetmakers and plumbers who don't want to run both a car and a van.
And it's great for outdoor enthusiasts to cart bikes, kayaks and surfboards to far away places.
More at Ford