Ford Mustang Bullitt 2018 Road Test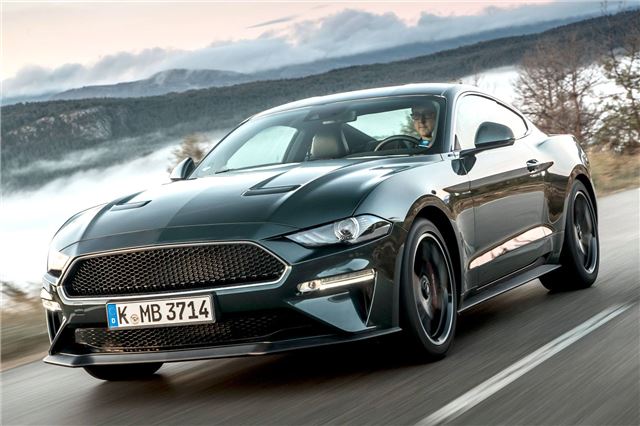 Special editions are often a tedious way of car manufacturers attempting to stir up interest in an old car by giving it some extra kit or a special paint job. And in some ways, that's exactly what the Mustang Bullitt is. But it's also an ultra-cool throwback to the film Bullitt, which celebrates its 50th anniversary this year.
If you've not seen Bullitt, the latest Mustang won't mean an awful lot to you. The 11-minute car chase through San Francisco in the 1968 Steve McQueen movie has gone down in history. One of the original 'Stangs used during filming was recently discovered and restored in time for the film's anniversary celebrations.
Based on the recently revamped Mustang, the Bullitt special edition is available in two colours: Dark Highland Green or Shadow Black. There are bespoke 19-inch black alloy wheels, red Brembo brake callipers and a faux-Bullitt fuel-filler cap. Inside, there's a white cue ball gearshift knob, green stitching on the standard seats (Recaro sports seats are optional) and a numbered plaque on the dashboard.
It's not a particularly in-your-face look inside or out (as far as Mustangs go), but we think it looks pretty cool and understated, whether you're a fan of the movie or not.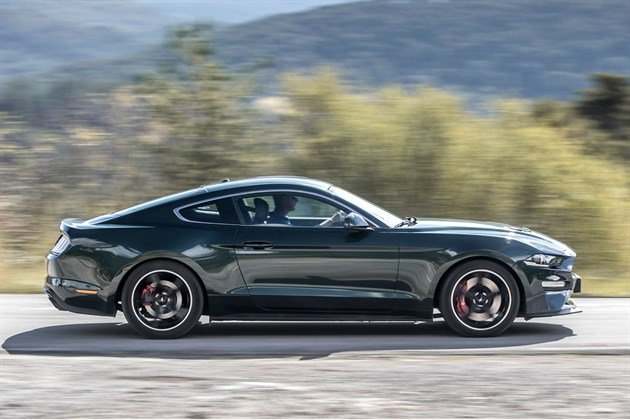 What isn't understated in the V8 engine's bark when you start it up. There's no option of the 2.3-litre EcoBoost engine with the Bullitt - buyers are forced to have a V8 petrol with a power boost of 10PS compared to the regular Mustang. Which is not hardship. There's no auto option, either - just a six-speed manual shifter.
And the engine is pure euphoria. An active valve performance exhaust is standard, letting you to tweak the volume depending on how anti-social you wish to be. In track mode, it's loud enough to be heard streets away. Rev the engine at a standstill, and the car will rock like an old-school muscle car. It's a really cool sensation, if not something that will be popular with the neighbours.
A clumsy getaway will easily unstick the rear wheels, while the incredibly-long gearing will encourage you to hold onto low gears as the engine pulls and pulls until it finally runs out of revs at around 6500rpm. Astonishingly, it can hit 80mph in second gear, and third is good for 120mph. For most of us, that leaves fourth, fifth and sixth gears redundant apart from during motorway cruising.
On a twisty road, the latest Fiesta ST probably wouldn't have an issue keeping up with the Mustang Bullitt. It's a wide car and its fiery nature means you're hesitant to apply the power too early heading out of bends - especially in anything other than perfect conditions. But it's a rewarding experience. The steering is actually quite pleasant, and the car's happy to keep you informed as to how close to the limit you are. And when you get there, it's not as snappy as you might expect.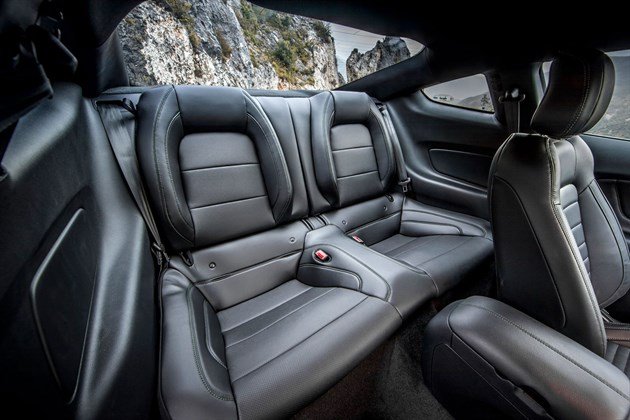 Despite the cosmetic upgrades to the interior, it still doesn't compare to something like an Audi A5 or BMW 4 Series. There are hard plastics galore and switchgear that wouldn't have looked out of place in a Focus from several generations ago. The front seats are comfortable, but we wouldn't recommend using the rear seats for anyone other than understanding children. The boot's not particularly massive, either.
Ford's SYNC3 infotainment system sits in the centre of the dash, giving easy access to all the usual multimedia features: navigation, DAB radio, Apple CarPlay and the like. It's much better than Ford infotainment systems of old - quick to react and intuitive to use. It's the same unit as you'd find in the latest Focus, but that's a good thing.
Objectively, the Mustang is leagues behind more conventional European rivals. Its interior is old-fashioned, it costs a fortune to run and practicality isn't its strong point, either. It's not even a finely-tuned B-road blaster. You could forgive it some of these things if it was cheap, but the Bullitt starts at £47,545 and that's a serious amount of money.
When you're in the right mood, though, there's nothing else on the market that will make you feel as special as the Mustang Bullitt does for less than £50,000. It sounds fantastic and the cosmetic upgrades to the Bullitt model means it really looks the part, too. Driving one every day might get tiring (and expensive) while anyone looking for a weekend toy would probably be better with something like an Alpine A110, but we have loads of respect for anyone who can justify the Mustang Bullitt.
The Ford Mustang Bullitt is on sale now.