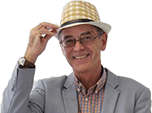 Ford Mondeo Vignale 2015 Road Test

For Ford's Vignale line to succeed it has to achieve two objectives: It has to be better than Audi, Mercedes and BMW. And it has to carry more status.
The first of these will be a doddle compared to the second. It's one thing to build a finer car. But it's quite another to overcome 40 years perception of prestige built up by the Germans.
This is not to say there is anything wrong with the build quality of a Mondeo. Its past record proves it to be every bit as reliable than an A6, an E-Class or a 5-Series. It's just that the trim doesn't quite have the qualities buyers look for in that level of car.
What has to happen is that the car has to be seen in the right places and right situations. Think Audi A8. Hardly anyone buys them new, but every Audi dealer carries a demonstrator that is pressed into service for the film premiers you see on TV. Each A8 disgorging a half-dressed actress onto a red carpet in Leicester Square sells fifty A3s.
But it's going to be an uphill struggle. Remember that during WWII, Ford achieved higher quality and reliability for the Merlin engines it built than either Packard or Rolls Royce. Yet still the top brass decreed that Ford Merlin engines could only be fitted to twin-engined aircraft like the Mosquito. The Battle of Britain could not be seen to have been won by Ford.
Then there's the question of profit margins. The reason why VAG is achieving World domination is because it makes a bundle on most of the cars it sells. That's why VAG could buy Porsche, Lamborghini and Bentley and make even more money per car. Ford wants a piece of that action. It lost Jaguar Land Rover that is currently Britain's (or rather India's) most successful High Profit Car maker. Now it's trying to create its own HPC in Vignale.
All I can do here is give an opinion of whether the cars are any good.
To rectify the quality perception problem, Mondeos are taken off the production line then virtually coachbuilt in a special Vignale facility buried deep inside Ford's vast Valencia plant. They get extra layers of paint in just four high grade colours: Silver metallic, Black metallic, Pearl White and a special hazelnut brown metallic unique to the Vignale called Nocciola. After that they receive several more coats of clearcoat lacquer to give the paint depth and also ensure that minor damage can sometimes be polished out.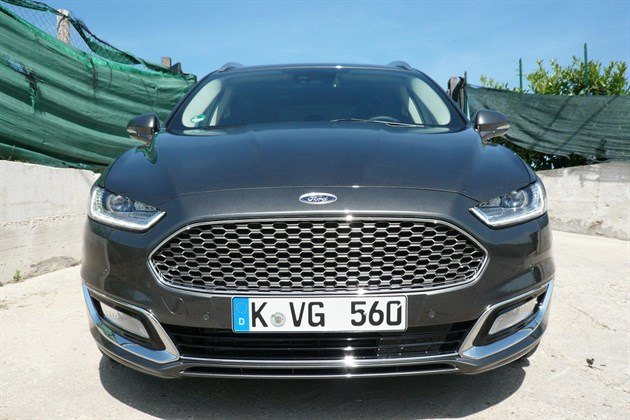 Vignales get a lot of chrome: around the foglight bezels, along the sides, even subtle strips on the door handles. The grille adopts a pattern of hexagons, making it appear more like the new KIA Sorento's than an Aston Martin's. It's definitely on the glitzy side of posh, like the original 1950s Ford Zodiac. But practical too, with adaptive LED headlights that automatically adjust to driving conditions.
Inside is where the real money goes. Soft, premium leather everywhere you can see and touch: Seats, steering wheel, dashboard, door panels, armrests, console cubby cover.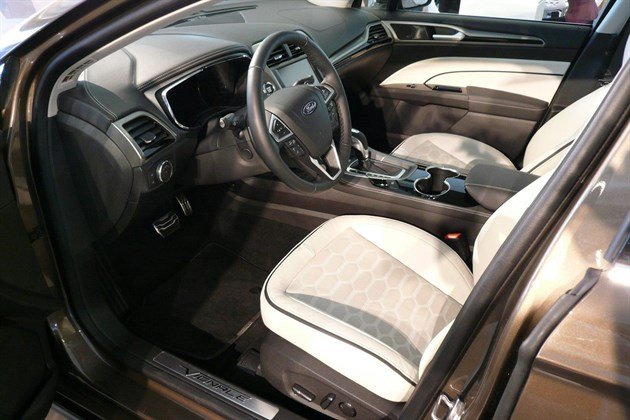 The seats themselves echo the hexagon pattern of the grille. Very comfortable, multi-adjustable, luxurious.
Thick carpet mats are standard, as are cruise control, excellent satnav with forewarnings and very precise instructions. A stunning Sony sound system. And Active Noise Cancellation: a system that uses microphones inside the car to detect engine, wind and tyre noise, then cancel 2-3 decibels of it. (2-3 dB is actually quite a lot.)
Once the cars are built, they then undergo 100 special quality checks under intense lighting, after which any minor blemishes are corrected.
If the Mondeo Vignale was charged at Audi prices, the extra kit over the standard car would probably retail at something like £20,000. Yet Vignale prices start under £30,000, stop at £33,300 and even plundering the options list, it's hard to add £5,000.
We drove two Mondeo Vignales: the petrol Hybrid saloon that lists at £29,795, and the 210PS 2.0TDCI Powershift estate with a few options that took it up to £35,825.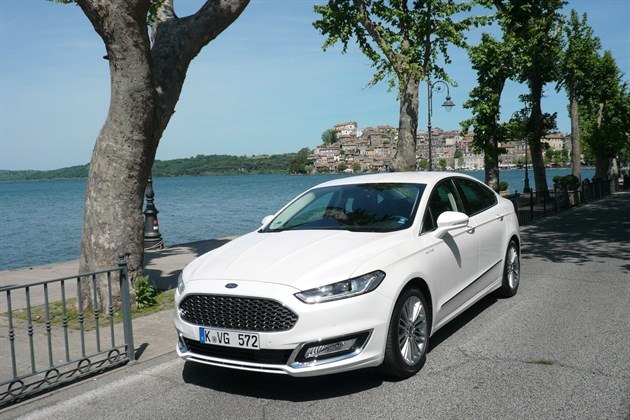 Despite a combined 187PS and 300Nm torque, the Atkinson cycle petrol engine, synchronous electric motor and CVT transmission don't make the hybrid any ball of fire. In its favour, it is very quiet. When not accelerating, the loudest noise you can hear is the subdued thumping of the 235/45 R18 tyres over Italy's pock-marked roads. When accelerating hard you are, of course, aware of the discordant whirring of the CVT transmission. However, to the car's credit, though you can hear the assault course the tyres are undergoing, the shocks are not fed through to the seats.
As well as its relative silence, the major benefits of the hybrid are its 99g/km ECDC CO2 rating, which puts it in the zero annual tax bracket, and its ECDC combined fuel economy of 67.3mpg, (we think we got about 55mpg), it will make a very good 'private hire' car for London, the only slight disadvantage being the amount of trunk space taken up by the hybrid drive batteries.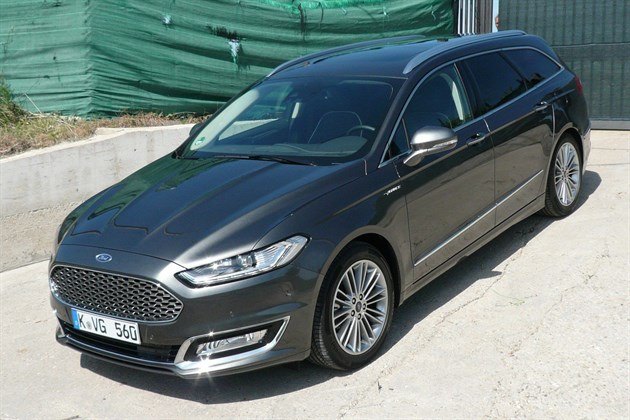 The 210PS, 450Nm torque Mondeo Vignale Powershift estate was a different animal altogether. Power more than ample from its new twin-turbo 2.0 litre diesel engine. Smooth changing Powershift, with steering wheel paddles. Steering that tightened up as speed increased, and any noise at all from the diesel engine completely eliminated by the Active Noise Cancellation, leaving the clatter of the tyres over potholes as the only audible intrusion. This car had the optional opening panoramic sunroof, electric steering wheel adjustment, active cruise control, power tailgate, load management system and blind spot elimination, whacking the price up from £32,675 to £35,825.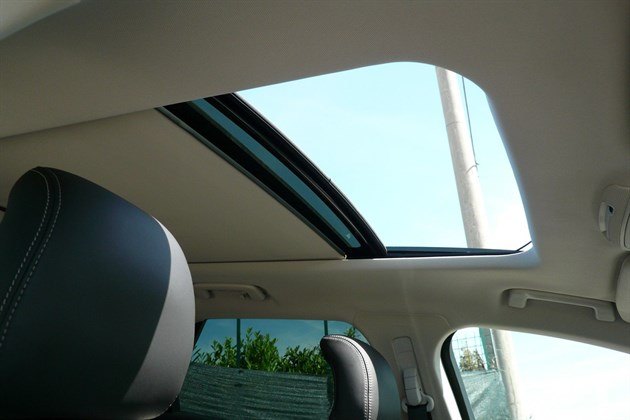 But, thinking about it, what other big estate car with all the luxuries of the Vignale can you find for £36,000? No Mercedes, BMW or Audi offers the same package under £50,000. VW might with high-end versions of the Passat estate, and Skoda will by this winter with top spec new Superb estates. Volvo's V70 is getting a bit old now and, besides being more expensive, the V60 doesn't offer the space of the Mondeo Vignale. The excellent Mazda 6 estate is nowhere near as luxurious.
So, for the time being at least, a Vignale estate makes a lot of sense. Particularly for posh hotels, and to the carriage trade. And, with a 4WD option, possibly also to the hunting/shooting set.
Ford dealers throughout the UK are setting up special 'Ford Stores' to give Vignale customers a privileged retail experience, with high tech facilities to visualise their order a wall of TV screens and backed up by lifetime contacts, so the person who sells you the car is the person you go to for everything, on a special dedicated phone line. A Vignale buyer will be made to feel a cut above an ordinary Ford buyer. And with Vignale rather than Mondeo badges, it's likely to get some admiring glances parked kerbside in London's more salubrious areas.
So to round this off, having spent more than 20 years in the advertising business, may I suggest a commercial for the Vignale: An elegantly dressed man is walking down a sidewalk in Mayfair, kerbs bumper to bumper with Mercedes E Class and S Class, which he is oblivious to. Then he comes across a Vignale parked between the Mercs and that gets his attention. So much that, having walked past it his head still turned, he walks headlong into an elegantly dressed woman. Cue voice-over. "Vignale. The less affordable Ford." As the elegant woman's chauffeur holds the back door of the Vignale open for her and the man stares gobstruck, she flashes him a disdainful glance.
It might not get me a second D&AD Gold, but it may sell a few Vignales.
More at Ford