Ford Ka+ 2016 Road Test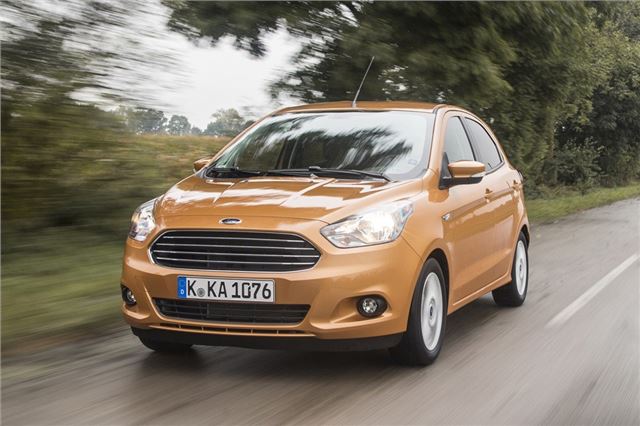 Despite its name, the new Ford Ka+ has very little to do with the outgoing Ford Ka that it replaces. That little + sign means some big changes. So this is now a five-door hatchback with useable back seats and a decent boot. It's not the best looker, we have to admit, but this is a car less about style and more focussed on value and practicality.
That may not sound like a particularly exciting proposition, but with the next generation Fiesta - which will be launched in 2017 - moving upmarket, there's a gap in the Ford line-up that the Ka+ fills very nicely. And that means it will rival the likes of the Vauxhall Viva, Hyundai i10 and the forthcoming Kia Rio. So why choose the Ford over those?
Well despite the Ka+ name, this new Ford has more in common with the Fiesta. We say 'new' but the Ka+ is already on sale in India, where it's built, and South America. You see this is part Ford's plans to have the same cars on sale across the world. It's why we get the Mustang in the UK. But also why we get the much maligned EcoSport.
Thankfully, Ford has learnt from the EcoSport. That car got a less than favourable reception when it was launched and has already been revised twice in just two years. It's proved a poor seller for Ford, especially compared to the Vauxhall Mokka. But determined not to get its fingers burnt again, Ford has pretty much overhauled the Ka+ for Europe. In fact, it's spent 18 months on it.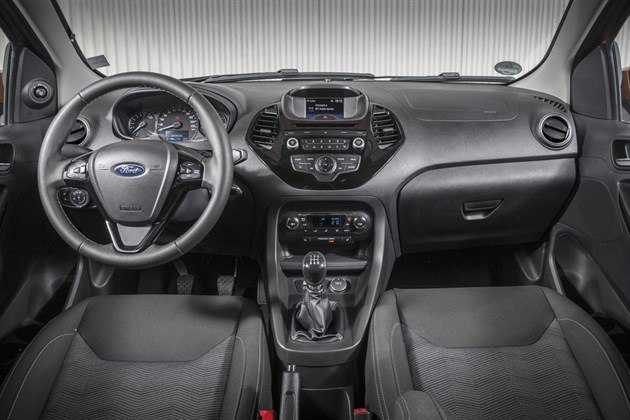 This means Ford aiming to make the Ka+ feel much like a Fiesta. And to a large extent it has worked. The Ka+ drives well with the same responsive handling, nicely weighted steering and a good gear change. This is no surprise when you realise the Ka+ uses the same chassis as the current Fiesta. Having learnt from the EcoSport though, Ka+ models for Europe get a completely different steering set-up, suspension components, a lower ride height and extra sound insulation - all taken from the Fiesta. Did we mention Ford wants it to be like a Fiesta?
What really shines through is the refinement. The Ka+ rides incredibly well with excellent noise insulation and suspension that copes impressively with rough roads and potholes. Get the Ka+ up to motorway speeds and it's far from out of its depth. In fact it feels reassuringly stable, even in heavy rain.
Ford describes the Ka+ as an 'entry-level car' although it's quick to follow that up by saying it doesn't make do with bargain basement technology. Still, there's no EcoBoost engine, instead the Ka+ comes with a 1.2 Ti-CVT petrol which is essentially a tweaked version of the existing 1.25-litre unit.
Two versions are available, the standard a 70PS variant. If you want the better 85PS model, it will set you back £10,295. The engine is no ball of fire, but it does have a good reputation for reliability and economy in the Fiesta. As it's not turbocharged, it needs to be worked hard and low down there's a distinct lack of torque. But while it lacks character, it's very smooth and most crucially, cheap to run. Both versions average more than 56mpg according to the official figures.
Where the Ford has the edge over cars like the Dacia Sandero is in its build quality and finish. This is no cheap and cheerful offering. Far from it. Instead it has narrow panel gaps, doors that close with a satisfying heavy thud rather than a hollow clang and a sense of solidity you don't often get at this price.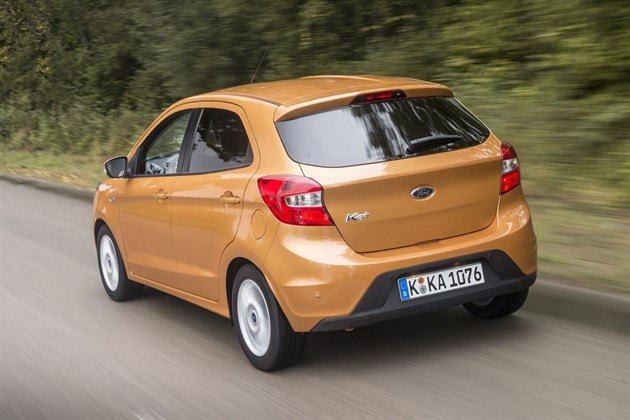 The interior may be drab to look at, but it again feels durable, solid and well finished. There were no squeaks and rattles on our test car and it's surprisingly spacious too. Considering the Ka+ is less than four metres long, there's lots of legroom so even with a six footer up front, there's still enough room for a similar tall big 'un in behind with good head room.
Along with plenty of storage - including no less than four cupholders, there's also a good sized 290-litre boot, albeit it with a deep floor. One oddity is that there's no button to open the boot from the outside, instead you have to use a lever inside or a remote button on the key fob. On the plus side, the low sills mean getting in and out is easy - handy if you're not too steady on your feet - and the doors all open very wide too. 
The basic £9000 Studio model is pretty basic. We're not talking entry-level Dacia Sandero levels here - which doesn't even get an FM radio - but the Ka+ has no alloy wheels, air conditioning or DAB. To get those you'll want a Zetec - which starts at £10,000 - and it's this model which Ford reckons will make up the vast majority.
The Ka+ is head and shoulders above the competition like the Vauxhall Viva. But compared to the very impressive Hyundai i10 it's a different story. There's very little to choose between the two with both getting similar levels of standard kit for similar money, although the i10 has a longer five-year warranty. It might be far from sexy, but the Ka+ is a car you buy with your head, not your heart. 
The Ka+ is available to order now with the first cars arriving in November.