Ford Focus 1.5 ST-Line 2018 Road Test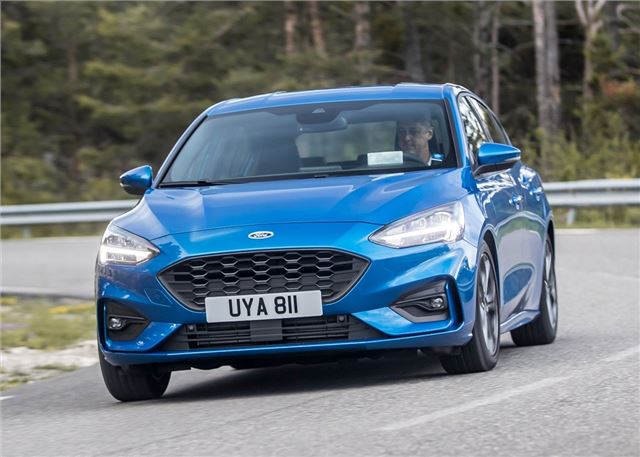 A clean sheet of paper. That's what Ford engineers were given for the new Focus, with the goal of creating a car that's better than the Volkswagen Golf and Vauxhall Astra while still representing value for money compared to the Kia Ceed and Hyundai i30.
A tough challenge, then. Especially when you chuck in the high expectations customers have of the Focus (more than two million have been sold in the UK since the first-generation model was launched 20 years ago). The result is a new platform, lots of technology and a car that comes with numerous personalities: from the sporty ST-Line to the posh Vignale and, from 2019, the tough Active model.
It's the ST-Line we've driven here, paired with the 182PS petrol EcoBoost engine. The sporty spec (hotter ST and RS versions will follow) means it's a looker - helped by the gleaming Desert Island Blue paint of our test car. Such models are often fitted with larger-than-necessary alloys providing a crashy ride, so it's refreshing to see it riding on standard 17-inch alloy wheels. The result is pleasing - the ride is comfortable, despite being a relatively sporty model.
Although family buyers may not be too concerned about how well the Focus handles, it's always been its USP ever since the original was revealed with its trick rear suspension in 1998. And, if you care, you'll be pleased to know the latest model has its rivals sewn up in terms of handling. Not only does it grip and grip through bends, but there's also loads of feedback through the nicely-weighted steering.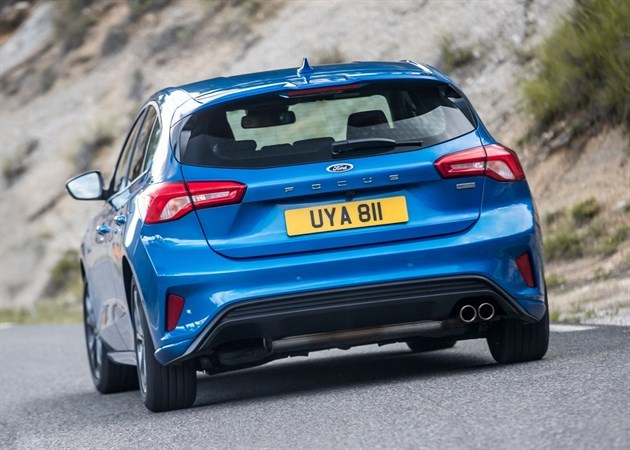 For the first time on the Focus, you can flick between three different drive modes: Normal, Eco and Sport. Although this apparently tweaks throttle response, the steering weight and the eagerness of the traction control, we could barely notice any change. It's slightly more obvious when paired with the optional continuously controlled damping (not available on the ST Line) which firms up the suspension in sportier modes.
The 1.5 EcoBoost petrol is sweet - with only the slightest three-cylinder thrum and decent shove if you're heavy with your right foot, while the six-speed gearbox's change is slicker than ever. It's a really lovely car to drive, while refinement is excellent. There's very little road or wind noise at motorway speeds, and fuel-saving cylinder-deactivation tech (a first for three-cylinder engines) is hardly noticeable when it kicks in and out.
If you prefer to let the car take the strain, the Focus is available with a host of driving aids. Most of them are lumped into the £500 Driver Assistance Pack, including traffic sign recognition, automatic high beam and adaptive cruise control (with lane centring assist). New evasive steering assist will detect slow or stationary vehicles using a radar and camera, and can automatically steer around the vehicle if a collision is imminent.
There's also a pothole detection system fitted to vehicles with the continuously controlled damping which detects upcoming potholes and prepares the dampers to prevent a thump as you reach the pothole.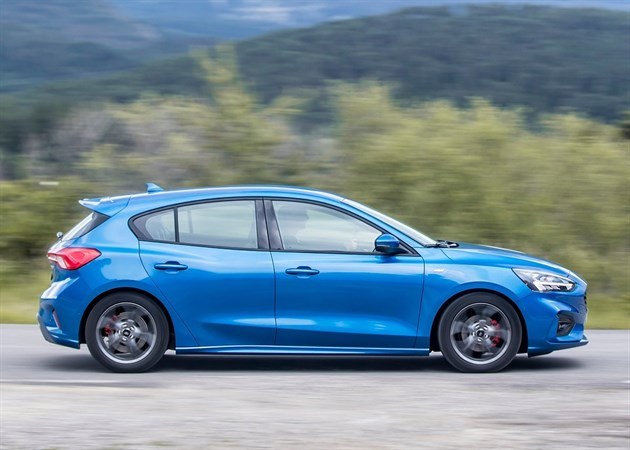 Space has always been in short supply in the Focus, and the outgoing model's interior was disappointing when it was new in 2010. Eight years later, it was lagging way behind rivals in terms of perceived quality. The new Focus features a longer wheelbase and there's a noticeable increase in space, especially in the rear. Not only is it more comfortable than ever, visibility is also improved - not only for the driver, but also for rear-seat passengers.
At 375 litres, the boot is on par with the Volkswagen Golf's, but not as big as the Honda Civic's (477 litres) or Skoda Octavia's (590 litres). The rear seats drop easily should you need more space, and access is wide - although lifting large, heavy items over the rear bumper might be tricky.
The cabin feels much more upmarket than before. Gone are the cheap plastics and button overload. In their place are an eight-inch colour touchscreen infotainment display (a worthwhile £350 option on the ST-Line), a beefy steering wheel and comfortable, sporty seats. We spent a considerable amount of time in the Focus and still felt fresh afterwards - no doubt helped by the excellent seating position.
The clean sheet of paper approach has worked well for the Focus, then. Not only does it drive better than ever, there's also a host of clever technology which makes it more up-to-date than rivals. The interior is much, much better than before, with more space and a more premium feel. There's also a Focus to suit everyone - the sporty(ish) ST-Line would be our choice, but the posh Vignale and rugged Active models also put in a good case.
The new Ford Focus is on sale now with deliveries starting in September.