Ford Fiesta ST 2018 Road Test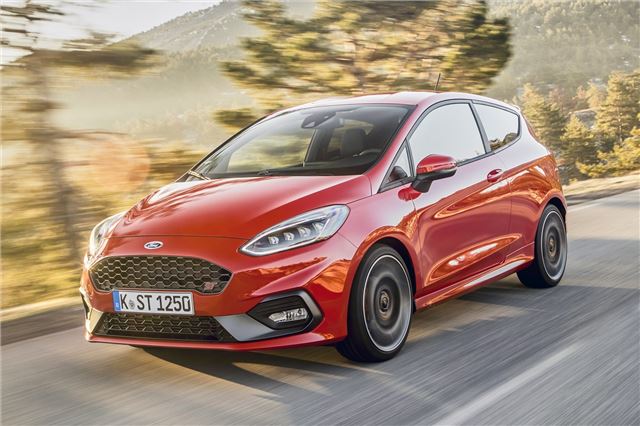 The new Ford Fiesta ST is a beautifully judged compact hot hatch that's great fun to drive, easy to live with and good value for money. Consequently, if you're looking for something that'll plaster a smile on your face without breaking the bank – or your back – then look no further.
The 2018 Fiesta ST follows a long line of brilliant fast Fords. Its predecessor is accepted as one of the best compact hot hatches ever built. Justifiably so, too; when it was unveiled in 2012 it hit all the right pocket rocket notes by blending affordability with the ideal amount of punch, poise and practicality.
That's not to say that it was flawless, mind. The hot ST's interior was drab and just like that found in standard Fiestas, the media system was dated and the car's unforgiving ride could grate on longer trips.
Ford has just launched a new ST, however, which is based on the recently revamped Fiesta that arrived in 2017. It benefits from a wide range of upgrades, many of which are designed to tackle the previous model's shortcomings, and these also should further help it fend off fresh upstarts like the 2018 Suzuki Swift Sport.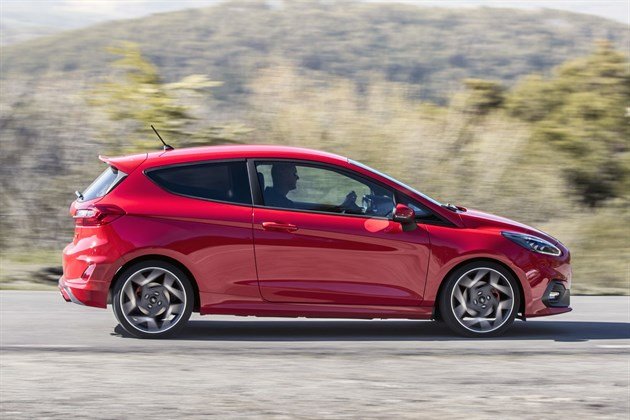 Besides a hefty cosmetic overhaul, a brace of technical revisions and modern equipment, the new Fiesta ST is offered in three-door – as tested here – and five-door body styles from the outset. Ford has reworked the steering and suspension, in an effort to improve ride quality and handling, while other tweaks include a wider range of options to allow for greater personalisation.
The most prominent change is under the bonnet. Previously, the ST packed a turbocharged 1.6-litre, four-cylinder EcoBoost petrol engine that produced a stout 182PS and 240Nm. Performance was good, with 0-62mph taking 6.9 seconds, as was the Ford's efficiency; the claimed average economy was 47.9mpg and emissions were rated at 138g/km of CO2.
Now, the new ST packs a turbocharged 1.5-litre, three-cylinder EcoBoost engine. You might be concerned that this represents somewhat of a step down the performance ladder but worry not – the advanced engine punches out a hefty 200PS and 290Nm, granting a quicker 0-62mph time of just 6.5sec while maintaining similar efficiency advertised figures of 47.1mpg and 136g/km of CO2.
It's not just the on-paper figures that impress. The new three-cylinder engine delivers its power smoothly and quickly, with a charismatic growl and prominent pops and bangs from the exhaust, and slings the Fiesta ST down the road at a terrific rate of knots. It's also responsive and offers plenty of mid-range pull, allowing for prompt acceleration without working your way through the gears.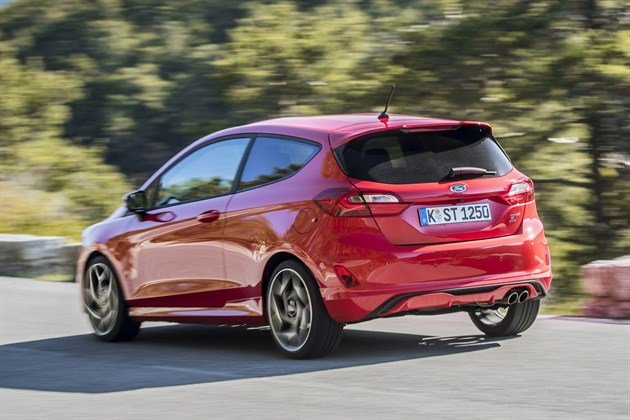 There's endless fun to be had on more challenging routes, too. The ST serves up masses of grip which – in conjunction with accurate, well-weighted steering and plenty of feedback – makes it reassuring and quick through corners.
The new suspension helps here, as it's more compliant. This stops the car bouncing around on rougher roads, so it doesn't feel skittish – and makes it more comfortable on longer trips. This, in conjunction with good brakes, a light clutch and slick gearbox, results in the ST being a far more pleasant companion when you don't feel like pressing on.
Inside, the smartly styled 2018 ST is leaps and bounds ahead of its predecessor. The cabin has a modern appearance and feels of a higher quality, there's plenty of kit and the new media system looks far better and works well. The rear is still a little cramped, particularly for adults, but at least access is improved if you opt for the five-door version. The boot's not of a bad size, on the flip side, and if you average the claimed economy figures then you could travel over 400 miles on a single tank of fuel.
This version of the Fiesta ST is also the first offered with an optional factory-fitted limited-slip differential, which is the key upgrade featured in Ford's £850 Performance Pack. It boosts the car's traction and cornering capabilities and, if you're an enthusiast, it's worth the outlay as it further sharpens the ST's agility and helps make the most of that turbocharged triple's power. Even without the kit fitted, the likes of the Suzuki Swift Sport are outgunned on many fronts by the Fiesta.
The Ford Fiesta ST is on sale now.