Ford Fiesta Active X 1.0T Road Test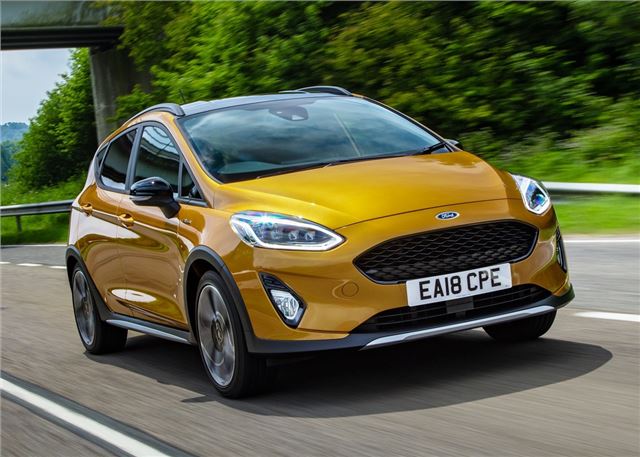 The Ford Fiesta is Britain's best-selling car and a brand in itself. Ford also sells the EcoSport, a lacklustre crossover only bought by faithful Ford fans unwilling to consider more competitive rivals. The firm has decided it needs something in the middle - a car that crosses the venn diagram of enthusiastic Fiesta buyers and the booming crossover market. Enter the Fiesta Active, a beefed-up supermini with an extra 18mm of ride height and some body cladding.
To understand how this fits in the Fiesta range, it's time to break out the price list. The Active 1 starts at £17,795 - broadly in line with the sporty(ish) ST-Line (which costs £17,165) and luxurious(ish) Titanium (also starting at £17,165). The idea is that most people are looking for a car that's sporty, outdoorsy or prefer something with a bit more comfort.
You can look at the pictures and decide for yourself whether you like the look of the Fiesta Active. As mentioned, it's marginally higher than a normal Fiesta, while the track's also been widened by 10mm to give it a slightly more imposing stance (apparently). Cosmetically, there's some body cladding which Ford describes as a 'rugged body styling kit' as well as a front grille with a bespoke dark mesh design. The front fog lights also feature a slightly different design and there are silver scuff plates fitted to the front and rear.
Take a seat in the Active's cabin and everything's typical Fiesta… well made and logically laid out, with an eight-inch touchscreen infotainment system (standard on B&O Play and Active X models) and a few trinkets to make the Active feel different inside. These include sports seats with coloured stitching as well as a various bits of trim finished in the same hue as the exterior. Ford says it's designed for muddy boots and soggy passengers, but it's not really that different to a normal Fiesta.
It's not that different to drive, either. Buyers can choose a 1.0-litre EcoBoost petrol engine in 85PS, 100PS, 125PS or 140PS guise. Or there's a 1.5-litre TDCi diesel with 85PS or 120PS. The 100PS petrol is available as an automatic, but the rest come with a manual gearbox.
We've tried the 125PS petrol - the mainstay of the Fiesta range - and our impressions are just as positive as when we first tried it in the standard car. Although it would be wrong to say you can really feel the 18mm extra ride height, it does feel ever-so-slightly more SUV-like. You won't be looking over hedges any time soon but, bearing in mind that Ford hatchbacks typically have a slightly raised seating position, you do feel like you're sitting maginally higher than standard.
Ford's tweaked the electric power steering to smooth out bumps and jolts when driving over rough surfaces. You can feel the difference - we bounced the Fiesta Active off the kerbs at a Milton Keynes kart track (don't ask) and were surprised by how little the steering jolted in our hands.
It still handles well, with plenty of steering feel and a fun character around town. The engine is slightly vocal, but in a characterful way and all the controls and light and easy to operate. The beauty of the Fiesta Active over a 'proper' crossover is its compact dimensions - it's just as easy as a Fiesta to park and visibility is pretty good.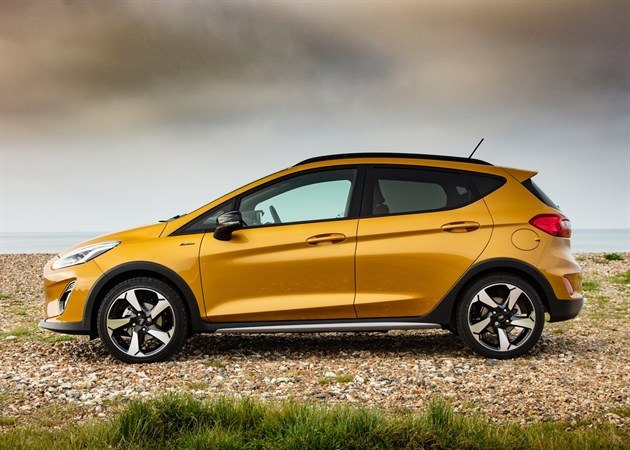 Although there's no four-wheel-drive option, go for the six-speed manual and the Fiesta Active does come with three selectable drive modes: normal, eco and slippery, the latter intended to increase confidence in, as its name suggests, slippery conditions. It does this by adjusting the traction control to reduce wheel spin when grip's reduce as well as provide more grip during cornering or changing lane. Although we'd take a true 4x4 for trundling across muddy fields, this feature could come in handy if you live in an area regularly hit by snow.
Like the standard Fiesta, there's also a host of technology and a five-star NCAP safety rating to put your mind at ease. Various cameras, raders and ultrasonic radars monitor the road up to 130 metres ahead providing information to features like the pre-collision assist with pedestrian detection. This can help the driver avoid a collision or at least reduce the severity by automatically braking when required. Other systems include adaptive cruise control and automatic high beam.
This isn't the first time Ford's tried to enter the crossover market with a jacked-up Fiesta. Remember the Fusion, a car intended to appeal to young outdoors enthusiasts but actually sold (in small numbers) to geriatrics? Fortunately, the Fiesta Active has a better grounding than the Fusion did. Not only is the latest Fiesta one of the best superminis you can buy, but there's also a bigger crossover market than there was when the Fusion was launched in 2002.
It's still a niche model, with Ford expecting it to account for around 15 per cent of all Fiesta sales in the UK. But once you stop asking 'what's the point?', the Active is a perfectly good car. Similar to the normal Fiesta, obviously, but that's a good thing. The increase in ride height results in a marginally improved ride quality and could prove useful should you ever feel the need to negotiate a slightly rutted farm track. Perhaps you have a canoe to launch or something.
The Ford Fiesta Active is on sale now.