Ford Fiesta 1.0 EcoBoost Powershift 2014 Road Test

We've covered the Ford Fiesta 1.0 EcoBoost 125 before. But how does the 1.0 EcoBoost work with a twin clutch Powershift transmission?
The Powershift comes with the 100PS 1.0 Ecoboost rather than the 125PS. And this lower torque version of the transmission is twin dry clutch rather than twin wet clutch.
Like other Powershifts, there's a Sport mode to hold revs before upchanges for livelier acceleration and for overtaking. And you can hold ratios using an up/down button on the shift lever. You have to pull a trigger on the lever to shift between modes, but, unlike a DSG or s-tronic, you don't have to press the footbrake to shift from 'N' to 'D'.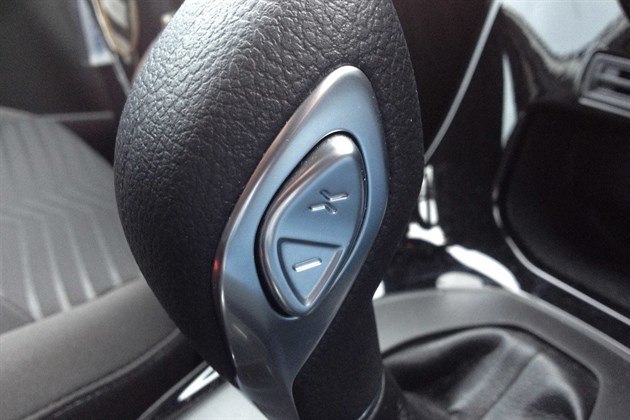 On a first drive you're conscious at first of the slightly CVT-like gearchanges but you very quickly acclimatise and enjoy your virtually seamless progress.
There's no hesitation at all coming off the brakes and pulling out of side-roads or onto roundabouts, and when you approach a roundabout at speed you soon learn to judge how to brake and accelerate without causing gearchanges half way round.
On the motorway, the gearing in 6th gives you 28.5mph per 1,000rpm for a relaxed cruise at which the dashmeter shows 42mpg. Not bad, but not great either.
Some horrible jams on the M25 gave me a chance to get used to Ford's SYNC system and the Sony satnav. My ageing iPhone 4S paired up immediately, but for the directory to work you have to download it from the phone into the SYNC memory, which I wasn't about to do in a car on short term loan.
Radio 5 Live plays loud and clear on the DAB radio with no annoying pauses (at least on the M25 and M11). A long phone call from a mate passed the time in the traffic jam with no need to touch anything apart from the receive button on the steering wheel. Eventually I worked out the ergonomics of the non touch-screen satnav, controlled by four buttons on the juke-box like central panel. And all that without RTFM. It was intuitive enough to pass the user-friendly test.
I could have done with cruise control. A strange omission on an automatic. (At least I couldn't find cruise control.)
The rest of the car is pure Fiesta which you can read about elsewhere in the tests of the EcoBoost 125 and the Fiesta ST. Steering, ride and handling are all now much improved over the original 2009 Fiesta and even on optional 195/45 R16 tyres this one rode well enough over the inevitable potholes. It's now better than a Mazda 2 because it handles just as well yet rides less harshly.
And I don't need to remind you that the Fiesta has been Britain's favourite car for a long time.
£15k and the possibility of a decent discount puts it well within reach.
More at Ford