Ford C-MAX 2.0 TDCi 2015 Road Test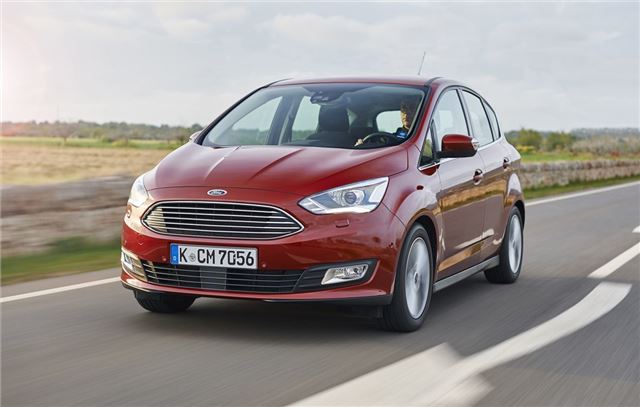 People carriers: two words that can strike fear into family drivers who are forced to buy a 'sensible' car. Thankfully, the traditional boxy and boring people carrier has been transformed in recent years, with modern MPVs being practical and enjoyable to drive, as proved by the first-generation Ford C-MAX.
Following on from the revamped Focus it's now the turn of Ford's compact MPV to get a refresh. As you'd expect, the C-MAX gets Ford's now trademark front end with a large, gaping grille and angular headlights. The result is a C-MAX that's now in-line with the latest Focus and Fiesta. We were big fans of the pre-facelift C-MAX but we're not sure about this latest look. It's neat but the trouble is Ford is in danger of all of its cars looking similar. Very similar. Citroen has proved that you can do quirky and still be popular.
Both the five-seat C-MAX and seven-seat Grand C-MAX get the styling update but it's the C-MAX which has always been the more popular and Ford expects that to continue. Most buyers wanting seven seats will look to something bigger like the Galaxy or forthcoming new S-MAX, the latter we'll be driving very soon, although the price jump from C-MAX to Grand is a reasonable £1600 - so worth considering if you want something relatively compact.

Inside, the C-MAX follows on from the new Focus with a better quality finish and a less cluttered design. It's certainly far more intuitive and user-friendly without the chaos of all those buttons. Titanium models come with Ford's new Sync 2 touchscreen system that has an eight-inch display. It's simple to use with the system split into four sections on the screen, so you can quickly get from one function to another.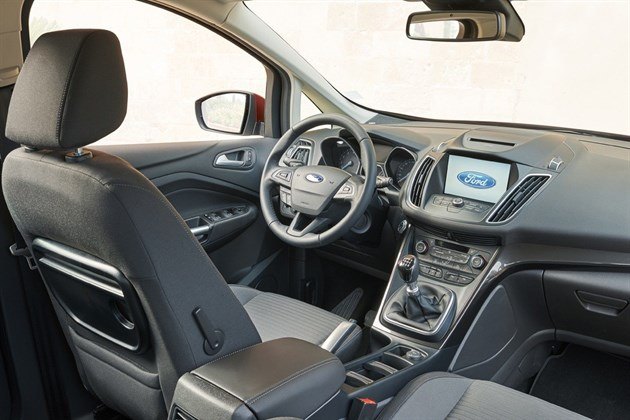 The rest of the interior remains as practical as ever. True, the C-MAX doesn't have the sliding rear side doors of the Grand C-MAX but it still has a huge boot, with a wide opening which makes getting pushchairs in simple, while the rear seats offer plenty of space. There are two sets of Isofix attachments in the back, but none in the centre seat. That's because it can be cleverly flipped and folded backwards, allowing both outer seats to move inwards slightly. This gives far more space if you only have two in the back. And if you have kids it means they can more easily see forwards.

Given that this is a family mover it's no surprise to find a plethora of storage. There are 20 stowage areas in the C-MAX including a redesigned 'swing-bin' style glovebox which can hold more than before, plus a new centre console with a sliding armrest. Ford has also added an electric tailgate as an option which works by swinging your foot under the rear bumper. Very useful if you have hands full of shopping.

The usefulness of the C-MAX extends to the driver assistance options too. One is a new Park Out Assist, which will manoeuvre the C-MAX out of a tight parallel space for you – all the driver does is control the accelerator and brake. Another useful system is Cross Traffic Alert, which warns drivers reversing out of a space of anything that may be imminently crossing their path from either side up to 40 metres away. 

Ford may not have gone overboard with the interior changes, but there are plenty of improvements you can't see. These include thicker side glass and a more plush carpet, along with more sound absorption in the doors, all designed to reduce noise on the move. Even the wheelarches have been redesigned and the result is an impressively quiet car, especially on the motorway.

There are more changes under the skin. Ford has given the C-MAX new engine mounts to reduce vibration through the cabin, along with retuned suspension and dampers. The C-MAX still rides exceptionally well, with dealing smoothly with uneven roads, but it's now better in corners, giving you more confidence along with plenty of grip. Here, Ford has lost none of its sparkle. The electric power steering has also been retuned with an increase in response.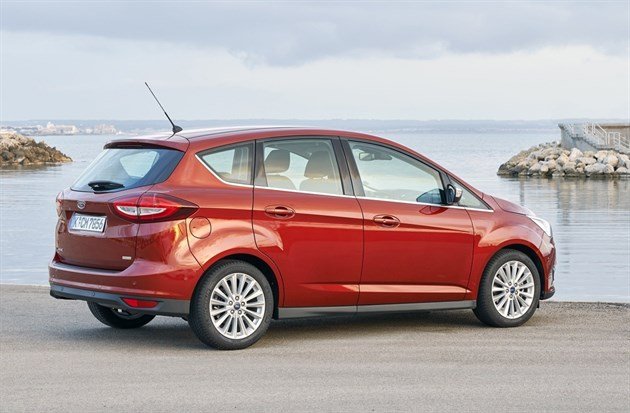 The engine line-up has been updated too; the new 1.5-litre TDCi diesel, which replaces the 1.6 TDCi, will be the most popular and with 120PS has more than enough power for everyday driving. With a claimed 68.9mpg and CO2 of 105g/km it's cheap to run and makes sense as a company car choice. It is also available with a six-speed PowerShift automatic, although that does add £1250 to the price and doesn't arrive until September.

If you want more power there's the 2.0 TDCi with 150PS and it's this engine we got the chance to drive. What impresses most is its blend of refinement and pulling power. With 370Nm of torque - 100Nm more than the 1.6 TDCi – it's effortless when overtaking or joining fast flowing motorways. The engine is barely audible and never coarse, even if you decide to rev it hard. Emissions are 114g/km and economy is 64.2mpg, so it's not far short of the smaller diesel.

While we think it's a very good engine, we wouldn't necessarily choose it over the 1.5 TDCi unless you're going to be carrying a car full on a regular basis and feel the need to put your foot down. The 2.0 TDCi is £1500 more expensive and only comes in Titanium or Titanium X trim, so you'll be paying £22,895 list price minimum. For our money, the 1.5 TDCi suits the C-MAX perfectly.

The good news is that standard equipment levels have increased over the old C-MAX. The big-selling Zetec now gets hill start assist, a tyre pressure monitoring system and a mini spare wheel instead of those useless tyre inflation kits. Moving up to the Titanium costs an extra £1500 but it does now have the Sync 8-inch touchscreen plus LED daytime running lights and a new alloy wheel design.
Ford may have given the C-MAX a light nip and tuck on the outside but it's the changes under the skin which make the most difference. Ford once again proves that when it comes to family cars, there are few who do it better. It may not have the glamour of rivals like the Citroen C4 Picasso but you get the feeling that if you choose a C-MAX, you're in a safe pair of hands.

The Ford C-MAX goes on sale in August.