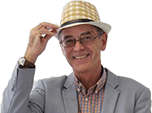 FIAT Panda Cross 2014 Road Test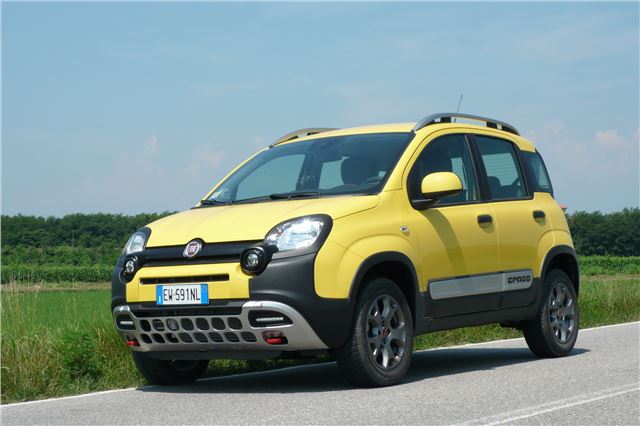 The FIAT Panda Cross is a top-level version of the Panda 4x4, with features that give it even greater off road ability and lift it in status terms to sensible chic.
The original FIAT Panda 4x4 was legendary for coping with snow and milder off road conditions due to its combination of four wheel drive and light weight. The special edition 'Steyer Puch' version took this a stage further.
I even came across one that had done more than 200,000 miles conveying a schooteacher from Alston (England's highest town) to his classrooms in the Tyne valley during snowbound winters.
The second generation Panda 4x4 (and Panda Cross) was pretty good too, coping startlingly well with conditions that would have sunk many larger 'soft roaders' up to their axles.
For the third generation Panda 4x4 (and second Panda Cross), FIAT has raised the Panda into junior Range Rover Evoque territory, at less than half the price.
To anyone not familiar with the FIAT 500 and current Panda, the Panda Cross is surprisingly well built and tastefully trimmed.
You get a chunky, thick-rimmed steering wheel, a nice dash in a pleasing copper colour, sensible 'antique leather' effect door trims that aren't going to mind a bit of mud, decent seats.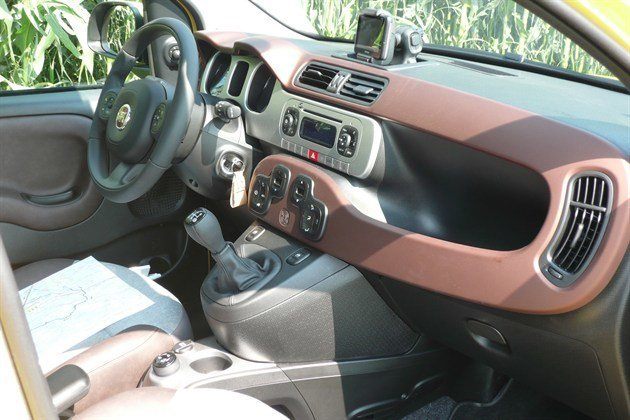 Get going in the Multijet diesel and your first impression is slightly vague steering from a combination of the big all-weather Mud and Snow tyres and the relatively high centre of gravity. It's no sportscar.
Yet it bombs along in a pleasantly eager sort of way, cruising at 70 at well under 3,000rpm.
Taken mildly off road on dry forest tracks, the ride quality was astonishingly good, bumps absorbed by the 185/65 R15 tyres, and imparting an impressive feeling of solidity. No rattles or clonks. This is a very well built little car.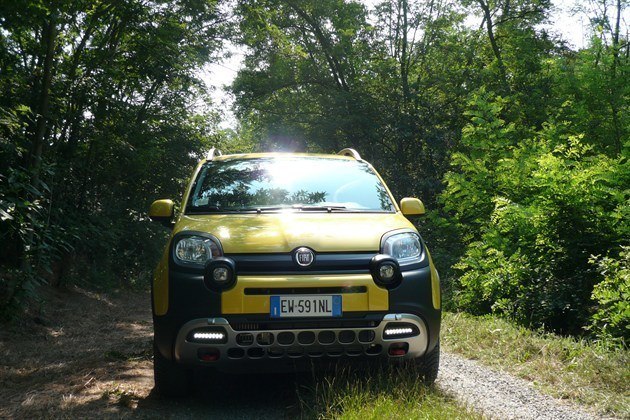 The 'crawler' first gear ratio proved useful in climbing a steep slope to perch the car for a  photo against the background of a lake far below. And of course, this will also be useful for anyone wanting to tow a small trailer or caravan because it means getting away without having to slip the clutch.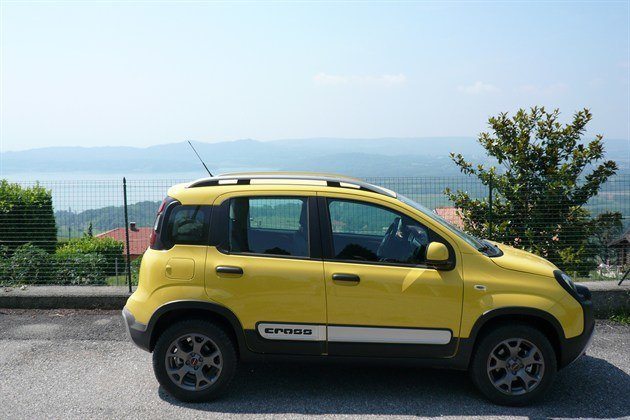 Every time I stopped, got out to take another snap, then got back in again, it increasingly felt like an eager and dependable friend. As FIAT Pandas have always felt, yet more comfortable, and more capable.
Just one criticism: it wouldn't pull 5th happily at 50kmh (30mph), so you can's shift above 4th in town.
After 80 kilometres of so in the Multijet I switched to a TwinAir to tackle FIAT's fairly challenging off road course at their Balocco test track.
And that surprised me because, despite less torque developed at higher rpm, the TwinAir somehow felt even better. It romped over obstacles that would cause problems for bigger 4x4s with poorer approach, breakover and departure angles.
The selector allows three modes: Auto, in which 98% of power and torque is fed to the front wheels and you're basically in front wheel drive all the time unless the system detects slippage. That was the mode in which I drove through the forest in the Multijet.
The next setting is 'Off Road', which provides permanent four wheel drive up to 50kmh, then reverts to 'Auto' until you drop below 50kmh again. In this mode the Electronic Locking Differential is automatically brought into play when needed.
Lastly, there's Hill Descent Control that uses the Antilock Braking System to hold your speed to between 5kmh and 25kmh when descending steep inclines and, if you leave it on, it remains on standby up to 50kmh (30mph), then reactivates at 25kmh (15mph).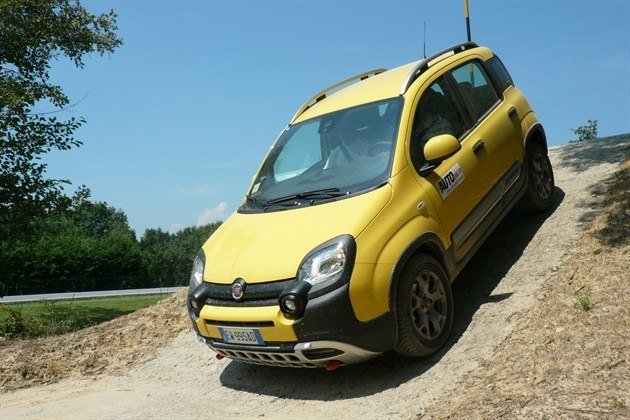 But you have to be careful not to use the parking brake, because if you do, that switches off HDC: something worth remembering at the top of a steep incline.
And all of this without a creak or a rattle. The FIAT driver even took us over the 'backbreaker': a series of alternate concrete mounds that would have broken the body-welds on a lot of cars.
A clincher is the 711-739mm engine air intake height (28"-29"), crucially giving a wading depth of more than two feet.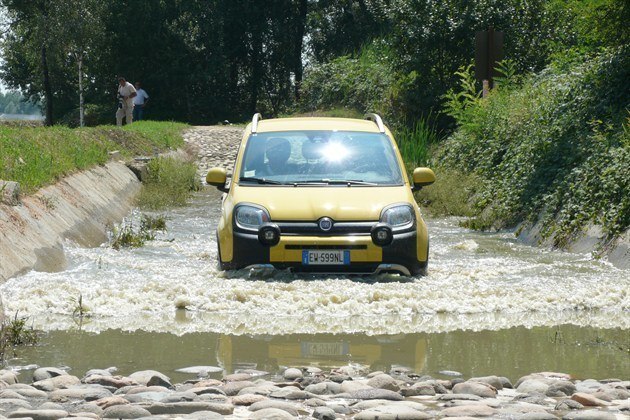 Outstanding.
So I thought I'd better take a TwinAir out on the roads to check how it compares to the Multijet.
The answer is, less weight over the front wheels means less understeer and tidier cornering. While a top gear ratio of around 23.5mph per 1,000rpm gives a comfortable 3,000rpm 70mph cruise.
It sold itself to me. Plenty of people will still go for the Multijet for its ultimately better real life economy.
But I'd take the £1,000 saving of the TwinAir and enjoy the preferable performance.
Practicalities include 60/40 folding rear seat backrests, a false load floor to load sill height, and a deep removable polystyrene tray underneath (but no spare wheel).
I think I can safely predict that the Panda Cross will steal a lot of sales where people need a proper 4x4, but don't need a big one.
They can save £15,000 against a Freelander, Evoque or Tiguan 4x4 to put against a more practical estate or sportscar to run alongside.
They don't have to blow a whole £30,000 on a 4x4.
And if they live above the snowline with a daily job below it they can be fairly sure of getting to work every day of the year.
More at FIAT