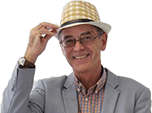 FIAT 500 2015 Facelift Road Test

No one is in any doubt that the FIAT 500 saved FIAT. So, after 8 years of bringing a smile to the streets and 1.5 million sold, a new FIAT 500 had to be exactly right.
All kinds of tweaks were tried: Lowered rooflines. Elongated headlights. Restyled hatchbacks. Five prototypes were shown to thousands of existing 500 owners and potential buyers. And which did they almost universally choose?
The one that looked the most like the FIAT 500 of 4th July 2007.
Altogether, 1,800 changes have been made: 40% of the car. To make it safer, more economical, lower in CO2 and more 'connected'. But apart from distinctive new taillights and a mildly modified front it looks exactly the same.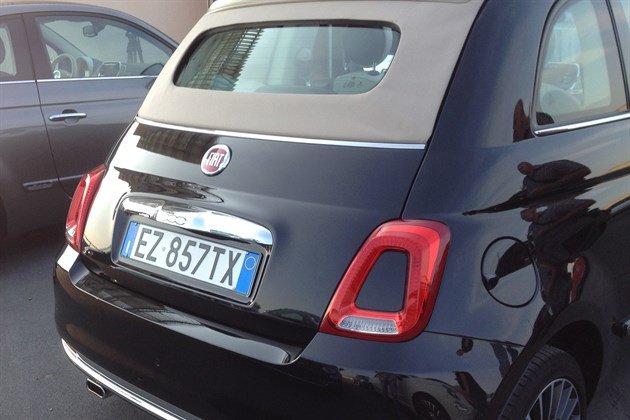 There are new colours. Sadly, 'Volare Blue' has been dropped, but 'Bossa Nova White' soldiers on as the only 'free' colour and new hues such as 'Glam Coral' pastel and 'Avantgarde Bordeaux' have been added.
For purposes of personalisation, a choice of 'second skin' wraps is now offered: either waistline or changing the whole upper part of the car. 'Camouflage' is quite attractive while, if you want, you can opt for black and yellow and make your 500 look like a Barcelona taxi.
500 Lounge models now get Uconnect 5 Radio LIVE Internet radio as standard, together with Bluetooth hands-free phoning and music streaming, voice recognition and an SMS reader for reading texts to you from compatible smartphones.
Uconnect LIVE allows direct access via the 5" touchscreen to 'TuneIn' Internet radio, 'Deezer 'music streaming and Reuter's news feeds as well as Facebook and Twitter. The screen is line of sight and easily reached for minimum distraction from the important job of driving the car.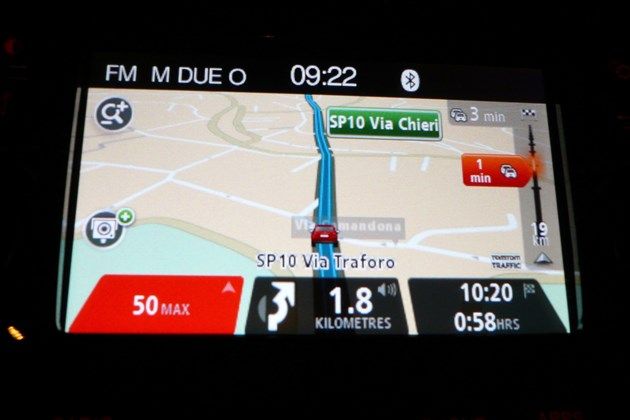 A £350 upgrade on Lounge models (£600 on Pops and Pop Stars) brings voice activated or touchscreen activated TomTom navigation and a further £250 upgrade on the Lounge brings a TFT colour digital speedo instrument screen with turn by turn instructions repeated on it.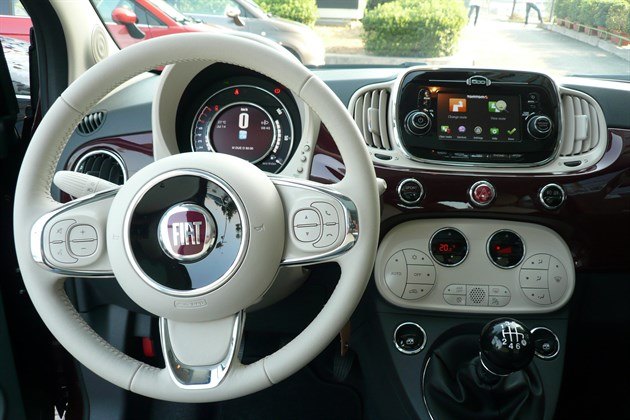 The comfortable seats are mildly modified, retaining long tiltable squabs and a range of new fabrics and leathers.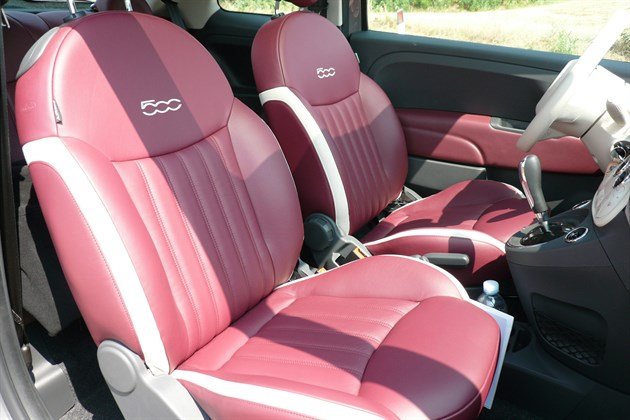 A big improvement inside is the addition of a decent sized glovebox instead of a shelf.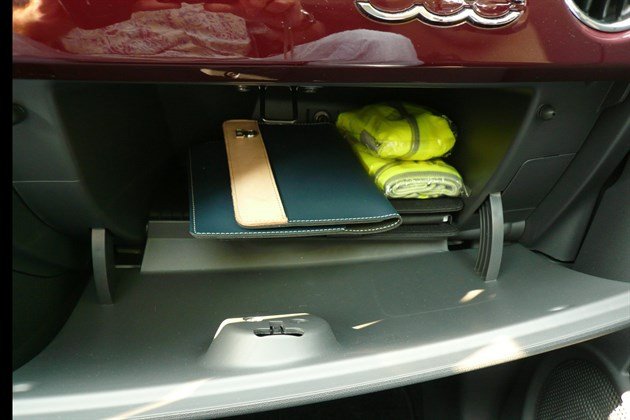 To drive, not a lot has changed. A new 99g/km 1,242cc 4-cylinder 'eco' petrol engine is on the way, together with a new 1,248cc MultiAir diesel. But ,for the time being, the UK will get the 69PS 1,242 four, the 85PS 875cc TwinAir and the 105PS 875cc TwinAir. The 69PS four and the 85PS TwinAir are available with a 5-speed manual or FIAT's 5-speed 'Dualogic' automated manual transmission, while the 105PS has a 6-speed manual.
We drove a 105PS TwinAir on 16" wheels with 195/45 R16 tyres and a 69PS Dualogic on 185/55 R15 tyres, neither of which I had driven before.
The 105PS TwinAir is lots of fun, nipping through traffic and romping up hills with an alacrity that belies its tiny capacity and mere two cylinders, though the engine note of a powerful lawnmower is still joyfully evident.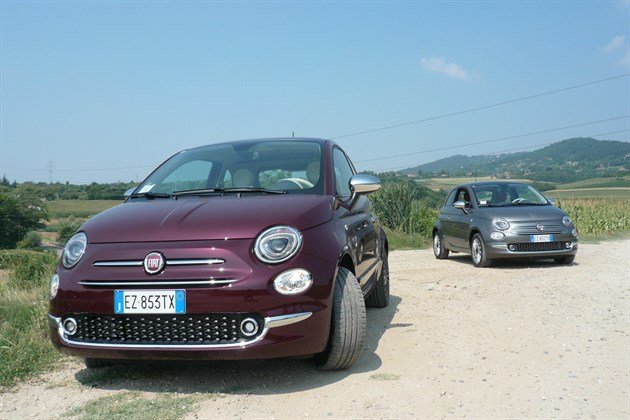 It seems to ride a bit better than before, despite the 16" wheels, an improvement largely derived the switch to Ford KA suspension in 2010 that combines an anti roll bar in the rear twist-beam with softer rear springs and more progressive dampers. It steers sharply too, while still managing to convey a bit of feel to the driver. Braking also is improved. The 105 gets rear discs as well as front discs, and all 500s get slightly bigger front discs. It's fun.
The 69PS 1.2 Dualogic, on the other hand, is comparatively lethargic, but the four cylinder engine suits the Dualogic box a lot better than the 85PS TwinAir, a combination to which I was upgraded on a rental last summer. It's probably best just to let the robotised actuator get on with it, but if you lose too much speed on a hill you can manually shift to a lower gear.
The bit that bothered me was the rigmarole of setting off from traffic lights. If you correctly shift to neutral while sitting at a red, then you have to pull the lever down, then left, then down again to '+' to get moving before the driver behind starts blowing his horn. If you need to have an 'automatic' it's just about acceptable, but to my mind more complicated than driving a manual, so I'd save the money.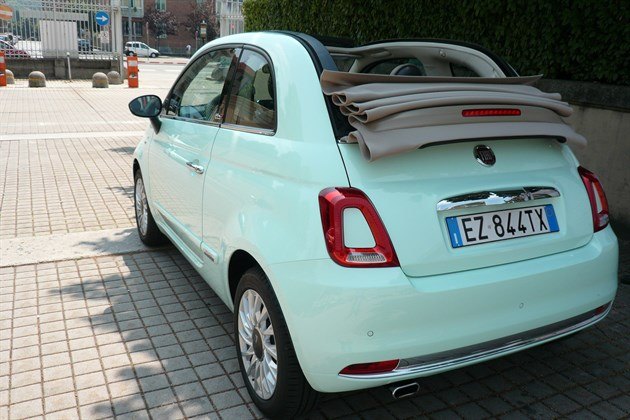 For wind in your hair driving and a suntan, the canvas-topped 500C continues, but such was the competition for drop-tops we only managed to drive that once, up the 6 storey ramp to the roof of the old FIAT factory at Lingotto. That was a 69PS 1.2 and I can confirm that FIAT has fixed the EU6 version's widely reported reluctance to climb steep hills.
Prices have gone up a bit since 2008, when a 500 1.2 Lounge was £9,300. That's now £12,640, a rise of £3,340, or 36% over 7 years.  However, put into perspective, it has only gone up 5% a year: a bit more than inflation over the past 7 years, but not as much of a rise as some other cars.
The revamped FIAT 500 has been updated without losing any of its endearing qualities or charm. It's stayed fun and fashionable and remains the halo model of the FIAT range in much the same way as the Nuovo Cinquino of 1957 that inspired it.
More at FIAT