DS 3 Crossback E-Tense 2019 Road Test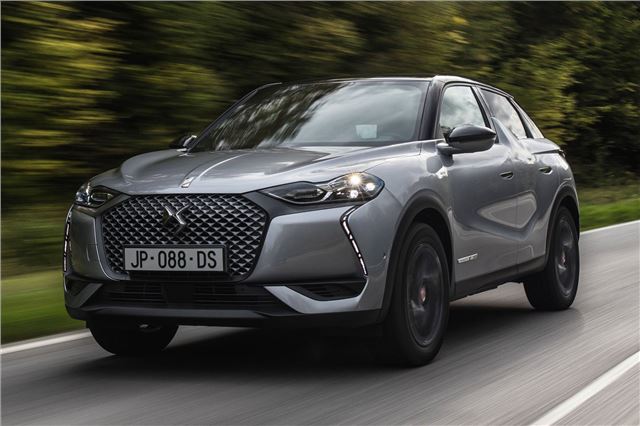 Crossover SUVs and electric cars are all the rage - so it's surprising that Citroen's posh brand, DS, is one of the first manufacturers to combine the two. The DS 3 Crossback E-Tense is a bold effort, with an interesting interior and head-turning looks. It also represents reasonable value for money compared to rivals, although its firm ride and limited practicality won't be for everyone.
The DS 3 Crossback shares a lot with the Peugeot e-208 including a 136PS electric motor with a 50kWh Lithium-ion battery. The result is a range of 200 miles (according to real-world WLTP tests), while 100kW rapid charging allows it to reach 80 per cent of charge in 30 minutes, providing you can find a sufficiently capable charger. A 7.4kW home wallbox will charge the E-Tense from 0-100 per cent in around 7.5 hours - ideal for an overnight charge.
Setting off from a standstill is the pleasant experience we've become accustomed to from electric cars, with instant reaction to pressing on the accelerator and nothing in the way of engine noise. It'll accelerate from 0-62mph in 8.7 seconds and, while it does have the usual urgency of an electric car around town, it doesn't feel as sprightly at higher speeds as the 64kWh Kona or, indeed, the lighter Peugeot e-208.
Like the regular model, our main criticism of the way the DS 3 Crossback E-Tense drives is its ride. It'll crash over speed bumps, passing even minor imperfections into the cabin. We thought the standard car was firm, but try adding 300kg of weight and revised rear suspension intended to increase sportiness and it can be pretty uncomfortable on bumpy roads.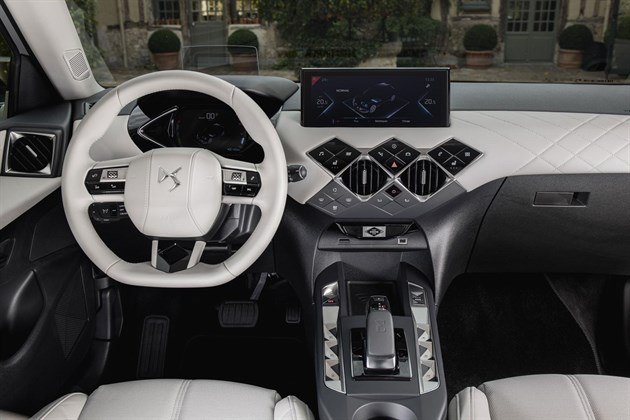 There are a number of drive modes. Eco is the best for maximising range, although it blunts the responsiveness to the throttle and even goes as far as reducing the output of the climate control. Sport mode provides a useful amount of torque - ideal for quick getaways - and adds a bit of weight to the steering but, as you'd expect, impacts range. Therefore it's best left in Normal mode.
As well as a variety of drive modes, there are two levels of regenerative braking. 'Normal' is intended to simulate the behaviour of a petrol engine, with minimal engine braking, while 'Brake' will reduce speed as soon as you lift off the accelerator, pumping energy back into the batteries. It's not quite as severe as in other electric cars - you can't quite resort to one-pedal driving like in a Nissan Leaf, for example.
DS says electric cars pose a challenge in terms of refinement. Without a noisy petrol or diesel engine, it's easier to hear other external factors like wind or road noise. It's got around this by using increased door panel thickness, thicker glass and an acoustic windscreen. While it's generally a fairly refined car (with less of the usual electric motor whine than we're used to), road noise is quite noticeable.
Cosmetically, the E-Tense is very similar to the standard DS 3 Crossback. External changes are limited to a grey front grille, bumpers and a mildly tweaked rear bumper. There's also a choice of unique 18-inch alloy wheels and a pale beige paint finish (officially named Crystal Pearl…). If you're wanting to shout about your eco-credentials, it's not the car for you - only the well initiated will understand the meaning of the E-Tense badge or be able to spot the lack of exhaust tailpipes.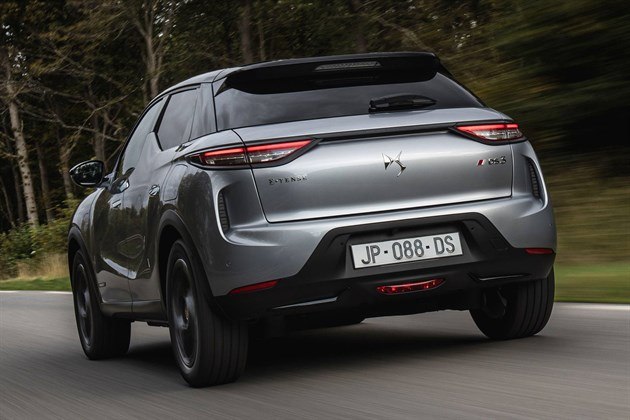 Just like the petrol-powered DS 3 Crossback, though, we think it looks pretty sharp. But that doesn't make it a particularly practical choice. DS points out that the DS 3 Crossback was designed from the start as an electric car, with the batteries positioned under the floor and electric motor in the engine bay. That means it's no less practical than the standard car, but the standard car has a pretty small 350-litre boot.
The kink in the rear windowline and shallow windows means the rear seats feel pretty claustrophobic, and there's not a huge amount of legroom. The same kink means there's also a slightly irritating blindspot if you're used to glancing over your shoulder when changing lanes.
Up front, DS has clearly made a lot of effort making the E-Tense stand out. The 10-inch touchscreen media system (standard on all but Performance Line models) looks the part, but is a little laggy to use. Diamond-shaped buttons below the screen provide shortcuts to things like navigation and climate control settings, although would it be too much to ask for a simple dial for adjusting the temperature? Apple CarPlay and Android Auto are standard, which is a bonus for those of us who like to access features from our phones on the move.
The DS 3 Crossback E-Tense has a clear appeal. It's more fashionable than the likes of the Hyundai Kona Electric and Kia E-Niro, while it really looks the part without shouting about its eco credentials. It can't travel as far as a Hyundai Kona Electric, though, while it's compromised compared to in-house rival, the Peugeot e-208 hatchback. We suspect, with the likes of the Volkswagen ID.3 hitting the market in 2020, it might be very quickly past its sell-by date. 
The DS 3 Crossback E-Tense is on sale now with deliveries expected from January 2020. Prices start from £30,490.