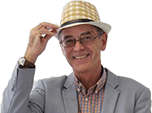 Citroen Nemo Romahome R10 Solo 2011 Road Test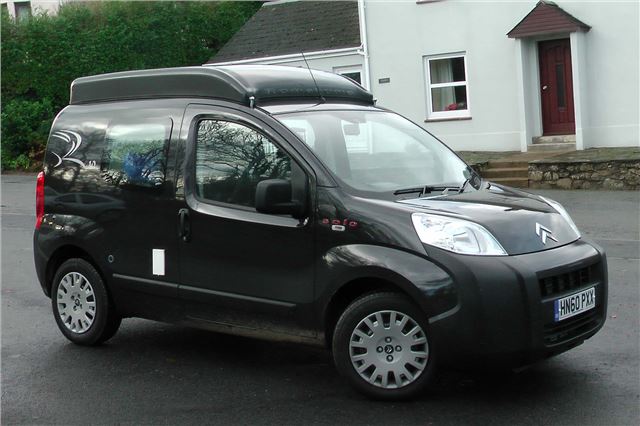 When Honest John asked me to try the single berth Romahome R10 Solo motor caravan, I confess to approaching it as a bit of a joke.
(By Martin Gurdon.)
The idea of a motor home for one seemed non-specifically funny, and the use I'd be putting it to had plenty of comic potential.
I keep chickens –stick with me on this one because it is relevant- and ages ago wrote a book about them, promoting it with bookshop talks, which often involved bringing one of my flock.
Fast forward seven years and I'm still flogging the book, still doing the talk, but for reasons too complicated to explain, often do this at Women's Institute conferences –the WI is a big organisation of people who read stuff, and only a very silly freelance writer ignores a healthy, sustained market.
So when HJ heard I was heading from Kent to a big WI 'do' in Haverfordwest with one of my flock, he thought this would make an ideal test for the tiny Romahome. The fact that I was doing this in the wintertime would add to the entertainment value of the exercise.
The R10 does look quite funny. It's based on the tiny Citroen Nemo panel van, which is short, upright, and has the contours of a giant sugar cube, a chunky nose and lamp clusters which give it a slightly started look.
No matter. It's a very space efficient; Romahome has been turning bigger vans into motor home for decades, and has gone about doing the same to this one with thoroughness.
There's a proper mains electrical hook-up outside. Open the sliding side door and you'll find a neat, combined sink unit and twin burner hob. Directly behind the driver's seat is a box containing the unforgettably named Porta Potti, a chemical loo that looks identical to the one I had when living on a houseboat in the 1980s, and would make its presence felt if an R10 owner drove off having forgotten to empty it.
There's a circular floor recess to hold an easily mountable table, and a crescent-shaped seat, with a locker containing, cables for the external electrics. This can be folded out, the front passenger seat backrest pushed forward, and the cushions used to make a bed long enough for someone whose about six foot three.
The Solo is topped off with a folding, roof. As these things go, it's simple to raise and lower, although this requires careful prodding and pulling of the soft plastic side sections.
In the summer this would help keep the R10 cool, but since everything can be reached sitting down, I didn't need to make use of it.
There are plenty of interior lights, and an R10 Soloist can hide from the outside world by means of neatly folding blinds which are held in place with fiddly pop fasteners and bits of Velcro glued, rather crudely, to interior window frames.
These jarred with the neat way the rest of the conversion had been carried out.
One thing the R10 lacked was concealed storage space. Cupboards are filled with gas and water bottles, forcing you to put luggage grips, shopping, etc, on the floor and in full view –a nuisance if you planned using the Solo as a regular car.
With the chicken installed in a slightly Heath Robinson-looking arrangement involving a folding dog cage and cat carry case, and enough luggage for a weekend away, there wasn't going to be enough room for me to sleep in the van (and I wasn't about to put the hen outside in fox-filled rural Wales, cage or not).
Since my wife was coming along for the ride, we decided to semi-cheat, stay in a Welsh bed and breakfast, then I'd camp in the Solo when we got back, so Honest would get the story he wanted, but with the order of events slightly re-arranged. 
The R10 feels lively. It's powered by a 1.4 diesel engine, mated to a slightly notchy five-speed gearbox with a dash-mounted lever.
Around town the little engine is gruff, which is hardly surprising, but it's not unpleasant, but at motorway speeds it really shuts up.
On paper performance sounds awful, with an 18.2 0-62 and 94mph top speed, but in reality it feels perfectly sprightly.
The Solo will cruise at 80mph plus in fifth with the engine turning over at around 3,000rpm, and although there aren't huge reserves of torque, there's enough to make progress relaxing.
On a busy Friday night which involved avoiding a grid-locked M25, then putting up with a sluggish M4 into Wales, then on to a series of fast A roads, the Solo proved a far better cruising vehicle than its Postman Pat looks would suggest.
At speed it's not especially quiet though. A mix of ambient noise –think road roar, some wind noise, etc- meant cranking up the radio.
The Porta Potti box at kidney-level made for an upright driving position, and the flat passenger seat is smaller than the driver's, but we arrived in Wales remarkably unfrazzled, and worked out that the Solo had been returning 45-mpg plus.
How does it handle? Tidily, in an understeery sort of way, with a fair amount of roll, and the ride is jiggly, but not harsh.
We were less enamoured by its one airbag, lack of anti lock brakes or sat nav.
Despite this, 650 miles and one WI conference later we were back home and oddly taken with the little Solo. 
Having parked it in our back garden, put up the blinds and set up the bed, I wished my wife adieu, and headed into the night.
Although the bed looked uncomfortable and knobbly, it wasn't and I did sleep, although forgetting to turn on the heater –there's an auxiliary battery- meant waking up was a chilly experience.
I ended up rather liking the R10, and can see the point of it. It really does work as a small motor caravan, although from £23,000, what it offers doesn't come cheap.
Many of us are living longer, often remaining active well into old age, but might very well experience this part of our lives alone, thanks to divorce, widowhood, etc.
Romahome sells a lot of these conversions to oldies, fishermen, and even people who travel for work but have grown allergic to Premier Inns.  There's a definite market for this little vehicle.
I came to the R10 expecting to have a laugh, but now see that, in a good way, it's beyond a joke.
More at www.romahome.com and www.citroen.co.uk