Citroen C4 Picasso 2013 Road Test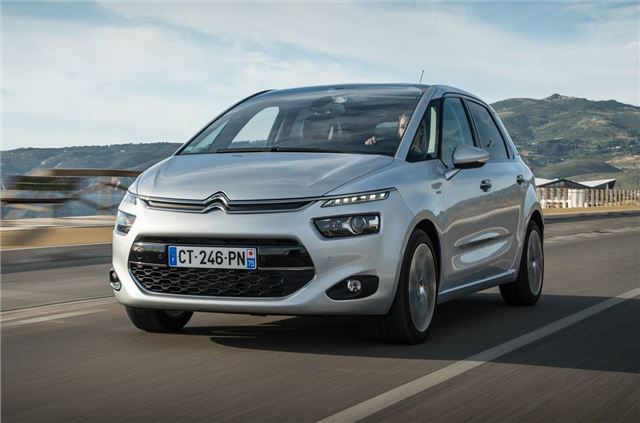 Citroen loves people carriers. The French firm can't seem to stop making them - in fact it's probably what it has become best known for in recent years with its range of Picasso models. The Xsara Picasso started it all in 2000 and soldiered on for what seemed forever (until 2010 amazingly) and is still a common sight on the school run.
The Xsara Picasso represented affordable and practical family transport. There were few frills but there was also rarely a time when you couldn't get a discount on one. It became the DFS of cars. But much has changed since then as Citroen attempts to shake of its 'value' tag and aim for an association with style and innovation. The likes of the DS3 have helped and now it wants to flow that across to its mainstream models, starting with the new C4 Picasso.
It's certainly got the styling right. Especially from the front with its smooth front end and slim LED daytime running lights which give it a cutting edge appearance. It's very different from other MPV designs yet is unmistakably a Citroen with an added premium feel. If this is the future of design from the French brand then it's very promising.
Of course what's most important for an MPV is practicality and space. Citroen has often led the way in these departments and the C4 Picasso continues that. The first thing you notice is how light it is inside, helped by more than five square metres of glass including a large glass roof and a panoramic windscreen. We're not huge fans of the latter, if it's sunny then you just get dazzled, but you can at least slide the sunblinds forward.
It's great in the back with plenty of legroom - more than the previous model - and good head room too. It feels more spacious that something like a Ford C-MAX and the seats can be slid forward or back. They also tilt which is a nice touch. All four doors open wide which makes getting in and out - or fitting child seats - much easier than in a conventional hatchback.
As you'd expect the boot is large with 537 litres of carrying space plus the new tailgate design, with the tail lights integrated, means you can fit more in. The seats fold flat too, although there's no one handle system for dropping them as in other MPVs. You have to pull two levers on the seat - there's no way of folding them from the boot.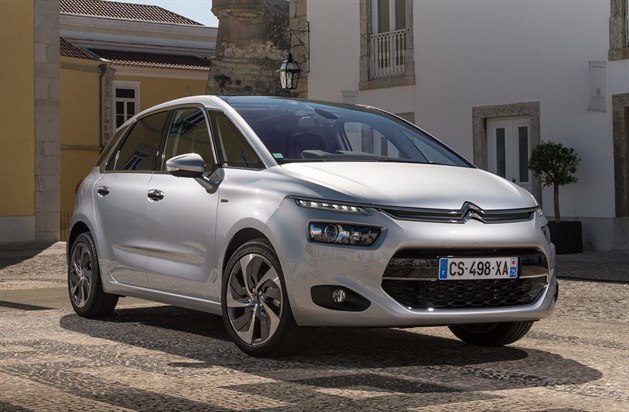 Quality has markedly improved over the old model. The materials used feel much better and the whole fit and finish is a big step up, with a more quality feel to switches and controls. The design is much improved and Citroen has dropped the 'fixed-hub' steering wheel, which we were never convinced by, for a conventional and much nicer to use one.
The dash top cubby compartments may have gone but there's still plenty of useful storage areas including a huge compartment between the front seats, clever boxes under the floor in the back and trays under the front seats. But the best is the area in the centre dashboard which is like a little media centre with a USB port, an aux-in and a plug socket. It's an ideal place for keeping phones and the like safe.
Citroen is very keen to big up new technology in the C4 Picasso - mainly the new media interface. This includes not one but two colour screens. There's a seven inch touchscreen lower down, in a nice gloss black surround, that controls all the main functions like air con, stereo and the sat nav (if fitted). Perched above in the dash is a huge 12-inch widescreen that displays the speedo and rev counter (there are no conventional dials) and can be configured to show other information such as trip data or navigation.
It's a system that's certainly easy to get to grips with thanks to clear icons either side of the screen, but it can be a little fiddly to use. For instance if you just want to turn the air con up or down you have to go to the relevant screen rather than just pressing a button or turning a dial. If you're a busy mum rushing about all day you might find it frustrating.
So the new C4 Picasso is very practical but what's it like to drive? Well the first thing you notice is how comfortable it is. The ride is mightily impressive and there's little wind or road noise on the motorway, so it's very relaxing on long journeys, helped by supportive seats. In town the clever thin windscreen pillar design makes pulling out of junctions safer and the light steering and tight turning circle make it easy to park.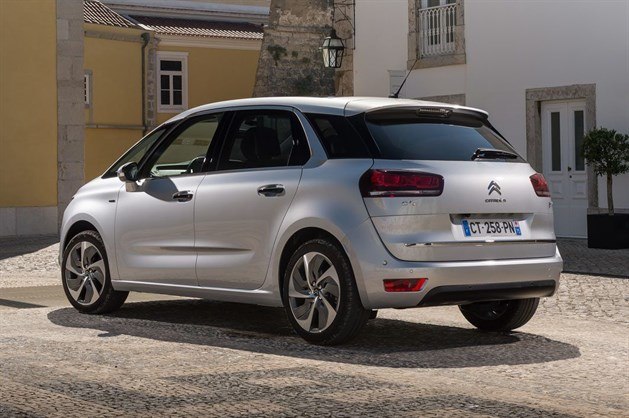 The steering itself feels quite artificial but it's responsive and the C4 Picasso certainly handles well, with plenty of composure in corners and surprising amounts of grip. It's miles ahead of the old model in this department, with impressive body control making it genuinely good to drive. That's down to the fact that the C4 Picasso uses a new Citroen platform with the codename EMP2. This will form the basis of nearly all future Citroen models from hatchbacks to estates to SUVs.
There are two petrol engines in the range starting with the 1.6 VTi along with the 1.6 THP with 155PS. The latter is supposedly the 'sporty' choice but while it's smooth and nippy from a standstill, it lacks in-gear pull so you're better off with a diesel.
The 1.6 HDi engine is available in two versions, one with 90PS and the other with 115PS. Citroen expects nine of out every ten C4 Picasso models to be diesels and it's easy to see why. It's a great engine with plenty of torque - 270Nm in the higher powered version - yet it still refined and quiet. Economy looks good too with a claimed 70.1mpg.
The rather clunky manual gearbox is a bit of a letdown but it's at least fairly positive. Citroen is also offering ETG6 - a development of the much maligned EGC automated manual gearbox. We haven't driven it yet but hopefully it will be a big improvement.
So what about prices? Well Citroen hasn't revealed exact details yet but has indicated that the new C4 Picasso will start at around £17,500 when it goes on sale this summer. The most popular model is expected to be the 1.6 HDi 115 in mid-level VTR+ trim at £20,255.
When it comes to family-focussed people carriers Citroen has long led the way. The new C4 Picasso is good enough to help Citroen rid itself of the budget reputation it once had with big leaps forward in quality and design. Yet it has kept the elements of practicality, space and user-friendliness that have attracted so many buyers before. It looks a real winner as a family MPV.