BMW X7 xDrive30d M Sport 2019 Road Test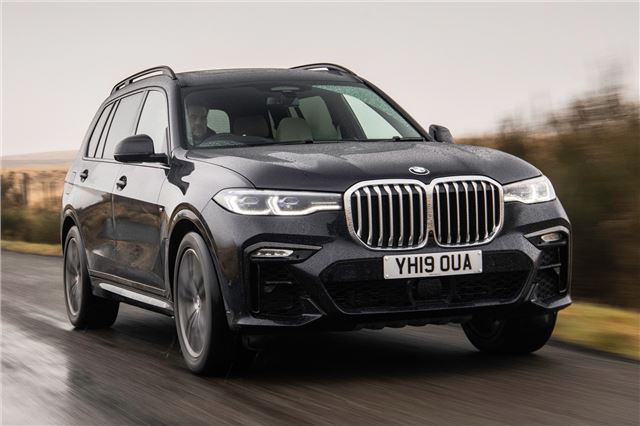 Big and brash, the BMW X7 unashamedly combines Range Rover levels of luxury with a huge amount of practicality. It's surprisingly easy to drive, is packed with technology and - if you can live with the appearance - it's a great all-rounder.
BMW will tell you the X7 is effectively a 7 Series that can go off road. Whether you buy into that, or simply see it as an X5 with more space, there's no denying that the X7 is an extremely versatile vehicle. As a five-seater (i.e. with the third row of seats dropped into the floor), it's got 100 litres more luggage space than the X5. Even with all seats in use, it's got 326 litres of luggage space - similar to a Ford Focus, and considerably more than many so-called seven-seaters.
Three adults seated in the middle row won't complain about comfort - there's lots of head and legroom, and good visibility out of the side windows. If you're not fussed about being able to carry lots of passengers, you can opt for two individual seats in place of the three-person bench in the middle row. 
As is normal for seven-seat SUVs, getting into the rearmost seats is a bit of a challenge for fully-grown adults. But once you're there, you might be pleasantly surprised. There's plenty of legroom and a reasonable amount of headroom. A grown-up could comfortably spend a few hours back there.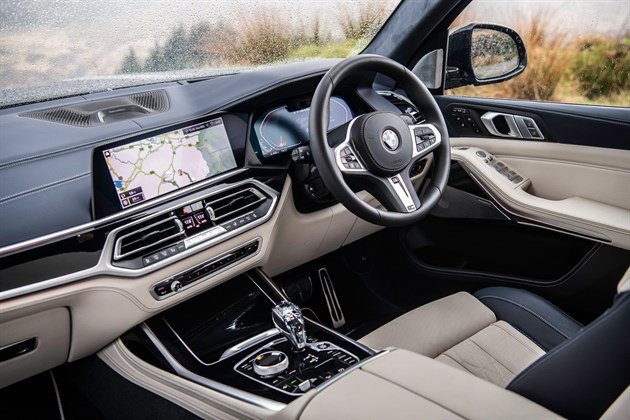 Practicality aside, the interior feels premium, with high quality materials and a pleasing amount of technology hinted at by wide range of buttons scattered around the cabin. There's a 12.3-inch touchscreen (and, indeed, gesture-controlled) infotainment screen in the centre of the dash, as well as another 12.3-inch digital instrument cluster.
BMW's infotainment system is one of the best, which is useful as there's no Android Auto available, while Apple CarPlay requires a paid-for subscription after the first year. The navigation is intuitive to use, and BMW's intelligent personal assistant reacts to voice-activated commands such as "I'm cold". It works reasonably well, although it's not as slick as devices like Amazon's Alexa.
Despite all the technology on offer, the cabin doesn't feel particularly special. A Range Rover does a better job of showing you where you've spent your cash - and we suspect the new Mercedes-Benz GLS might, too. Maybe we've been spoilt by smaller premium SUVs but, for a range-topping BMW, we'd expect some even more upmarket materials or shout-out features - and we don't mean the crafted glass gear selector.
When behind the wheel, you might expect to be intimidated by the size of the X7 in the first instance. But it's not as difficult to drive as its huge dimensions suggest. Excellent visibility provides a commanding view of the road ahead, and even around town it doesn't feel too hard to thread through gaps. BMW's Parking Assistant Plus is standard across the range, making life easier with its 360-degree cameras and a reversing assistant, able to reverse the car for up to 50 metres by following the same route it took going forward - great for reversing out of a parking bay, for example.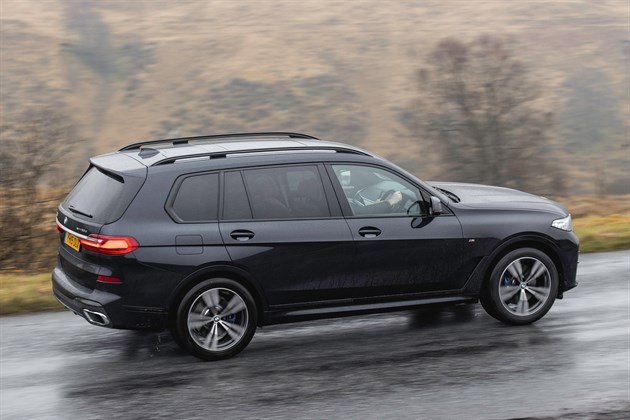 While the X7 is no Porsche Cayenne in terms of handling, it's not the big wafty SUV you might expect, either. The standard-fit air suspension provides a good ride, while ground clearance can be increased or decreased when you want to prioritise aerodynamics or off road capability. Incidentally, the X7 is pretty capable off road. Few buyers will be bothered, but it can tackle a rocky track fairly easily (although width is, obviously, a concern) and it should be pretty good at negotiating a muddy campsite or snowy road if required.
It's the 30d we've tested here. While the range-topped M50d is tempting, the entry-level diesel is the best all-rounder. It's very quiet and refined, while a hefty 620Nm torque is available low down in the rev range, meaning it tackles hilly roads and overtaking without a fuss. It'll no doubt lug a caravan without a problem either (officially it'll tow a fairly substantial 2200kg).
No matter which engine you opt for, the X7 isn't particularly frugal, but the 30d will officially return early-30s MPG and emit 171g/km CO2. Our test drive suggests you can see 30mpg from the trip computer fairly easily, as long as you're gentle with the throttle. The M50d is moderately more thirsty while the petrol... well, it's probably not worth asking.
If you want something that can genuinely do it all, the BMW X7 is an easy car to recommend. You'll have to accept evil looks if you drive it through a city centre - some love to hate its brash image - but it's an extremely practical and luxurious SUV. We'd like to see a few more special touches to separate it from the X5, but it feels premium and there's no shortage of technology on offer.
The 2019 BMW X7 is on sale now.