BMW 840d xDrive 2019 Road Test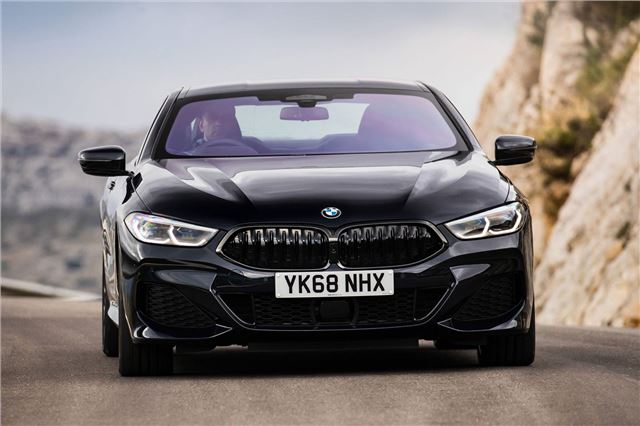 Is this the most attractive BMW currently on sale? We reckon so. And what else would you expect, from the firm's new flagship model, intended to take on the Mercedes-Benz S-Class Coupe and Bentley Continental GT? An indirect replacement for the old 6 Series, the new 8 Series is bigger and more luxurious (not to mention more expensive) than before.
Initially, the new 8 Series will be available with a choice of a petrol or diesel engine. UK sales are expected to be split roughly 50/50, but it's the latter that we're testing here. Said engine is badged the 840d and uses a 3.0-litre straight-six turbodiesel motor.
While the BMW 8 Series might look the part, it sits slightly awkwardly between luxurious gran tourer and sporty coupe in terms of driving dynamics. It's not as luxurious and wafty as many of its rivals, but that could be forgiven if it was exciting to drive. But, in 840d guise, it isn't. Not really.
Not that anyone's going to wish for more performance. There's a slight hesitancy to the automatic gearbox at times, but when you stomp on the right pedal it will accelerate forwards with a sense of drama. This is amplified when you select sport mode, but doing so triggers an awful fake noise that desperately tries to hide the fact that you're in a diesel. For this reason, sport mode is left well alone.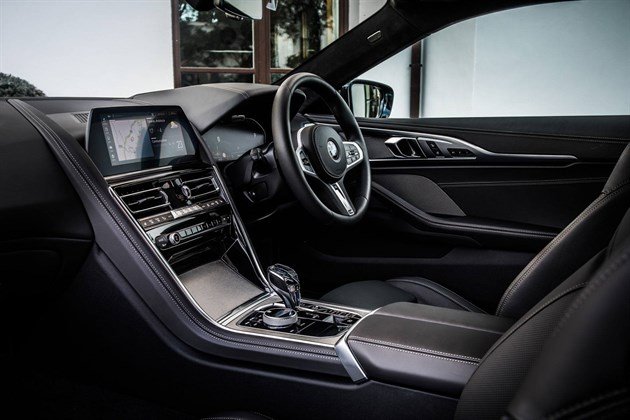 Whichever mode you're in, the 8 Series will crash uncomfortably over bumpy roads. Adaptive dampers are fitted as standard but are all too easily phased by anything but perfect tarmac. Ride aside, its standard four-wheel-drive (and four-wheel-steer) system provides plenty of grip - most of the time.
Body roll is well controlled, giving the impression that the 8 Series will be a nimble handler. Light steering doesn't inspire confidence to press on, though, and when you do the front end can be surprisingly reluctant to turn in. It might be firmer than its more wafty rivals, but that doesn't translate into a keen driving experience.
The interior isn't as plush as you might expect, either. Overloaded with buttons, it almost feels dated already. While generally the materials used in the cabin feel of high quality, it's not difficult to find a few brittle plastics here and there. We're being picky, but rivals such as the Mercedes-Benz S-Class Coupe are near-impossible to fault inside.
Fortunately the seats are comfortable and it's easy to get a relaxed, low-down seating position up front. The same can't be said in the rear - this is essentially a two-seater with an extra pair of seats for occasional use by children (ISOFIX points are fitted as standard, if you're wanting to fit child seats). No one would thank you for making them squeeze into the rear, but there is a bigger four-door Gran Coupe model set to arrive in 2019.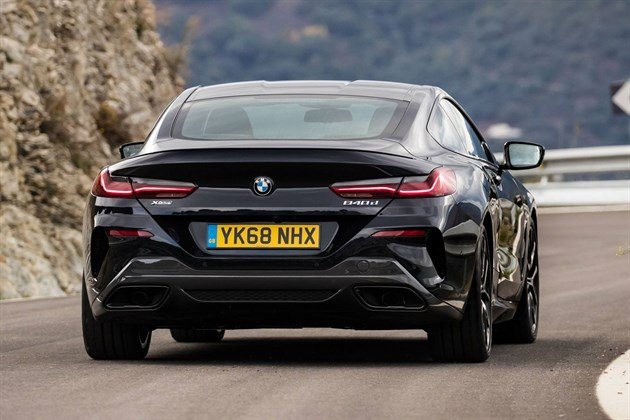 If you don't need to carry passengers in the rear, the two-door Coupe is not all bad on the practicality front. The boot is huge, with plenty of room for golf clubs (BMW knows its market). Access is fairly tight but, should you need more space, it's easy to drop the rear seats flat.
We suspect that many people will fall for the BMW 8 Series the second they lay their eyes on one. It really does look incredible, drawing admiring glances everywhere we drove it on its launch in southern Spain. Buy one on the strength of its looks, and there's little about the 8 Series that's going to leave you really wishing you'd looked elsewhere.
There's a 'but'. It's just not quite as polished as we'd like. As a flagship model fighting against some of the most desirable cars money can buy, it needs a touch more wow factor. Especially as you'll pay more than £76,000 for the diesel, and upwards of £100,000 for the petrol once you've selected a few optional extras.
While most people won't be too concerned about the average driving experience, it's the interior that's the most disappointing. Obviously you won't buy this car to carry four adults, but we'd like a bit more pizzazz inside. It's not that it's bad, it's just not as impressive as it should be for a flagship BMW.