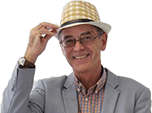 BMW 530d xDrive G30 2017 Road Trip

The 2017 BMW 5-Series G30 is the seventh generation of the BMW 5-Series, an event that has occurred roughly every seven years since 1972.
With one or two annual exceptions it comprehensively out-sells the competition, so this is a very important car for BMW and one that BMW has thrown everything at to make it the most technologically advanced yet.
The fully equipped BMW G30 530d xDrive M-Sport, by which I mean the completely loaded £66,000 car we drove from Estepona to Hounslow, comes with such an array of SIM-driven 'connected' tech, it took us three days to learn about 80% of what it can do. Because, while all this stuff is undoubtedly brilliant and extremely helpful, like a lot of tech these days it isn't either logical or intuitive. You'll get it in the end. Familiarity breeds content. Just prepare to be baffled and frustrated from time to time and have the inch-thick driver's manual to hand. (We found this in the boot, by the way, because the perfume diffuser in the glove locker leaves no room for it in there.) Everything is controlled by a non-reflective 10.5-inch touch-screen, and a much more ergonomic i-Drive button on the opposite side of the console from the gearlever (whether the car is LHD or RHD) so the passenger can easily make inputs.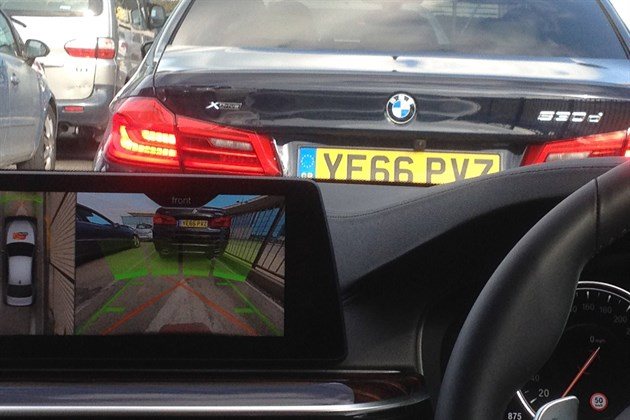 BMW Connective Drive also comes with an app that you can download to your Smartphone and pair with your car, but, because it gives significant control over the car, you have to go through several stages of security to accomplish this. It's not simple.
Our car came on something not on the equipment list: 20-inch wheels with 245/35 front tyres and 275/30 rears that provided a true test of the variable dampers. It also had four driving modes: Sport, Comfort, Eco-Pro and 'Adaptive Drive' that you can personalise to your own preferences. You might want to do this to prevent the Active Steering interfering when you don't want it to, and if you want it back you can simply get it via a button on the steering wheel.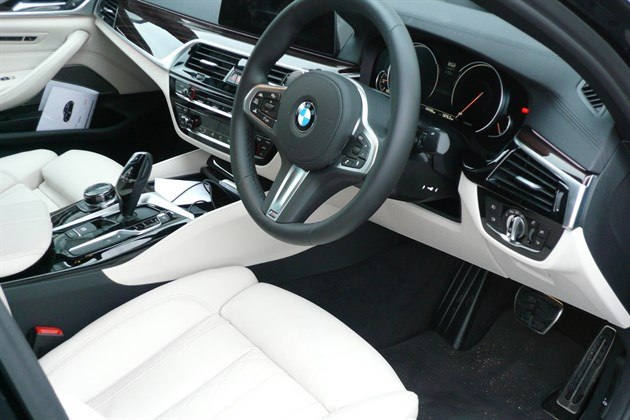 Under the bonnet crouched the usual three litre straight six, developing 265HP and 620Nm of torque, all fed through an 8-speed ZF torque converter automatic transmission to the road via BMW's xDrive intuitive all-wheel drive system that varies drive from 40/60 front to back to 100% either end. That power and torque is a little short of the Jaguar XF's 300HP and 700Nm, but nevertheless the 530d xDrive is quicker.
Efficiency is improved by the G50 5-Series being an average 100kg lighter than the F10 5-Series it replaces. Aerodynamics is also better and even the bigger, more intimidating 'kidney grille' has adaptive shutters.
And so we set off from Estepona and, being adventurous, set the satnav to avoid motorways, which, in Spain, meant cold shouldering both 'autopistas', which are tollways and 'autovias', which aren't. And, at the expense of some bumpy, badly-maintained old roads, this also found us amazing stretches of deserted tarmac on which to check the car out properly. Spain remains by far the best driving country in Europe.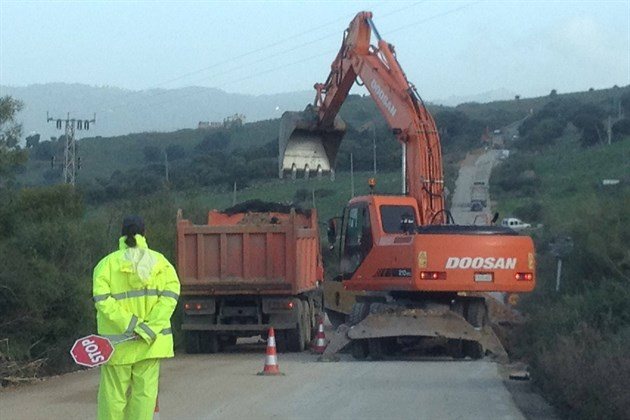 That said, the A377 between Casares and Gaucin turned out to be a 'Carreteria mal estado', to the extent it was blocked in a couple of places by roadworks, where we were able to admire the considerable skill of an excavator driver loading bits of the road into trucks. Then onwards via Ronda to Almargen, Osuna and Ecija, known as 'the Furnace of Andalucia' because it gets a bit hot there in the summer.
After that, our 'no motorway route took us on white roads across to Montilla, Espejo, Castro del Rio and Bujalance before taking the N420 towards Puertollano. The grip from the xDrive and those 20-inch tyres on the excellent N420 had to be experienced to be believed.
Puertollano is the former coal mining capital of Spain and now Spain's centre for solar panel manufacture, which was the ecological way to go. They're doing some of the old buildings up into a splendid museum, which will make the town worth a proper stopover in years to come.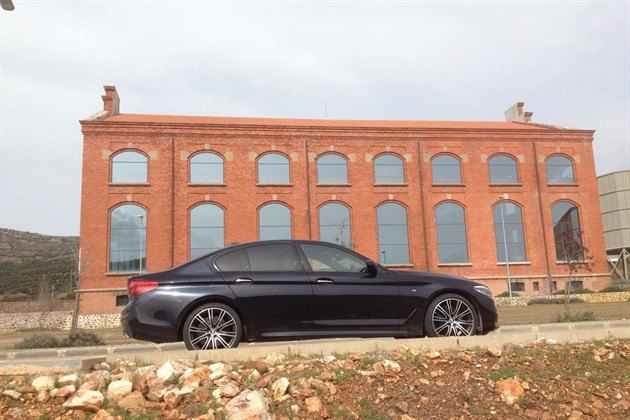 We bypassed Ciudad Real and took the N401 to Orgaz where avoiding motorways carried us across to Mora, Villaneuva de Bodegas, Dosbarrios, Colmenar de Oreja, Villarejo de Salvanes, Orusco de Tajuna, Nuevo Baztan, Pozo de Guadalahara and Guadalahara itself by which time it was definitely time to abandon cross country running and take the A2 if we were to get to Siguenza in time for dinner.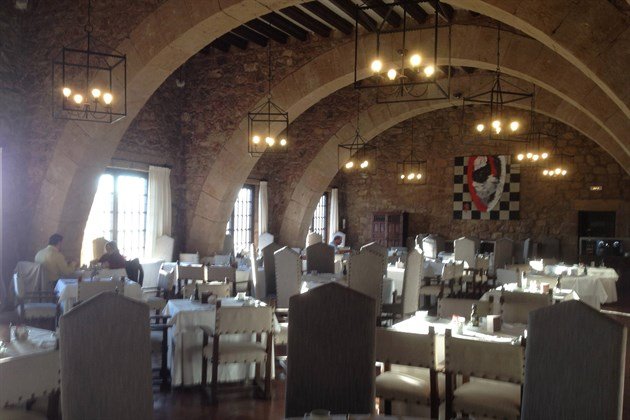 I can't recommend enough the sympathetically preserved medieval town of Sigueza and its castillo Parador. But I've done that before in our BMW road trip last year.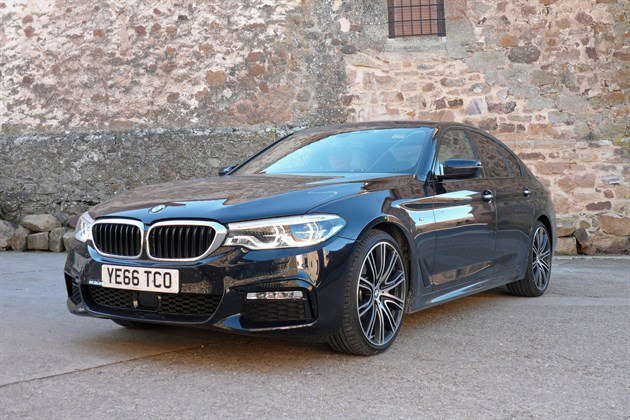 After Siguenza, the almost completely empty CM110, then CM 101 through Baraona to Almazin and the A15 to Soria.
Then you get a choice. The fast N111 that passes through some spectacular scenery, almost like a miniature Grand Canyon. Or the quieter, narrower SD615 to Ayedo that we took this time.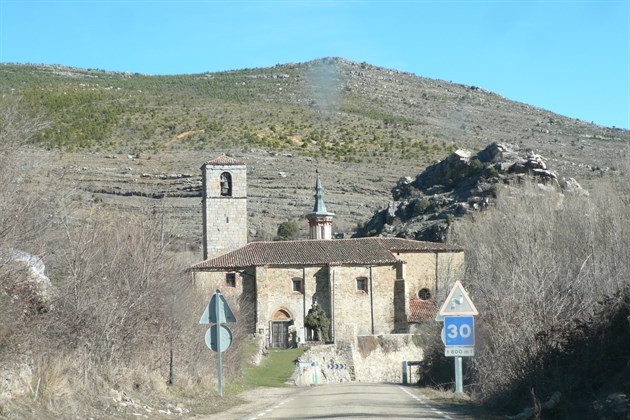 That's worth a stop to admire the medieval bridge and communal laundrette.
Then we crossed the regional border into La Rioja and more amazing scenery, especially the troglodyte caves in the sandstone cliffs on the LR115 between Arnedillo and Arnedo.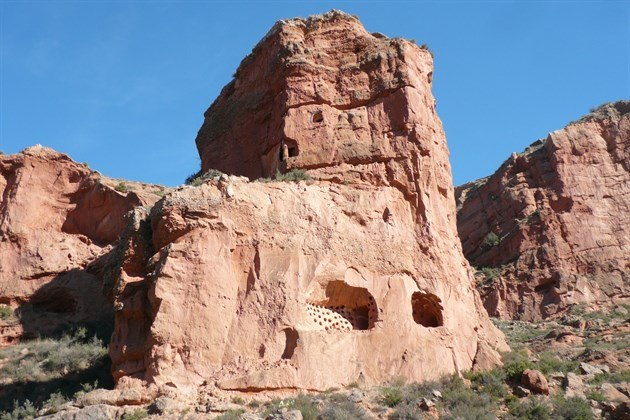 Some more great roads, too, where the xDrive and those mega tyres meant big cornering speeds.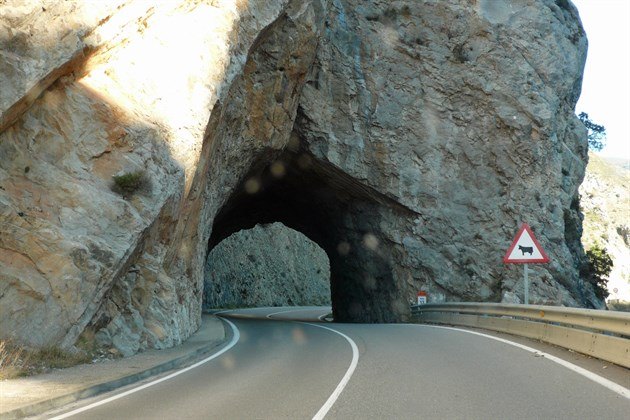 From there, El Villar de Arnedo, Lodoso, Sesma, Allo, Estella. Part of this route is spectacularly quick with a deserted 4-mile straight perfect for maxing a car with no one else around.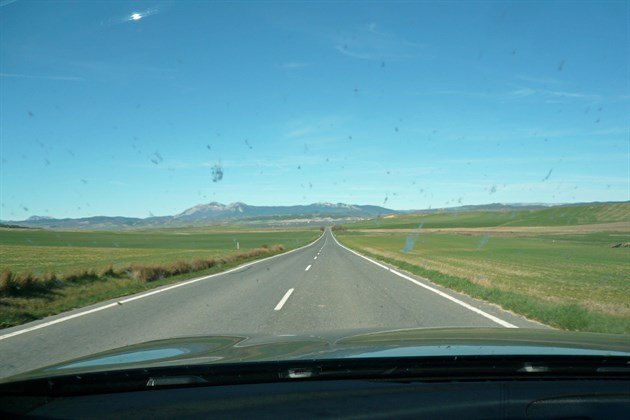 Afterwards, we skirted Pamplona onto the N121A and make a break up the N121 via Elizondo for the border with France at Ainhoa.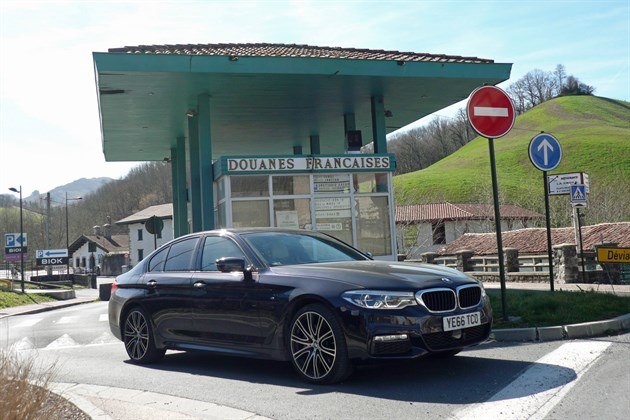 Then, a police escort through the foothills of the Pyrenees further into France where, quite frankly, it all gets a bit dull and the 32.2mpg of our blast through Spain turned into 42.2mpg at much more sensible Autoroute speeds.
We reached Poitiers in the evening of our second day, only to find our regular hotel had been half torn down for some very extensive reservations. And that that point the BMW Connected Drive that is supposed to find you hotels proved to be a bit of a let down. You can find the hotels, and their locations and make them your destination, but unless we were doing something very wrong, you can't find out what they're like.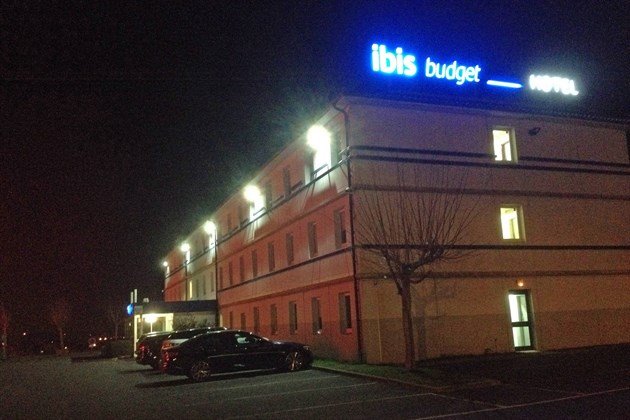 We ended up in a prefabricated Ibis Budget at 48 Euros a night that seemed to be modelled on the F1 chain of hotels of the 1990s. The rooms all have a big bed with a smaller child's bunk slung across the top. There's a pre-formed washbasin, separate plastic moulded toilet and separate plastic mounded shower. But it all works well. There's free wifi. And, just across the carpark, a Buffalo Grill.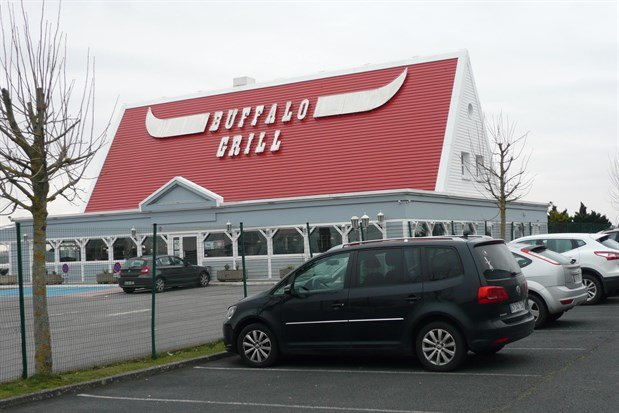 Not as salubrious as the Parador de Siguenza, but a third of the price altogether and completely acceptable, despite being requested to put our used breakfast trays in the rack provided, like as McDonalds or at school or in prison.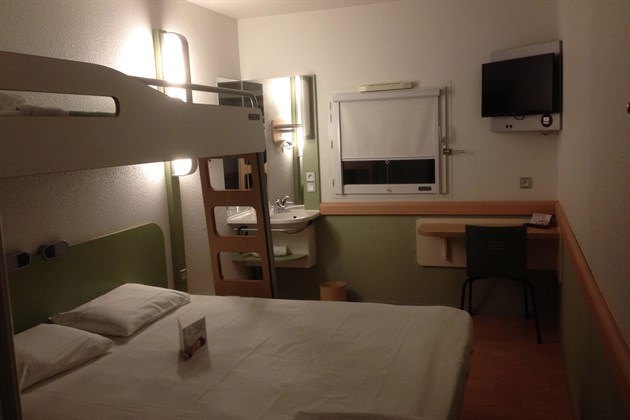 The final day saw us Autoroute North via Tours, Le Mans, Alencon, Rouen to Dieppe with the intention of taking the D925 coast road, but somehow we got onto the D920 that made the excursion pointless, except that it made a break from empty Autoroutes.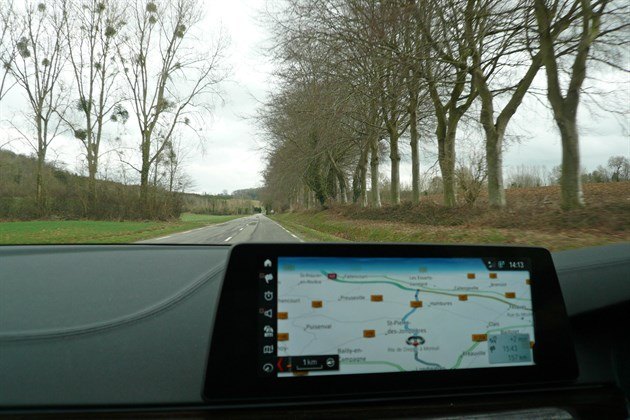 We reached Calais Vins by 3.15 in the afternoon, got the 4.30 Shuttle, gained an hour and arrived back at Heathrow at about 5.45. A useful tip is that the Long Term Carpark at T3 allows cars in free for up to 2 hours, so transferring half the wine from the 530d to my co-driver's car can be done easily.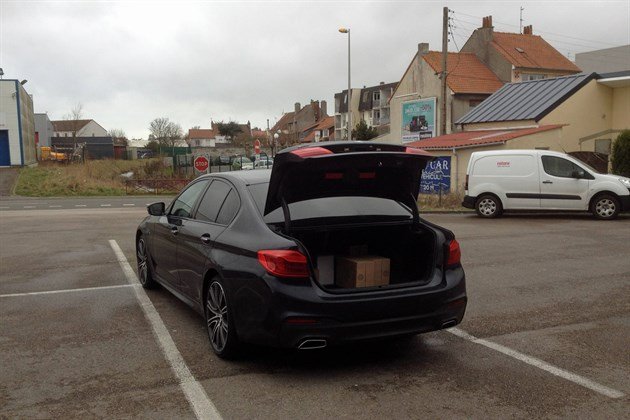 Final feelings about the car?
Rear legroom isn't brilliant. The trunk is huge: very long, quite narrow between the wheelarches, but nearly 1.4 metres wide behind the arches, so excellent for golf clubs and trolleys. The steering is generally light and accurate rather than "feelsome". You can't feel the tyres slipping because they never are. The Adaptive Cruise worked well, especially in traffic where it slows you down to the speed of the car in front then takes a tow from it and doesn't switch off until you've been stationary for more than 30 seconds. The phone system worked brilliantly, taking two calls from the UK in the middle of nowhere.
As for the Adaptive steering, sorry, we didn't like it to the extent we personalised our settings to switch it off. It may suit some people, particularly those prone to using the connectivity to its full extent to work in the car on the motorway, and the steering wheel button allows quick engagement or disengagement, but we simply didn't like having to fight something else steering the car.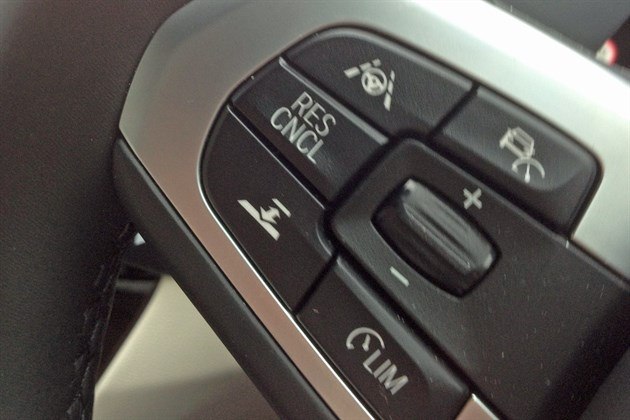 The big question is, should you go for the 530d xDrive or the 520d and save some money or tax on BIK? If you like the assurance of big power in reserve, go for the 530d. It's so good that neither of us ever bothered to use the steering wheel paddles. It also has a 2,000kg towing limit, so great for tugging racing cars, horses or caravans.
If all you're going to do is pound the motorways, go for the 520d.
More at BMW