Audi S4 3.0 TDI 2019 Road Test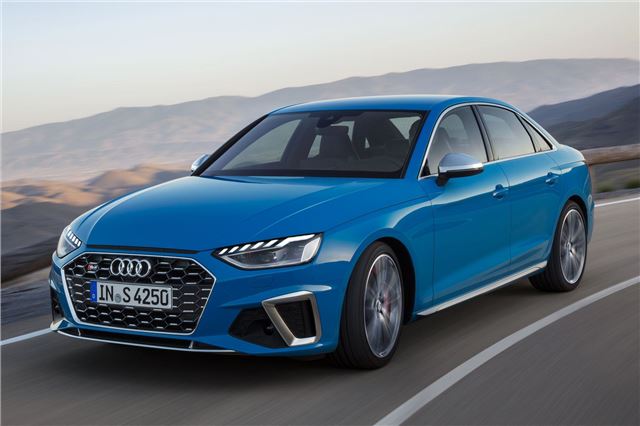 The Audi S4 has always been about understated petrol performance. However, for 2019, the S4 is being rebranded as a diesel-only super saloon. Will this 3.0-litre V6 turbodiesel provide the same thrills and spills as its petrol predecessor?
The Audi S4 certainly has the numbers: that V6 diesel packs a significant 347PS, and an even heftier 700Nm of torque. That means it'll run from 0-62mph in 4.8 seconds, while top speed is limited to 155mph. And boy does it feels quick.
The eight-speed tiptronic isn't as hesitant as in other Audi models, and there are paddles behind the steering wheel if you really want to gain fingertip control of the gears. There's also a 48-volt mild hybrid system, which helps reduce turbo lag. And while it's not going to deliver the fuel-saving benefits of a full hybrid system, it does have some neat touches - it can recuperate energy under deceleration, for example, and coast with the engine off for up to 40 seconds. 
In traditional Audi form, the S4 isn't going to satisfy keen drivers in the same way as a Mercedes-Benz C-Class or BMW 3 Series. But it's pretty good to drive - sounding better than you'd expect for a diesel, and its rear-biased four-wheel-drive system means it's agile enough in tight and challenging bends.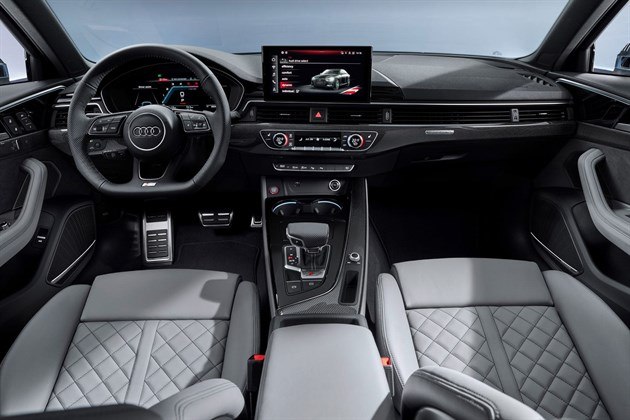 The steering could be more communicative and there's a bit of lean during hard cornering, but it's pretty good for a car that's likely to spend most of its life on the motorway. S4 Vorsprung models come with a sport differential divvying up power between the rear wheels, but few drivers will find the standard S4 lacking in minerals.
Cruising at 80mph (we were on the German Autobahn…), the S4's engine is hushed with very little wind or road noise making its way into the cabin. You could quite happily cover a lot of miles in this car without too much discomfort.
Combine the standard sport suspension with 19-inch alloy wheels, and the S4's ride is certainly on the firm side, although it does a reasonable job of soaking up bumpy roads. We'd like to test the S4 in the UK for a more realistic idea of ride quality, but if it's important to you, it might be worth opting for the S4 Vorsprung model with its adaptive suspension.
Changes to the interior are minimal compared to its predecessor. The touchpad for the navigation system has now gone, replaced by a slightly useless little cubby box in the centre console. And there are also a scattering of S logos to remind your passengers that this is no ordinary A4.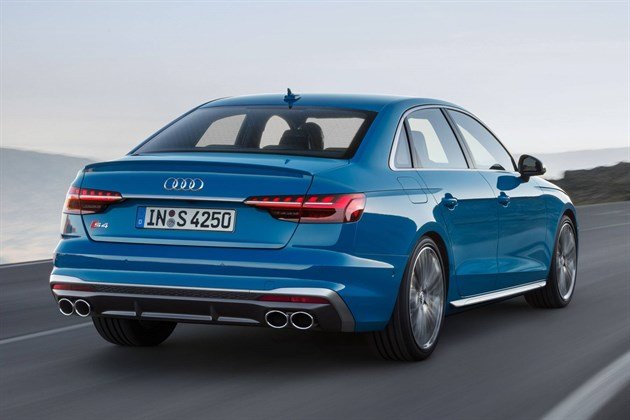 Electrically-adjustable leather sports seats with massage function are standard on the S4, along with a clear digital cockpit in place of conventional dials. There's also a really good 10.1-inch touchscreen infotainment system tacked onto the dash, providing access to Apple CarPlay and Android Auto.
While the cabin lacks the instant wow factor of the C-Class, it feels solidly made and logically laid out - and very definitely premium. You won't find any hard-touch plastics, and it's more impressive to look at than the new BMW 3 Series. It remains a practical choice, with a big enough boot and enough room in the rear for a pair of adults. You can spec the S4 as an Avant (estate) model, too - making it not only more practical, but arguably cooler.
Like the interior, you might be struggling to spot the difference in terms of the exterior design. There are new lights and a redesigned grille, more in-keeping with the rest of the Audi range. The S4 specifically gets two pairs of dual chrome exhaust tailpipes and various highlights in grey or black to give it a sporting touch. It particularly looks the part in Turbo Blue, a nod to the old Sprint Blue RS4.
We rate the new Audi S4. Ardent petrol fans will insist that it's lost some of its character by swapping its petrol V6 in favour of a diesel but, in truth, the S4 has always been about understated performance - and that's exactly what the new TDI model delivers.
The Audi S4 is on sale now with deliveries expected from September 2019. Prices will start at approximately £48,000.