Audi RS6 2013 Road Test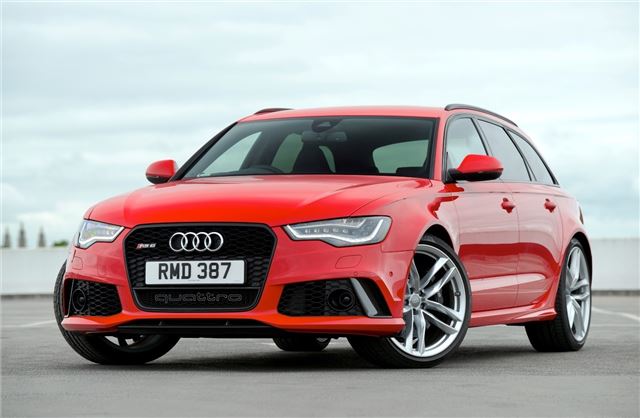 These days estate cars aren't seen as boring boxes for trips to Ikea - they're the transport of choice for what car marketing people like to call 'lifestyle' customers – people who want to move bicycles and surfboards around without compromising on style or in the case of the Audi RS6, performance.
To the uninitiated it looks – more or less – like any Audi estate car. Those in the know, however, will spot the telltale signs that this is something more. There are wider wheel arches and deeper bumpers, plus a lower ride height and plenty of brushed aluminium details. Or, for those who think subtlety is overrated, there's a matte-grey, stealth bomber paint finish.
All those lumps, bumps and bulges cover up a true high performance machine. Power – all 560PS of it – comes from a 4.0-litre turbocharged V8 which is linked to quattro all-wheel drive by way of an eight-speed tiptronic gearbox. There's a prodigious 700Nm of torque on tap and that means 0-62mph can be taken care of in 3.9 seconds. It's also capable of 189mph.
That's proper supercar performance, yet it's wrapped up in a practical estate car body with space for five and plenty of luggage. In fact, as a luxury estate car the RS6 doesn't really compromise. If you didn't let your passengers know that it was capable of such incredible pace and you drove it like you would a 2.0-litre TDI A6 Avant they'd never know.
Aside from a playful burble on start up the RS6 is hushed and, with the gearbox in automatic mode, changes are incredibly smooth and keep engine noise down at near silent levels. Refinement is excellent, too, so you can plough along at motorway speeds with little more than a subtle rumble from the low-profile tyres.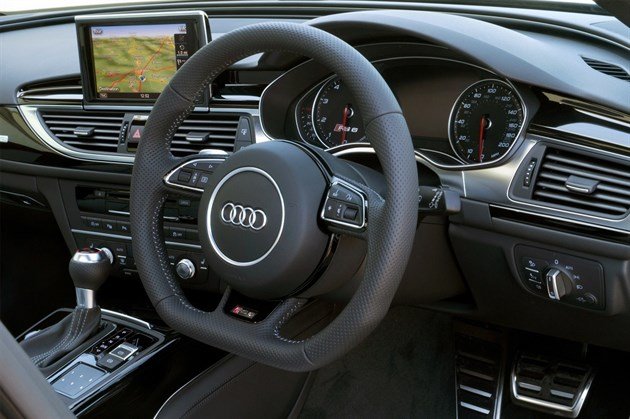 It's even comfortable, something that's usually impossible to say about such powerful cars. Sure, you can feel the lumps, bumps and potholes but they're never uncomfortable, at least with the comfort setting selected. For those who want even more comfort there's air suspension as an optional extra.
So it's a big, comfortable, practical estate car. But ask it to lift its petticoats for a dash and boy can it move. The eight-speed transmission can be overridden with steering wheel mounted paddles and there's a sport setting, which not only gives frankly astonishing performance but all the brilliant noise you'd want from a V8.
While BMW's performance cars produce a shrill, metallic howl and AMGs make a thunderous rumble, Audi's RS6 is somewhere in the middle - and it's none the worse for it. There's a bass-laden rumble at low speeds and rises to a spitting crescendo, complete with popping and banging on downshifts – it really does remind you that it is a proper performance car.
It's worth leaving the suspension in comfort even when pressing on, though. In 'Dynamic' mode the ride is, quite simply, too hard. It causes the car to buck and bounce over rough surfaces that are ironed out when in comfort setting. But, with the settings just right, the RS6 is a very capable and impressive car.
Thanks to the quattro all-wheel drive system there's no drama – point the steering where you want the car to go, press the accelerator pedal and the RS6 digs in unflappably, holding the road in a way that not only belies the cars heft and bulk but that would impress even if it was delivered by a lighter sports car.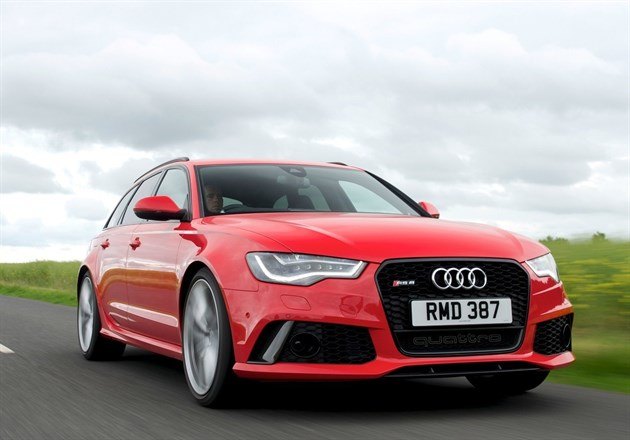 Purists will lament the lack of hydraulic power steering – it's electric in the latest RS6 – but it does a good enough job thanks to near-perfect weighting. Those same purists might be upset that the latest RS6 has lost two cylinders – the old car had a V10 engine – but little is missing in terms of performance or drama with the new V8.
In fact it's safe to say something has been gained. There's a little bit more torque to make up for the loss of 20PS, plus an improvement from 20.2mpg to 28.8mpg. That saving is owed in part to cylinder deactivation technology that imperceptively makes the engine into a 'V4' when power isn't in demand.
The Audi RS6 should be a car of compromise. You would expect a bulky, heavy estate car to be cumbersome through bends but it manages to feel nimble and it's a genuinely fast machine. But you also get a quiet, refined, comfortable estate with room for masses of luggage in the boot.  
The only real price to pay is on fuel economy and, of course, on the initial purchase price. Audi charges £76,985 for the RS6 before anything on the options list is picked out – and there are some expensive extras that will hike the price up substantially, including things like a Bang and Olufsen audio system at £6300.
But if you're looking for a prestigious performance car and can't live with the reduced practicality of something with two doors and no ground clearance there's every reason to look at the RS6. It's an impressive package that – budget permitting – you could use as a family car through the week and a toy at the weekend.