Audi R8 Coupe and Spyder 2013 Road Test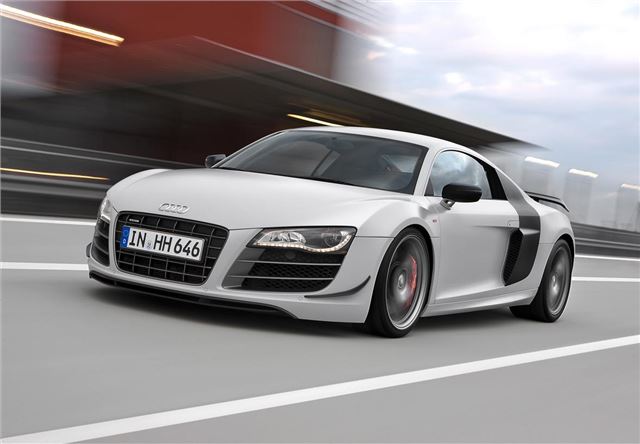 Recent Audi facelifts have focussed on improving many minor details, rather than making a change that suddenly transforms a car. Take last year's A5 facelift. There were changes to the engine line-up, introduction of LED headlights and a host of interior improvements, but that was about it.
And so it continues with Audi's top model the R8. It's especially tricky to facelift a halo model, as these tend to benefit from the very best of everything and in the case of the R8, that halo hasn't actually slipped. Yes, technology has moved on in the past five years and it could do with some more equipment here and an update there, but the basic package is still as good today as it was when it was launched back in 2007.
So what has changed then? Well, as it's a specialist low-volume and almost entirely hand-made, it's very difficult to make changes to the bodywork without incurring huge costs, so there's been none of that. Audi has added fancy new LED indicators that 'pulse' in a sweeping side-to-side motion to indicate the direction that the car is turning rather than 'blinking' in the conventional way. It's a bit of a gimmick, but it does at least underline part of the R8's appeal - at its heart is cutting-edge technology.
Likewise, there are no significant changes to report inside the car, aside from the option of quilted leather and heated seats, satellite navigation, Bluetooth and Audi's music selection system being made standard on all models (including R8 V8s).
The most important changes are the ones you can't see, starting with the introduction of a V10 plus model. This has 25PS more than the standard V10, taking it to 550PS and making it a much closer rival to the likes of the Porsche 911, Aston Martin DB9 and Bentley Continental GT, both in terms of power and price. It effectively replaces the limited-run R8 GT and adds that extra bit of edge (although you could hardly call the standard R8 V10 'wanting' when it comes to performance).
You also get a few extras including standard carbon-ceramic brakes, revised front-suspension geometry and, uprated springs and firmer dampers. Audi has also swapped various standard parts for those made from carbonfibre-reinforced plastic to bring the weight of a V10 plus manual down to within just 10kg of a standard V8. Launch control is another standard feature that's standard on the V10 plus and helps it achieve 0-62mph in just 3.5 seconds. That's quick. Very quick. Spyder buyers will have to make do with the standard V10 with a piffling 525PS - it's not available in 'plus' trim.
That's not the only major change though as, for the first time ever, the R8 is now available with an S tronic dual-clutch seven-speed automatic gearbox. This is big news. It replaces the previous robotised six-speed R tronic gearbox that's also found in the Lamborghini Gallardo. It's a big step forward with smoother, quicker changes. It changes gear in the blink of an eye making the R8 even more engaging than before. 
Being lighter, it's quicker in a straightline too. Not by a massive amount (it was hardly a slouch to start with), but enough to bring its 0-62mph time down from 3.9 seconds to 3.6 seconds. Less weight means it also benefits from lower CO2. As with most aspects of the R8, it's all relative, coming in at 289g/km. That's still firmly in Band(it) M territory and with it comes a first year VED rate of £1030 and £475 per year thereafter. It also carries a £3000 premium over the manual model.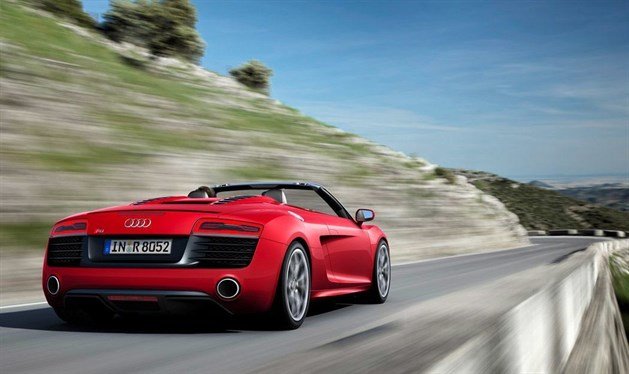 What hasn't changed is how the R8 drives - it's as brilliant as ever. Whether road or track, it continues to impress. Even though Audi has tweaked the suspension it remains surprisingly smooth over all but the roughest roads. As you'd expect, it's noticeably firmer on V10 plus versions, but if you can live with that, the trade-off is improved body control out on the track. In fact the R8 surprises in just how easy it is to drive around town - in traffic and at low speeds, it's no more taxing to drive than one of Audi's large saloons. It's the same story on the motorway, where it's stable, relaxed and comfortable.
But as soon as the front wheels touch the track, it's magically transformed into an outstanding performance car - one that flatters and forgives the driver. From novice to experienced track-day enthusiast, the R8 offers something for everyone and with no hidden surprises in its handling, your confidence behind the wheel grows with each lap.
This may not be a radical mid-life re-think, but there again that's not what buyers were asking for. The changes that Audi has made have built on an already impressive machine and made one of the world's most admired cars that bit more desirable. That in itself is an achievement.
More on the Audi R8