Audi Q8 2018 Road Test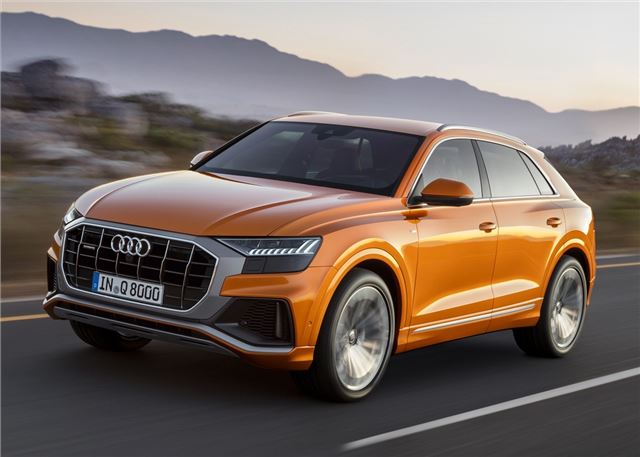 To look at the Audi Q8 you probably wouldn't guess what it is. It's an SUV of course, but there's no ugly fastback and no sense that it's designed specifically to flatten other road users. What sort of BMW X6 rival is this?
It's a handsome one, for a start. It's taken Audi a full decade to get around to entering the market created by BMW's aesthetic monstrosity – the SUV coupé market, that is – but having done so, it's taken a unique approach. While Mercedes-Benz played copycat in 2015 with the GLE Coupé, Audi has drawn inspiration from its back catalogue, claiming the Q8 harks back to the iconic Ur Quattro.
It's a calculated risk. The result is an SUV that's more conventionally attractive and more practical than it could have been, but that also lacks the brutality that buyers appear to be drawn to. The last decade has seen almost 500,000 X6s sold globally.
It gets more complicated. See, the Q8 is pitched higher on the Audi SUV rung than the Q7. So, naturally, it's more expensive – to the tune of £15,000 or so. (Prices aren't confirmed just yet.) Yet it's shorter, has two fewer seats (five), and a considerable boot capacity deficit: 605 vs. 770 litres.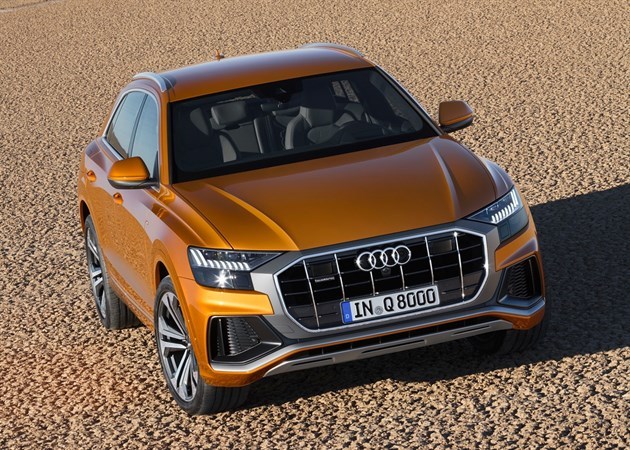 It's the classic coupe thing, then: pay more for less. Some might baulk. But let's leave that all aside and take the Q8 at face value. It's good. Very good.
For a start it's subjectively the prettiest big SUV you'll see. Frameless doors (a nightmare to engineer in this, we're told), strong shoulders (like the Ur Quattro), a wide gait and some very techy details like dynamic Matrix LED headlights combine to make the Q8 a genuine presence. And without resorting to just looking massive, like the X6. Or the Q7, even. 
Inside it's even better, with a cabin lifted – stylistically and literally – from the Audi A6, A7 and A8 school of modern design. The three-screen setup is neat, minimalist, futuristic and, crucially, very intuitive. That combined with its fundamentally perfect ergonomics make this one of the best SUVs to sit in bar none. Plus you get that Porsche Macan type experience, of sitting high up relative to the road (good visibility) but low down in the cabin (sportiness).
Sportiness. That's the other thing the Q8 does well. Every UK car comes with 'sport' specification adaptive air suspension as standard. But don't worry, the Q8 generally nails that balance of offering dynamic verisimilitude while being a proper comfy SUV. The ride is slightly more fidgety than in, say, a Range Rover Sport, but overall this feels like your archetypal big, refined luxury 4x4.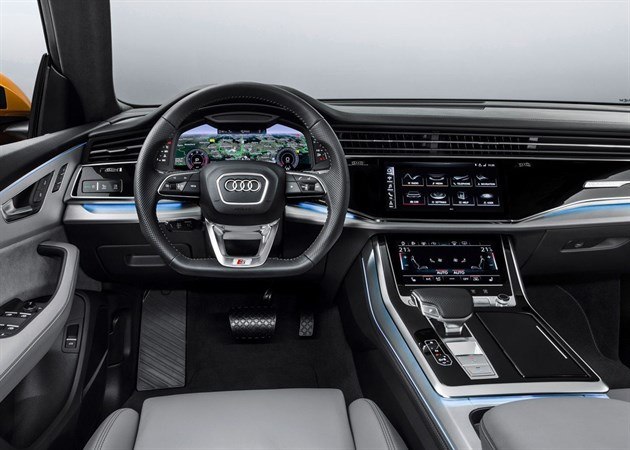 Quattro four-wheel drive is standard, but most buyers will get more from optioning the four-wheel steering, which adds further sharpness to the turn in by swinging the rear wheels a few degrees in the opposite direction at lower speeds. The system makes the big Q8 feel that bit more agile without sacrificing comfort. That sense of agility shrinks the Q8 down a bit – you'll quite enjoy driving it
Couple of issues, though, the main one being the same lazy throttle response that blights the A7. Initially the Q8 will only be offered in '50 TDI' form, which means a 286PS six-cylinder diesel and an eight-speed tiptronic auto. It's a meaty engine and a smooth shifting gearbox, but it's also hesitant when pulling away – frustratingly so. Quiet, though. Just not that exciting for this, a top-of-the-line Audi SUV.
A 55 TFSI six-cylinder petrol will come in 2019 with 340PS. It's the more enjoyable experience – that bit smoother and more pleasant to push hard. The gearbox – a seven-speed DSG – is less prone to low speed lethargy too. Both engines are equipped with a mild hybrid setup, which uses a large battery to allow engine-less cruising at motorway speed.
The Q8 is nothing if not a tech and equipment showpiece. Only two trim levels for the UK: S Line and Vorsprung. All get 21-inch rims, the aforementioned tri-screen cockpit, leather, and a full suite of driver assistance systems including cruise control that automatically reduces speed when it sees a roundabout, for example. You can even tell the car you're hungry and it'll direct you to the nearest KFC or whatever.
So, a clever, refined, enjoyable and non-ugly range topping SUV from Audi. Its only problem, really, might be that some will prefer to pay less for the greater practicality and, arguably, equal kudos of the Q7. Or just buy a Range Rover Sport like everyone else. But unless you really need the extra seats, we'd take the Q8. 
The Audi Q8 comes out September 2018, priced from around £65,000. Click here to watch our video review.