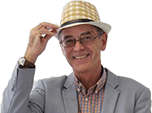 Audi Q7 2015 UK Road Test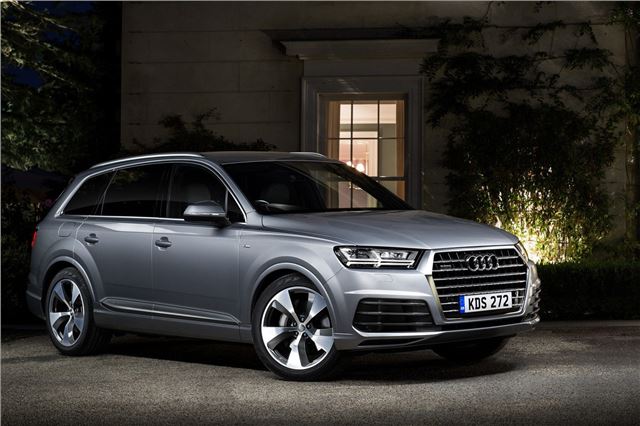 A useful feature of the all-new 2015 Audi Q7 is that it comes with no less than six ISOFIX child seat tethers. What could be more family friendly than that? Even if you overdid fertility treatment you'd still be able to accommodate the results.
And on the subject of 'families' the British Royals are now in possession of no less than 16 Audis. So while Lancaster bombers flanked by Spitfires and Hurricanes patriotically fly over Buckingham Palace, it's reassuring to know there's some Vorsprung Durch Technik in Her Majesty's carriage houses.
With size and status duly covered, what else does the Audi Q7 have to offer wealthy Surrey School Run mums?
It's slightly smaller outside and slightly bigger inside than its predecessor. Modestly sized adults can travel comfortably in the third pair of seats that arise electrically from the load compartment floor.
The car is the first to be built on VAG's new MLB integrated chassis-subframe designed to accommodate longitudinal engines. (The new Audi A4 will be the next.) Weight saving is by virtue of part aluminium, part hot-formed steel construction.
It has a proper 8-speed torque converter automatic transmission that gives a relaxed 48mph per 1,000rpm in 8th.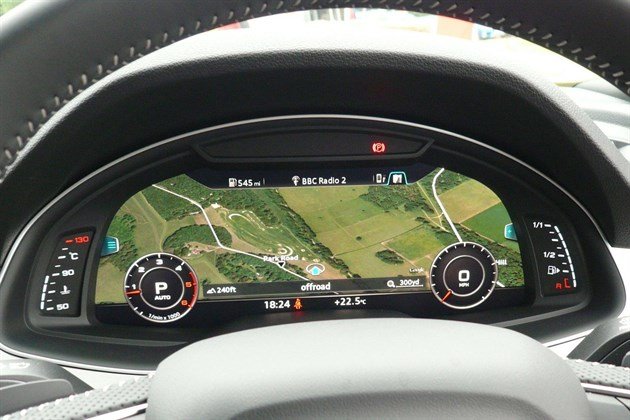 A novel and wonderful satnav screen can be switched to take over the instrument panel in front of the driver.
It will go off road, though for that purpose it's better on the standard SE grade 255/55 R19 tyres than the S-Line's 285/40 R21s.
You can raise the driver's seat to an even more commanding height than standard, yet, happily, the Q7 is no longer ship-like to handle and manoeuvre. Optional 4 wheel steering tightens up its turning circle to a sensible 11.4 metres.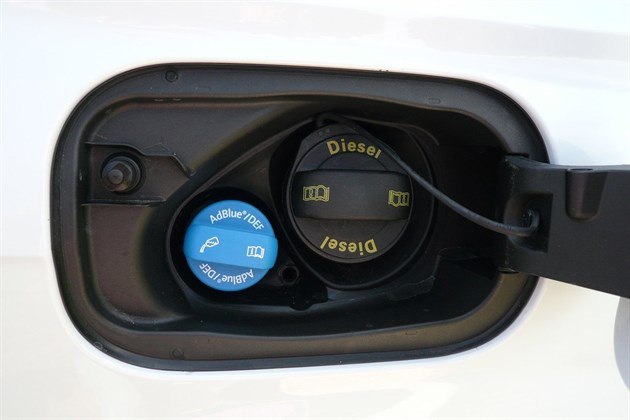 The Q7 uses SCR and AdBlue to achieve EU6, with a proper filler behind the fuel flap as on a Mercedes Benz.
A starter price of £50,000 (and even around £45,000 for the low power A7) seems a lot compared to the £32,000 of a KIA Sorento KX2, which is all anyone really needs. And when you start loading up with extras it's not hard to pass £70,000.
But the A7 is a status SUV, like an X5, a Cayenne or a Range Rover, and it isn't more expensive than them.
The driving experience is fine. Decent performance. Reasonable ride quality. Not too much weight transfer on corners. Cruising, the loudest noise you can hear is the tyres. With the air suspension and tow pack it can haul up to 3,500kg of horsebox or racing car trailer.
There's an e-tron plug in hybrid version arriving later. And further future-proofing includes all kinds of electronics that are the precursors of 'Autonomous' driving, so soon you won't have to drive it at all.
Though I guess laws will have to change to give drivers something to do while being autonomously driven because it's plain daft to demonise mobile phones while the car is driving you rather than you are driving the car.
More at www.Audi.co.uk