Audi A6 Avant 3.0 TDI 2011 Road Test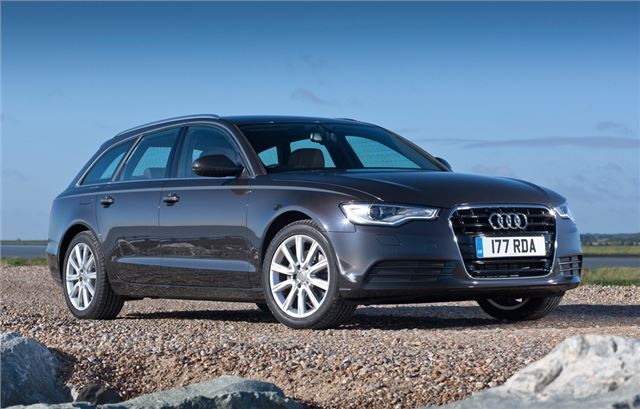 There's a strange allure to large estates cars which is hard to explain. By rights, the fact they are bigger and boxier than their four-door equivalents should make them the preserve of dog owners and people who enjoy antiques fairs. Yet that's not the case.
The latest crop of premium estates are a sleek and good looking bunch with the Audi A6 Avant leading the way. It's not the most radical design, but the clean lines and unfussy look are very welcome at a time when other brands seem intent on decorating new models in lots of unnecessary chrome trim and strangely placed LED lights. With those quite menacing headlights and that sharp rear end, the A6 has plenty of road presence too.
It's equally as tidy inside with a well designed interior that's spacious, comfortable and modern. From the driver's seat it feels like all the key controls are focussed toward you while the high central stack features the controls for Audi's excellent and simple to grasp MMI Navigation system that comes as standard. This includes a 6.5-inch colour display screen which neatly slides out of the dash when you start the car.
As we've come to expect from Audi, the quality of the materials used and the standard of the finish are both impeccable. It's a delightful car to travel in and has a luxury feel, helped by the fact it comes with leather upholstery as standard. Add in huge amounts of leg, head and shoulder room and it's easy to see why makes the perfect family car.
The front seats, which can be manually adjusted ten ways, have been completely redesigned with an innovative foam filling designed to give optimum support. There are also sport seats and comfort seats as options. The sport seats, which are standard on S line models, have contoured side bolsters and seat cushions that can be adjusted electrically. On long journeys the supportive seats really come into their own and taller drivers will be pleased at the amount of legroom and the well angled off-clutch rest.
You won't be surprised to find out that this A6 Avant is more spacious than the old one and the boot is usefully large with a wide tailgate opening, a minimal bootlip and near vertical sides to the load bay. With the rear seats up there is 565 litres of space which is on par with the 5 Series Touring although both lag behind the Mercedes-Benz E-Class Estate.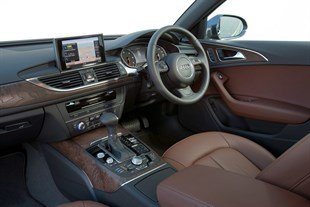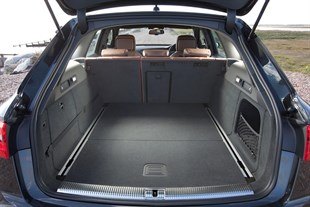 In the boot there are lashing eyes, side restraining straps, bag hooks, a double cargo floor, a rail luggage fixing system and a dirt-resistant tray. However, the neatest feature is the optional hands free electric opening boot. All you have to do is make a 'kicking' motion under the back bumper with your foot and sensors will then make the tailgate open. In fact it's so useful, especially when you have hands full of shopping, we wonder why no one has come up with it before
This A6 Avant is larger than the old model, yet it's actually lighter thanks to the use of aluminium components and a composite steel-aluminium body that helps reduce overall weight by up to 70kg on certain models. This has benefits for handling but more so for economy. Along with an energy recovery system and start-stop technology on all models, it helps fuel economy improve by almost 20 per cent.
The most popular model is the 2.0 TDI which returns a claimed average of 56.5mpg but it's the 3.0 TDI that offers the most choice with three different versions. The V6 is a silkily smooth engine that's tremendously refined and perfectly suits the luxury feel of the A6. The lowest powered version is the 204PS which effectively replaces the 2.7 TDI from the old A6 range and similarly is available with a Multitronic automatic gearbox - a £1500 option if you don't fancy the standard six-speed manual.
The Multritronic CVT gearbox has had a mixed reception in the past. The problem with a CVT automatic is that while it's a very smooth and efficient system, it invaribly doesn't work well when you want performance. Usually any downward movement with your right foot is met with a lot of noise and seemingly not much in the way of acceleration.
The good news is that Audi has obviously worked hard to develop and improve its Multitronic. As before it has fixed 'ratios' - now numbering eight in total - but the changes between each have been made quicker which helps acceleration feel a bit more meaningful. As a result, the gearbox doesn't sit at high revs for as long and the 'downshifts' are a lot snappier. It even has a sport setting with shorter gear ratios and a manual mode.
It's still at its best when it's not rushed and is perfect with the 3.0 TDI engine when it comes to relaxed and effortless cruising. While it's down on power compared to the quattro version (which has 245PS and an extra 100Nm of torque) it feels just as strong in everyday driving and you only really notice the difference if you put your foot to the floor.
Of course this model doesn't have four-wheel drive and you'll occassionally notice the difference in traction, for instance when you pull away from a junction quickly. Plus of course in the winter there are the obvious benefits of quattro. But then that's why the Multitronic is more than £4500 cheaper than the 3.0 TDI quattro model. Economy is impressive with a claimed average of 54.3mpg while CO2 emissions are just 136g/km - barely any different from the four-cylinder 2.0 TDI with the same Multitronic gearbox.
Eventually there will be three different versions of the V6 offered when the mammoth 3.0 BiTDI joins the range later in 2011. With 313PS and an immense 650Nm of torque, plus a 0-62mph time of just 5.3 seconds, it's even more powerful than the storming BMW 535d.