Audi A1 1.2 TFSI 2011 Road Test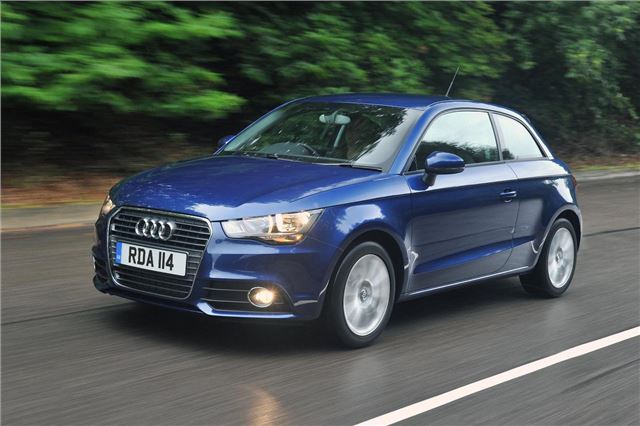 Part of the reason people buy large cars, besides the obvious advantage of space, is the quality, stability and refinement they offer. As a rule, smaller cars are built to a price - and that price isn't necessarily a high one. 
The finish and sophistication of smaller cars has considerably improved in recent times, but it rarely matches that of a premium executive model. There are exceptions of course – cars like the MINI have been successful and now there's the Audi A1.
But as people looks to save money, so the trend for downsizing has increased. Audi has stamped its own brand of quality on the supermini market, allowing buyers to move down in size from the likes of the A3 or A4 but without losing any of the sturdy build and high quality materials.
It's apparent from just looking at the A1 that it's going to be technically impressive. The headlights, slashed out of the front of the car and high window line give it a purposeful stance and with those signature LED daytime running lights it certainly has a distinctive road presence.
Inside the dashboard, door trim, steering wheel, door handles – indeed almost everything, is tactile, sturdy and well put together. If you didn't look in the rear view mirror and see the back window so close behind you'd be forgiven for thinking you were sitting in a much larger Audi.
There are numerous engine options available, but the model tested here has the entry-level 1.2 TFSI petrol which produces a resonable 86PS along with a more impressive 143Nm of torque.  
That extra torque is owed to a turbocharger and it makes the A1 feel sprightly and quick, even though it's the lowest power engine available with the A1. It's quiet at low speeds but makes an enjoyable growl at higher revs, while on the motorway it settles down and is barely noticeable, thanks to impressive refinement.
It's great fun, too. On a country road it's grippy and agile, but never feels unsettled or dangerous, making it an absolute joy to drive. The more enthusiastic driver might pay a little more for a 1.4-litre engine, but for most the 1.2-litre would be more than enough.
It's not too bad on fuel either; I averaged 43mpg over a variety of roads including motorways and twisty lanes. It's short of the quoted 55.4mpg combined cycle figure, but that's expected of most cars.
Entry-level A1 models, which are SE trim, get a decent level of equipment including a colour screen infotainment system and stop/start. The Sport model tested here has a few stylish enhancements, including aluminium trim, sports seats, while on the outside there are polished exhausts and larger wheels.
Despite the reasonable equipment levels there are various options available. The car we drove had sat nav, a sports styling pack, upgraded audi, and 17-inch wheels, as well as a few other bits and pieces. They pushed the price up from a listed £15,260 to more than £20,000.
Besides the expensive options list there are a few problems. Rear legroom is poor at best, and with a tall driver and front seat passenger it's more or less non-existent, so if you're planning on carrying rear passengers make sure you take that into account.
Secondly, the infotainment system can at first be a little bit of a fiddle. Luckily once you get the hang of what does what it becomes fairly easy. Lastly, the optional 17-inch wheels (standard on top spec S-Line models) are a bit too big for such a small car. They look good, but the low profile tyres make the ride over lumps and bumps a little harsh and make things a bit noisy on the motorway. The smaller wheels would probably be better.
Overall the A1 does an excellent job of bringing Audi quality and a premium feel to the small car market. For those who want to downsize without losing any of the technology and creature comforts they're used to it is the perfect choice, even with the entry-level 1.2-litre engine.