Alfa Romeo MiTo TwinAir 2012 Road Test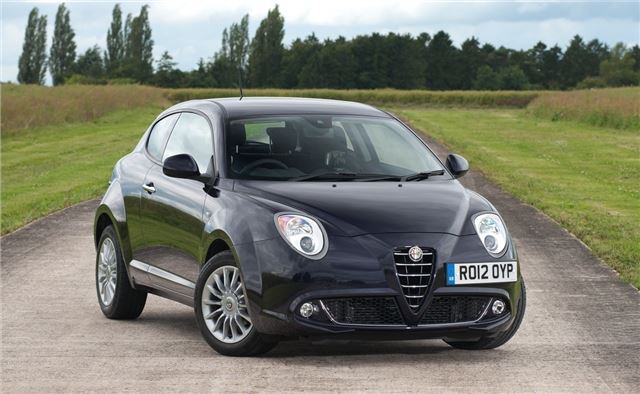 The TwinAir engine, first seen in the Fiat 500, is gradually starting to appear in more and more Fiat group products. There's the Fiat Panda and Punto, the Chrysler Ypsilon and now the Alfa Romeo MiTo.
The biggest selling point of the TwinAir so far is its low CO2 emissions and it's the same story with the MiTo, which produces 98g/km - making it free to tax and London congestion charge exempt, but without the concern attached to maintaining diesel particulate filters that are used in similarly clean diesel engines.  
Such low emissions make the two-cylinder MiTo TwinAir cleaner than similarly sized petrol-powered rivals from the likes of Ford and Vauxhall. The frugal figures are aided by an engine stop/start system and a gear shift indicator, as well as different driving modes for different conditions.
If you follow the shift indicator's instruction and drive carefully you'll find it possible to get decent fuel economy. In our test we returned 46mpg, but while that's not too bad it is a long way short of the official figure of 67.3mpg.
But there's more to the TwinAir engine than emissions, because it offers something lacking from so many modern engines – character. While a four-cylinder engine tends to produce a monotone hum, the TwinAir is completely unique, producing a sound more akin to a motorbike than a car, particularly when pushed hard. Unfortunately, if you push an engine hard you'll lose the benefits of fuel economy, but you can't have everything.
This is something Alfa Romeo has recognised, and so it is marketing the car as multi-faceted, with a sporty, entertaining character, complimented by a more subdued and economical one, and the 'DNA' driving mode selector makes this tangible.
In N mode the torque is held back, so there is less performance on tap and slower progress is encouraged, with earlier gear shifts encouraged by the read out – and there's even a six-speed gearbox to make for more economical motorway driving.
Engage D, or dynamic mode and you get full performance, as well as heavier steering. Peak power is 85PS with 145Nm of torque available between 2000rpm and 3500rpm. A useful, flat powerband is the result of a turbocharger and makes progress painless, because despite having less power than the 105PS four-cylinder engine Alfa Romeo also offers, the TwinAir actually has more torque and it's available at low engine speeds.
The final mode on the DNA selector is A, or All-weather mode. In poorer conditions, such as snow or excessive rain, it brings in the safety systems like traction control much sooner to help prevent losses in traction. It has no other effect on the performance though.
The first car to use the TwinAir engine - the Fiat 500 - has the same enjoyable thrum as the MiTo from its engine and exhaust, but it's sadly blighted by a lot of vibration, something inherent to two-cylinder engines. Luckily, in the MiTo there is a new flywheel that cancels out vibrations, so it retains the characterful sound but with no downside, and it's actually rather refined at low revs.
Besides the new engine, it's all familiar MiTo. The steering is direct and well weighted, and the handling is surefooted but it lacks the involvement and excitement of some rivals, particularly the MINI. The ride over rough surfaces is a little bit jittery, but is otherwise good.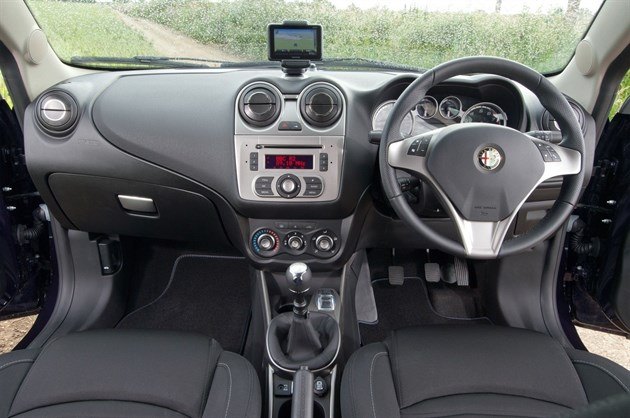 The cabin looks fairly handsome but the ambience is upset by cheap-feeling materials around the doors and centre console, which itself is starting to look dated. The dials are neat and have Italian writing in them rather than English - a neat detail that adds some much needed flair.
Rear legroom isn't too bad but will be tight if the driver is tall and headroom is a little poor because the rear of the car tapers in and is narrow. The boot, while not too small, has a very high load lip over which it would be tricky to lift heavy objects. Nonetheless, the wonderful optional seats installed in our test car, trimmed beautifully in leather, more than make up for a few tacky bits of plastic.
The MiTo TwinAir comes in two trim levels, Sprint and Distinctive and is priced from £14,150. That means it's a little more expensive than the entry level 1.4-litre model, but cheaper than the rest of the range. That could make it an attractive choice, thanks to a fairly low insurance group of 9, free annual VED and congestion charge exemption.
It's also generously equipped as standard, with alloy wheels, Bluetooth, MP3 compatibility, cruise control and air conditioning among the standard kit on Sprint models. Distinctive models get larger alloy wheels, parking sensors and a few extra styling embellishments.
It might not be as polished as some of its rivals, but the MiTo TwinAir is characterful and stylish, offering a good alternative choice for those who want a little flair. Thanks to low running costs, particularly for those who drive into London regularly, it's worth consideration.