Alfa Romeo Giulia 2.2 190 2020 Road Test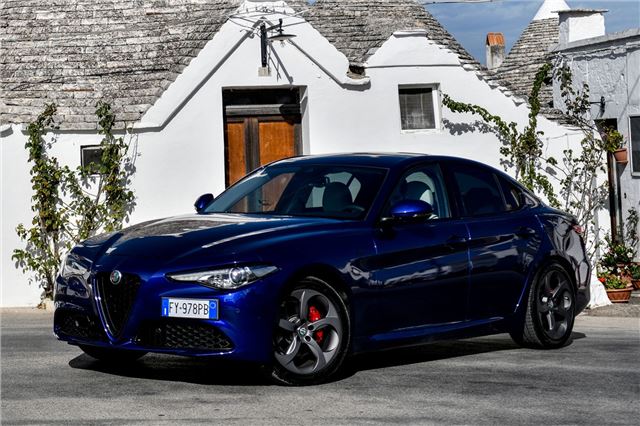 The Alfa Romeo Giulia has been given the mildest of updates for 2020. However, while many of our gripes with the original model have been addressed, the Giulia still comes up short against its German rivals. 
You'll struggle to spot the difference between the 2020 version of the Giulia and the outgoing model. Look closely and you might see a badge for the new trim levels (Super, Sprint, Lussi Ti and Veloce), along with the now-standard xenon headlights (no LEDs here…) and a few new colours, but it is on the inside where the important changes are found.
There's a new 8.8-inch infotainment display which can be operated via touchscreen or by using a rotary controller on the centre console. Alfa Romeo says this gives you the best of both worlds - use the touchscreen for easy navigation while stopped, or scroll through menus using the rotary control when on the move. We like having the choice, but we're not as convinced the new system is as advanced as Alfa claims.
While rivals are continuing to raise the bar in terms of in-car technology and infotainment, Alfa Romeo's sticking with the TomTom-based system which already looks quite dated with sluggish reaction times and low-quality graphics - it's a world apart from the tech found in the latest Mercedes-Benz or BMW. Unlike rivals, however, Apple CarPlay and Android Auto are now standard across the range, allowing you to access your phone functions like maps or music streaming services on the move.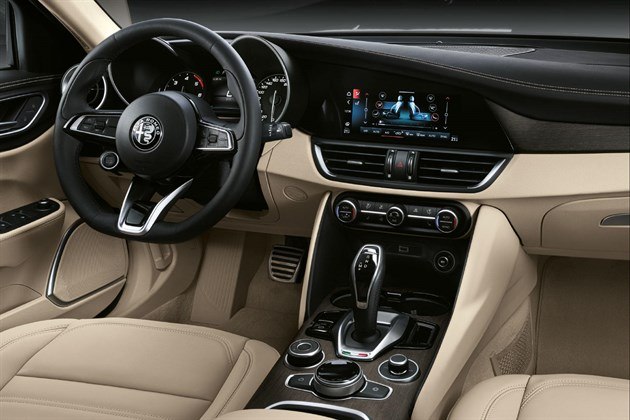 Otherwise, while the interior still doesn't feel as solid as a Mercedes-Benz C-Class, it's certainly better than it was before. There's a new steering wheel (in a more ergonomic shape, says Alfa), along with a new automatic gear lever (gone is the hideous, plastic knob of its predecessor), while gadgets such as wireless phone charging are nice to have.
There are various useful cubby holes but space in the rear still isn't great - although that can be said for many cars in this sector. You'd be better with an SUV if you regularly carry rear-seat passengers, as the Giulia offers limited rear headroom and the central transmission impedes on legroom (especially for anyone sat in the middle). The boot's pretty small, with a narrow opening, and Alfa Romeo doesn't offer an estate version of the Giulia. It's very definitely aimed at company car drivers who rarely carry anyone but themselves.
As such, the majority of buyers are likely to opt for the 190PS 2.2-litre turbodiesel that we've driven here. It remains a perfectly decent engine - a little clattery when cold, like most diesels in this class, but likely to prove to be an efficient choice. Official UK fuel consumption figures are yet to be confirmed, but they're unlikely to be that different from the pre-facelift model - so around 57.6mpg and 128g/km CO2. 
The standard eight-speed automatic gearbox is fine, responding quickly to requests to kick down a gear or two, although you can take control using paddles behind the steering wheel should you feel the need. Said pedals seem incredibly over-engineered for a car like this - they wouldn't feel out of place in a supercar.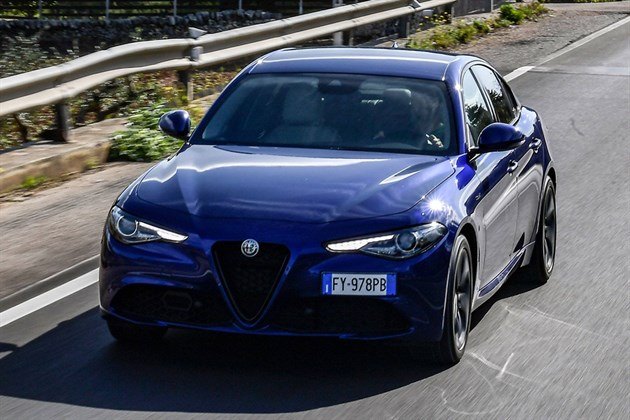 Even the diesel is fun to drive, thanks to its rear-wheel-drive chassis and wonderfully direct steering. The steering has been tweaked, although you'd struggle to tell the difference. That said, it's up there with the BMW 3 Series - nay, it might even be better than the BMW 3 Series in terms of handling. This is the Italian's forte. It remains composed in bends and there's plenty of feedback to inform you exactly how much grip you've got to play with.
A downside of that is it can feel a bit unsettled on the motorway, reacting keenly to the smallest of steering inputs. Various new driver assistance features such as adaptive cruise control mean it's now an easier car to drive for long distances, although it remains to be seen whether this will cost you extra.
Alfa's also sought to improve refinement levels and, although it's certainly a fairly quiet car on the motorway, we'd have to drive it back-to-back with the old model to spot the difference. Indeed, we did notice quite a lot of wind noise through the (closed) windows of our test car.
This facelift represents a commendable job of improving the Giulia's weak points and if you want a car that'll stand out on the motorway and handle brilliantly, it could be the vehicle for you. Sadly, against its German rivals, the Giulia still feels a step or two behind the curve when it comes to tech, refinement and comfort. 
The Alfa Romeo Giulia will go on sale early in 2020 with prices expected to start in the region of £34,000.