REAL MPG:
Jaguar F-Type Convertible (2013 on)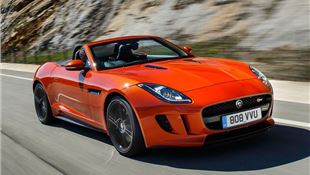 000010

Stylish and highly desirable open top two-seater with stunning looks. Better to drive than the XK. Incredible sound. All-wheel drive versions are grippier and no less fun
Very little luggage space especially with optional spare wheel. Tiresome engine drone on the motorway at times. Not quite as sharp to drive as a Porsche. Some build quality questions
Read the full Jaguar F-Type Convertible review
Select engine for more Real MPG information:
Read the Honest John review...
Jaguar F-Type Convertible (2013 on)

Stylish and highly desirable open top two-seater with stunning looks. Better to drive than the XK. Incredible sound. All-wheel drive versions are grippier and no less fun
Latest submissions