Review: Dyson V6 cordless vacuum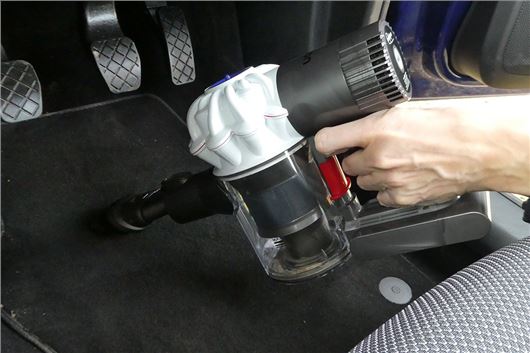 Published 03 November 2017
What is it?
The Dyson V6 is a compact and cordless vacuum cleaner. It's powered by Dyson's V6 motor and supplied with click on and off attachments that make it suitable for cleaning everything from your living room carpet to the door bins and seat upholstery of your car. Prices start at £220 and a two year warranty is supplied as standard, along with a wall-mounted charging dock that doubles up as a holder to store the vacuum when it's not in use.  
What's it like?
Brilliant. The Dyson V6 looks like a kid's toy from the 1970s, but is effortless and extremely capable when it comes to the tedium of cleaning your car (or anything else). The click on attachments are simple to use and you get lots of kit as standard, with the Dyson V6 supplied with a hard tool for cleaning floors, a brush for cleaning upholstery and a long plastic tube attachment for those harder to reach places. Weighing just 2.1kg, you can use the vacuum for lengthy periods, without the usual arm ache you get with other cordless cleaners.
The battery provides 20 minutes of power from a three hour charge. Admittedly, this doesn't sound like a huge amount of time, but we found it to be more than sufficient for cleaning a car, with power to spare for vacuuming a few rooms in the home.
The centre of gravity is quite close to the trigger, which means the compact motor is easy to work around tight spaces. You can twist and turn your hand to get to those hard to reach places, without loss of suction. Indeed, even turned upside down, the Dyson V6 works fine, while all of the dust and dirt is collected within a clear plastic cannister next to the trigger.
It takes two stages to empty the vacuum. The plastic cannister has a switch, which opens the floor to  drop loose dust out; however, we found that the canister fills up quite quickly and - when full - you have to detach the plastic cannister to get everything out. This can be quite fiddly, especially when it comes to reattaching the cannister back to the body of the vacuum. Sometimes it clicks back into place in a matter of seconds, while other times it'll take five minutes.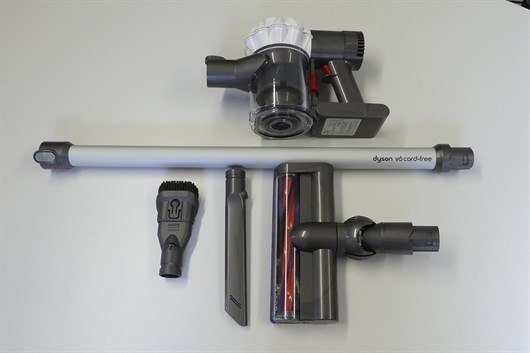 The V6 motor is the star of the show though; it spins at 110,000rpm and has a 'Max' button for ultra suction. It's not particularly quiet, the airflow makes a high pitched whistle, but it'll remove the dust and dirt from everything that it comes into contact with. Just be wary of anything that's large - like a stone - as this will be whizzed away too and makes a loud crack as it goes into the tube.
The hard floor tool is perfect for cleaning - yep, you've guessed it - floors. The stiff nylon bristles spin to remove ground in dirt. However, for cars, we found it best to attach the nozzles direct to the body of the motor as this increased flexibility. What's more, with the lightweight motor, it's easy to get into the footwells and door pockets of a small car. 
There are various different versions of the V6 - we have tested the home version here which comes with a wall-mounted charged. We have also tried the Car and Boat version, you can see a video of that below. The different versions come with different attachments specific to the job at hand - but we'd recommend buying the basic version, tested here, because it does everything you could want. 
Should I buy one? 
The Dyson V6 is the best compact vacuum on the market in our opinion. However, all of that comes at a considerable price. You do get a sense of why it cost so much with class leading suction and a simple but easy to use range of click on accessories. The battery life is short, but we found 20 minutes to be more than enough for an in-depth clean of a car. The wall-mounted charging station is also a neat feature, because the Dyson can be stored flat against a wall in cupboard or spare room.
The aspect we liked most about the Dyson was the freedom of use you get, thanks to its diminutive size and useful range of accessories that fit stright to the unit. The only nagging thing we found was the fiddly waste chamber, which can infuriate after a couple of unsuccessful minutes of trying to reattach it. However, niggles aide, the The Dyson V6 cordless is a class leading cleaning product.
Details
Price: £220 RRP
This sample was provided by ao.com and will be available from them in the Black Friday sale. It's also available from ao.com in a bundle with the Dyson Light Ball vaccuum cleaner.
Comments
Author

Dan Powell
Latest