Volvo S60 (2018 on)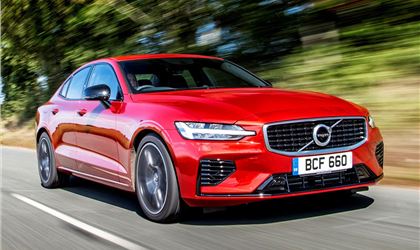 2.0 T5 250HP R Design Plus Auto 4dr
reviewed by Robin Sanders on 13 June 2021
5
Tax/Insurance/Warranty costs
5
Cost of maintenance and repairs
5
Experience at the dealership
5
How you rate the manufacturer
Svelte and spacious executive saloon, a true grand tourer
I was searching for a compact executive saloon to replace my Jaguar XF but required there to be adequate space and ease of access for adults of a senior age in the rear. I quickly realised most of the compact executive saloons are not designed to accommodate a 6 foot adult behind a 6 foot driver and all but a couple needed one to be young or an elderly contortionist to get into those rear seats. The Volvo S60 was one of those two. In my, and passenger's views, the space in the rear is equivalent to the Mercedes E class and Jaguar XF.
I have found over the 6000 miles so far the Volvo's seats to be superb and the R design's mix of Nappa Leather and fabric is highly practical, the only drawback is that the front passenger seat does not have full range of electrical adjustments that the driver's seat has. The interior perceived quality of the car is certainly as good as the Mercedes C and Audi A4 and is arranged well around the driver. The presence of a head up display as standard is much appreciated particularly as it includes sign recognition and display of junctions on a sat nav guided route. The 9" central screen controls most of the vehicles functions and is a bit daunting at first but it easily learnt and certain functions can be operated audibly or by a separate steering wheel button and display in the instrument panel. I found the traffic function during sat nav guidance to be excellent giving one options to alternatives in terms of time and distance save/added to the route,
The car is particularly quiet in operation and is a great cruiser aided in no small part on busy routes by the 'pilot assist' function which was included on this launch edition model but extra on later cars. The 'pilot assist' is good but can get caught out on sharp main roads bends veering too close to the edge before correcting to take a corner. Fuel consumption is around 38 - 40 mpg on a long run and 25 -30 mpg locally and I get an average of 33 mpg. This is a far cry from my Jaguar XF 3 litre diesel's economy but is, I suppose, reasonable for a modern 2 litre turbo petrol engine. I have found the performance to be more than adequate and a match for my former car but it is not as quick as Alfa Guilia Veloce I tried.
The car like the Guilia is one of a rapidly reducing number of cars with good all round visibility and it is aided as well by blind spot monitors in the external mirrors and by emergency stop facility both front and rear which detects unseen objects which could collide with you. It was a shock the first time it happened as I thought I had hit something but it is reassuring now.
Other points to note are this car's great external styling and balance and despite road tests I do not find the ride unacceptable at all. It is on a par with my former Jaguar except at very slow speeds. There is only one significant negative point - the reversing light are weak and this is particularly noticeable on an unlit road.
Overall I am very pleased with this car.

Update after a further 6 months. Still very impressed by the car and by the price and approach of the local Volvo dealer for the 1st service. What was a real surprise was the lack of tyre wear recorded still 6mm on the front tyres and 7mm on the rear which is to my mind is amazing for a 250bhp front wheel drive car when I tend to take corners quite quickly.

The car is now 2 years old and with COVID the mileage is less than normal at 14,000. It continues to impress and I was particularly pleased that as the mileage over the last year has been low the Volvo dealer offered an 'adaptive' service at much reduced cost but still with the free breakdown service for a year included. The car seems to be retaining its value very well. .
Write your review
About this car
| | |
| --- | --- |
| Price | £39,160–£50,430 |
| Road Tax | A–G |
| MPG | 39.8 mpg |
| Real MPG | 79.0% |
Just reviewed...