Vauxhall Crossland (2017 on)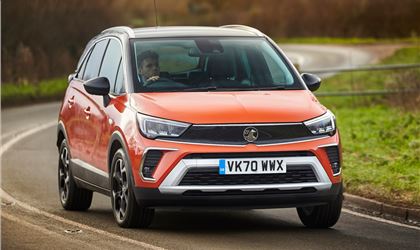 1.2T 130ps Elite Nav Auto Start+Stop 5dr
reviewed by john macartney on 15 January 2021
2
How you rate the manufacturer
So far, it's been quite good
After a succession of Kias (all of which were faultless) we bought the Crossland because the Kia Venga we part exchanged is no longer made.
We've now had the car a month and it's the first time my wife has had to get accustomed to an automatic which I find makes smooth changes up and down and is a boon in traffic. I read as many reviews as I could before we placed the order and don't agree with some reports about wind noise and road noise. The three cylinder engine has the customary three pot "thrum" about it but its not intrusive and is remarkably quiet. Our car has the 130bhp engine and this can certainly make for some spirited driving if that's what you want. There's plenty of power there at all times and the torque is good too.
Seats are comfortable and heated (an option we paid for along with the heated steering wheel which isn't very warm). Ride is reasonable and body roll by no means as bad as press reports make it out to be. Unlike most road testers, we don't drive or want to drive with the door handles touching the ground!
In all respects, it's a perfectly satisfactory car for everyday and periodic long distance use. Its reasonably economical, good driving position and remarkably roomy inside for a vehicle with a relatively small overall footprint.
The only things I would criticise are a very small glovebox. My principle gripe is about the handbooks for operating the car and the infotainment centre. I've been in the motor industry all my life (now recently retired) and the handbooks are both models of confusion and don't actually tell you 'how'. That's something you have to work out for yourself. I still don't know how to adjust the heater - and a good few other things - and you need a doctorate in nuclear physics to understand the satnav / radio / settings screens. In the end, I gave up trying to understand the handbooks and wrote a list of what I wanted to do and took it with the car back to the dealer. We then spent an hour going through the list and all I can say is there's not a lot in this car that's intuitive. What's the point of rain sensing wipers when you've got a b***** switch an inch or so away from your right hand?!?!?! All in all, too many electronics, confusing to operate and does my blood pressure no good at all. Otherwise, like many other modern cars, it gets you from A to B in reasonable comfort at a reasonable cost but I can't say I'm really impressed by it. It just does what it says on the tin. End of story.
reviewed by Anonymous on 11 February 2020
reviewed by Anonymous on 8 January 2020
reviewed by Anonymous on 8 January 2020
reviewed by Anonymous on 7 November 2019
reviewed by Clive Mockford on 6 March 2019
reviewed by Andy O'Shaughnessy on 22 October 2018
reviewed by Anonymous on 10 September 2018
reviewed by Anonymous on 3 February 2018
reviewed by newb on 29 December 2017
Write your review
About this car
| | |
| --- | --- |
| Price | £19,640–£25,235 |
| Road Tax | A–D |
| MPG | 49.6–78.5 mpg |
| Real MPG | 68.6% |
Just reviewed...