Rover 75 1999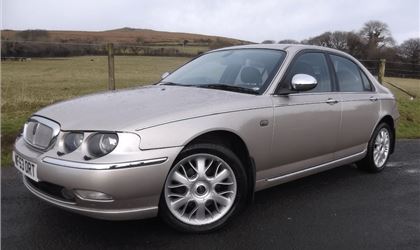 75 V6 Connoisseur SE 2.5 Auto
reviewed by R L Nunn on 7 June 2017
2
Tax/Insurance/Warranty costs
3
Cost of maintenance and repairs
5
Experience at the dealership
5
How you rate the manufacturer
Underrated luxury car
I suspect a lot of reviewers have a) never owned a 75, b) are prejudiced against Rovers, and c) may have had a bad car so all must be bad.
I bought my 75 with 177000 miles on the clock as spares or repair. All I replaced to start with was all the brakes and pads. 1st MOT it sailed through with no advisories; amazed as my old BMW failed every year at same mileage on different things. 2nd MOT it needed 2 new tyres on the back. 3rd MOT replaced the rear suspension mounts. That's not bad for an old car with a high mileage.
It averages 27 mpg on a run and approx 20 mpg round town. Strangely it manages 30 mpg on cruise control on the motorway at 90 mph.
It's comfortable to drive but very cramped in the back for legroom; very like a 5 series of the late 90's. Rear visibility is zero due to the high boot lid but with reversing sensors and well placed door mirrors it's a doddle to reverse and park.It would benefit from front sensors when parking as the long bonnet suddenly drops away so guesswork comes into play.
Ok bad points: 1 of the spark plugs fired out of the front bank and cost me £300 to get it fixed. I've never had that happen to any of my cars previously and I've had a Jag, BMW, Triumph and Rovers before.
Luckily I'm in the RAC and they towed me home.
The cam belt change cost £600 which was done by my local garage and even they were shocked at the price.
Would I buy another 75? Yes I would as it's a pleasure to drive, despite it's design faults, and people still look at it and say that's a nice car. Forget about the mpg and tyres and just enjoy it for what it is. If the mpg worries you don't buy a big car.
reviewed by Jontypilk on 22 April 2015

reviewed by jim c on 18 October 2014

reviewed by Harrovian on 16 October 2014

reviewed by davlar3 on 25 January 2014

reviewed by AP1 on 25 December 2013

reviewed by Anonymous on 19 December 2013

reviewed by nick nick on 25 September 2013

reviewed by Mark Williams on 3 January 2013

reviewed by men-saab on 28 June 2012

reviewed by men-saab on 20 December 2011

reviewed by as003 on 14 November 2010
Write your review
About this car
Just reviewed...