Ford Mondeo Estate (2015 on)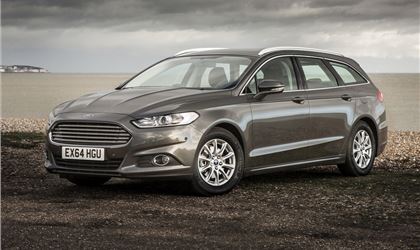 2.0 TiVCT Hybrid Titanium Edition 17in Auto 5dr
reviewed by Anonymous on 27 October 2019
4
Tax/Insurance/Warranty costs
5
Cost of maintenance and repairs
5
Experience at the dealership
4
How you rate the manufacturer
Easiest and most comfortable Company car to date
Having being a company car driver fo over thirty years I have been fortunate to spend many miles in what I considered very good cars. However some have been a lot better than others.

Starting in 1989 with a Vauxhall Astra estate to my current Titanium Mondeo HEV.

In the middle of this have been, Sierra, Mondeo, 5 Passat's, Audi A4, BMW 320ed, Mercedes C class 2015.

The best of the bunch above was the 55 plate VW Passat which did everything great for over 150000 miles with nothing coming close until now.

What do I like,

The seats are for me as comfortable as the 55 plate Passat (genuine leather unlike the Mercedes)
No diesel rattle at traffic lights or on start up (my wife does not know I have left on those early mornings)
The transmission I like and feel is very efficient, no noisier than other cars on acceleration.
The DAB radio does not constantly cut out constantly
The information screen is bigger than others above
Heated seats and multi position with memory seats perfect for when my wife takes over, I return to my favourite position.
The quiet drive at 70mph has no other car in the list above coming close
The windscreen wipers clear everything no squeaking
It's petrol no having to find an adblue retailer for a top up that takes your fuel card
51.6 miles per gallon combined
Visibility makes it easy to park no need for a camera
Handling is nearly as good as the Mercedes and BMW but far better than the others above

What I do not like

Fuel tank capacity too small
Light well these are probably the worst of any car in the list above by a long way (opt for the LED)

Having already covered over 13000 miles I have not one rattle, had my first service costing £215.00 at the main dealer this was a shock at how cheap it was.

So at the moment my colleagues are looking at the pros and cons of this car and there are many pros and not many cons. But the BIK tax for me was one of the main factors, I did not want to drive a Ford Ranger or Toyota Hi-Lux to save more money.

Would I recommend this car yes but do get the LED headlights, if you want to travel at 90mph everywhere and arrive at your destination flustered then no.
reviewed by Anonymous on 27 August 2019
reviewed by Anonymous on 11 May 2019
reviewed by Jonathan Pickard on 13 June 2018
reviewed by Clive Robertson on 23 May 2018
reviewed by Stan Oakey on 5 April 2018
reviewed by Anonymous on 27 April 2017
reviewed by Yonderend on 28 July 2016
reviewed by BigBobC on 16 July 2016
Write your review
About this car
| | |
| --- | --- |
| Price | £27,145–£28,545 |
| Road Tax | A–I |
| MPG | 37.2–74.3 mpg |
| Real MPG | 76.9% |
Just reviewed...