Audi A4 (2005 - 2008)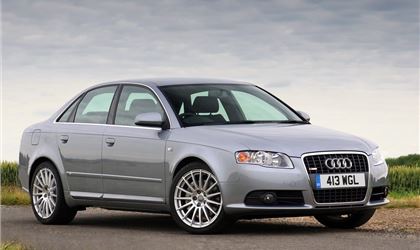 2.0T FSI S line Special Edition Avant Estate
reviewed by Anonymous on 9 February 2019
3
Tax/Insurance/Warranty costs
4
Cost of maintenance and repairs
5
How you rate the manufacturer
Hard to beat
Have owned this car for almost 4 years and nearly 50,000 miles. Aside from the known minor issues (all of which have been resolved at low cost: blown diverter valve, battery bay drain, glove box hinge), this car has never caused me any issues or let me down. Keeping to regular service intervals (8,000-12,000) and maintenance recommendations, keep the oil topped up regularly (this engine/model is known to use a little more oil than most - not a fault, just down to the engine operating hotter than others) its just keeps on going!

The interior is great. It's comfortable, it's a pleasant place to sit on a long journey. It's very practical in terms of space - we take a lot of kit on holiday (walking gear, surfboards, dog) it all fits in nicely.

Fuel economy is good for the size of car and performance available, but really drops when used in and around town. On longer journeys, it will return around 35mpg. Which is quite good considering the real MPG for any of the newer equivalent models is not any better!

I have often thought about upgrading to something that looks good, has the big boot, drives and performs well... then I come back to this car every time! I can see no reason to change this car unless I out grow it and need more space. The price that you can get one of these for now they are getting older seems to represent excellent value for money. Would recommend to anyone considering.
reviewed by Anonymous on 16 August 2018
reviewed by Vlad-Bogdan on 21 August 2017
reviewed by Molnboman on 1 August 2016
reviewed by AliMac on 12 December 2015
reviewed by GK-A4 on 21 January 2015
reviewed by Pokey on 14 January 2014
reviewed by Iain1234123 on 5 October 2012
reviewed by mm707 on 20 May 2011
reviewed by JohntyG on 7 November 2010
reviewed by richo on 5 August 2010
reviewed by TICKENHAMTIGER on 2 July 2010
Write your review
About this car
| | |
| --- | --- |
| Price | £19,925–£30,075 |
| Road Tax | G–L |
| MPG | 26.4–51.5 mpg |
| Real MPG | 94.5% |
Just reviewed...