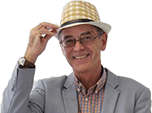 Our Cars: Volkswagen T-Roc SEL 1.6 TDI 115

11 November 2019: Real MPG: we're warming up now
The Details
| | |
| --- | --- |
| Current mileage | 2800 |
| Claimed economy | 50.4mpg [WLTP] |
| Actual economy | 51.6mpg |
| | |
The image you see below shows that the T-Roc has returned 51.6mpg of late. That's not just a carefully planned motorway run either, it's a full tank: 400-odd miles across 14 hours doing the commute, basically. Look at the average speed. Fair play. We appear to have run in the engine properly now, after 2500-3000 miles. 
The 1.6-litre 115PS diesel engine in our T-Roc might be one of the dullest fitted to any new car at the moment, but you have to give Volkswagen a great deal of credit for making it this economical. If you want your just-about-family-sized SUV to return economy more akin to a city car, here it is. Just don't try overtaking anything, ok? 
The good stuff goes on. Because this car is so power deficient, and so safe, and so secure, its insurance group rating is just 12E. That's the same as a Ford Fiesta ST Line Ecoboost. A runabout, in other words. And I mean, sure, the BIK tax is high if you're a company car driver (31% if you're a 20% tax payer) but that's diesel these days, right. That's not going to change. 
I've said this before but this is another example of the T-Roc hitting the family car sweet spot: small and economical enough to be a great, fairly cost effective town car (saying nothing of how much you can spend buying one of these), but big enough to be a proper family motor. That's how we're using it.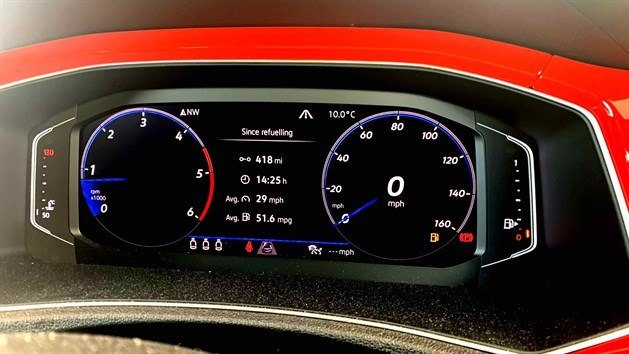 Have a look at the T-Roc's Real MPG page and you'll see that it's doing well across the board, registering a 44mpg average across all models and 53.3mpg from the 1.6 diesel in particular. (Note that the official mpg rating on our page is from the old and less realistic NEDC test, rather than the WLTP one that generates today's 51.6mpg figure.) So, in conclusion, we're not the only ones enjoying pleasing efficiency from the T-Roc.
What else is happening in with our T-Roc...? Apart from it being pretty much the perfect family craphole? I say that in the nicest possible way, because it's a family car and we have two kids and they're messy. And we're not much better, it turns out. We'd probably see a 5mpg economy bump if we just emptied out all the old coffee cups and sweet wrappers and coats and rucksacks.
Nothing else for now. Just doing the work run and that, being all slow and 50mpg and red-roofed. **shrug sholders emoji**
Oh, but I absolutely hate the stereo and I want to talk about that soon. I'll say this for now: Dr. Dre had nothing to do with the Beats system in the T-Roc. If he did he ought to be ashamed of himself, because it's about as suited to rap music as an evangelical pastor. (WARNING: the language behind that link will be deeply offensive to some.) No time left here, but we'll do that for...ahem...the next episode. Hey hey hey-ee yey!
« Earlier: Drop tops and hot shops Later: Stereo upgrade? Anything Beats this. »
Updates
Thinking of upgrading to a Beats stereo in your Volkswagen Group car? Think carefully...
11 November 2019: Real MPG: we're warming up now
Our 1.6 diesel is warming through now and there's a real improvement in economy.

The T-Roc is proving so popular that Volkswagen is catering to everybody with it. We're excited.

**spoiler alert** This update isn't about #dieselgate. Sorry.

The Volkswagen T-Roc is selling like post-Brexit food parcels...but why is it so popular?

An alternative version of our T-Roc reminds us of a specific problem with Volkswagen's 1.5 TSI engine

The T-Roc is the most customisable - if that's the right word - of all the Volkswagens. It ain't cheap though.

We welcome a Volkswagen T-Roc onto the Honest John fleet. Is this the company's best pound-for-pound crossover?