Our Cars: Suzuki Swift 1.2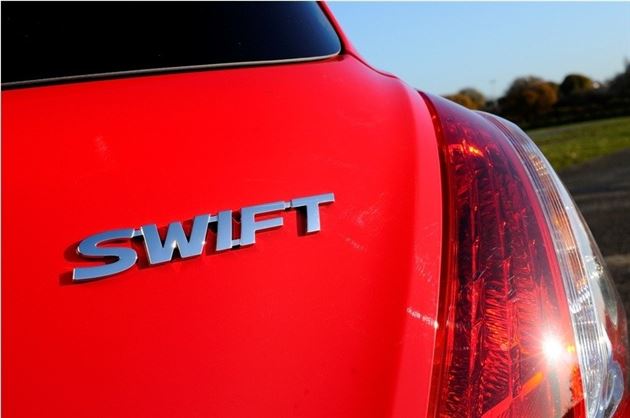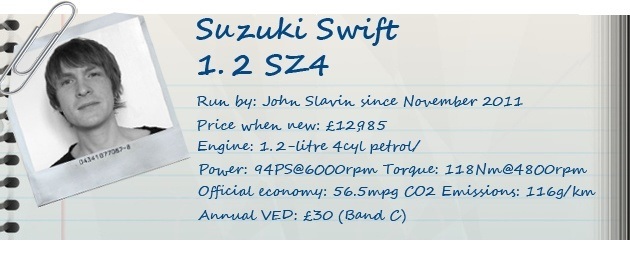 17 February 2012: Top accessories
The Details
| | |
| --- | --- |
| Mileage | 2101 |
| Claimed economy | 56.5mpg |
| Actual economy | 46.1mpg |
The Swift comes with a lot of standard kit – you can read about it here – but what if you want a little bit more? Well there's a whole catalogue of optional extras to enhance practicality, security and style. I've picked out five of my favourite optional extras – as well as a few to avoid.
Black Leipzig alloy wheels
Most of the trim levels come with alloy wheels, but unless you ask you'll get the standard ones, which are pretty enough to suit most tastes – but I like to stand out a little bit, so I prefer these black 'Leipzig' alloys. They don't come with tyres, though, and they cost £153.19 each... so if you fancy them you'll need to add a fair bit to your budget.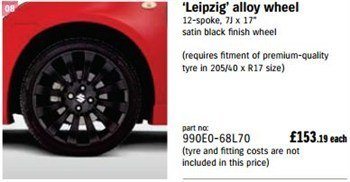 Locking wheel bolt set
If you're gonna spend a small fortune on fancy alloy wheels then you might as well fork out £25.54 for some locking wheel bolts – that way you won't end up with them getting stolen. They're Thatcham approved and come in a nice little red box.
Sports body styling
There is, of course, a Suzuki Swift Sport, but if you're not a speedy driver and you still want good looks you can specify all sorts of stylish extras, including a diffuser style rear bumper for £415.86 (or £504.86 in a snazzy gloss black), a boot spoiler (£328.15), side skirts (£379.38) and a deeper front spoiler (£416.93). If you like the rally look, you can get a set of mudguards, too.
Centre arm rest
I often have to travel a long way so I appreciate a comfortable car and things like a centre arm rest can really help relieve tired arms and make a journey more bearable. This one costs £158.14 and doubles as a storage bin.
Boot protection
The Swift doesn't have a big boot and thanks to a fairly high sill it's quite tricky to load up. A boot sill protector, made from stainless steel and priced at £53.03, keeps everything safe if you regularly load heavy objects. There's also a rigid moulded boot liner, which is ideal for carrying dirty things like garden waste because it keeps the carpet in pristine condition. It costs £32.60.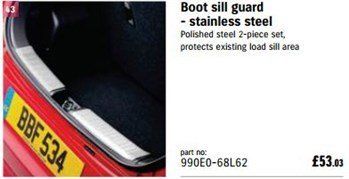 Besides these five options there are plenty more, including child seats, rear sunshades, door sill protectors and spare bulbs, but some of the options don't really make much sense – or aren't to my taste...
Tow bar
If you're going to tow something then your best bet is a manufacturer approved tow bar – but the Swift isn't really designed to tow. It doesn't have much low down torque and it's very light, so pulling anything other than a small trailer would be hard. Not only that, but it messes up the handsome styling!
Pioneer multimedia unit
It's nice to have a high quality audio system. This one offers a touch screen interface and sat nav, so it has all of the bells and whistles, but it costs £1858.20. For that you could buy several portable sat navs - they can be moved from car to car and it's cheaper to update them.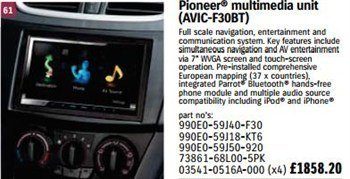 Ashtray
For £29.62 you get a small piece of plastic for your cigarette ash. If you don't smoke there's no point in getting an ashtray because it sits in a cupholder, which is already there and provides ample storage for coins and other junk. So this really is just for the smoker, but smoking in a car is bad news – it can knock hundreds off the resale value.
What's good
Options: There's a lot of optional extras, with something to suit all tastes.
And what's not
Underuse: I've not really added much mileage lately, because London isn't the most car friendly city. 
« Earlier: That's interesting... Later: Where has the Swift been? »
Updates

Six months and 6500 miles have passed since the Suzuki Swift first arrived but now it's time to say goodbye. So how has it fared in its time with us?

Most of the time I've spent with the Swift has been in the cold of winter but now the sun is out the Suzuki is much more enjoyable to drive.

It may seem a new name, but the Swift's history can actually be traced back to the early 80s. Can you remember all the models?

When you order a car you probably think nothing more until it's ready - but what happens between signing the papers and taking delivery?

You never can tell where your car is going to take you, so I've highlighted some of the journeys that test the Swift's versatility on a map.

17 February 2012: Top accessories
I pick out some of the best - and worst - optional extras from the accessories brochure.

Having spent a while with the Swift I've started to pick up on things you won't notice in the showroom or on a test drive.

When the new Swift was launched many people - rightly - observed that it looks like the old one. So what's the difference?

A recent minor bump opened my eyes to the amount of safety kit fitted to the Suzuki Swift, which has a five star Euro NCAP rating.

The Swift has, so far, impressed. It's great on country lanes, packed with gear and works well in town. But what about on a long motorway trip?

It's not uncommon for little cars to offer enjoyable driving dynamics, and expected as much from the Swift. Turns out it's a revelation.

The first thing I noticed when the new Suzuki Swift SZ4 turned up is just how much standard equipment you get.