Our Cars: Suzuki Swift 1.2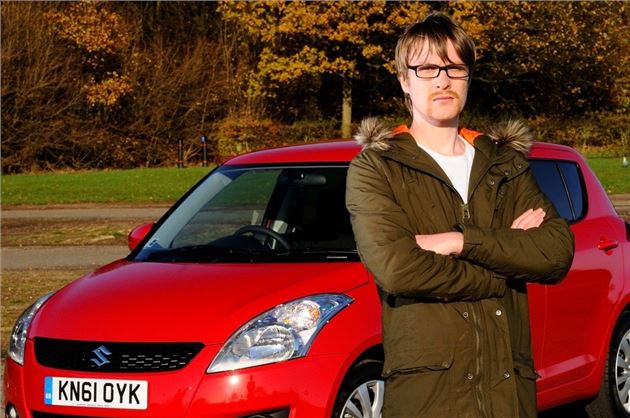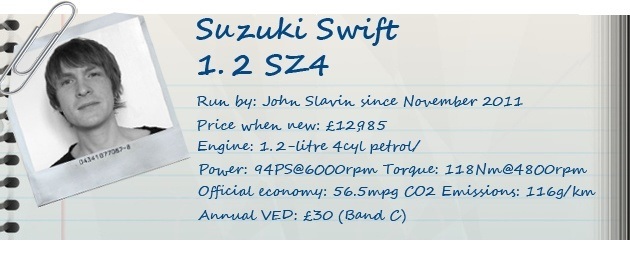 7 June 2012: Farewell, Swift
The Details
| | |
| --- | --- |
| Mileage | 6892 |
| Claimed economy | 56.5mpg |
| Actual economy | 48.1mpg |
When the Suzuki Swift arrived in November last year, resplendent in red, I was surprised by how much equipment it had. In SZ4 trim there's everything from Bluetooth and cruise control to keyless entry and start – and that first impression has been a long lasting one. Having spent six months driving it, taking in towns, cities, country lanes and motorways I've grown quite accustomed to the various gadgets. They're the car's strongest selling point.
Keyless entry and go is particularly handy – merely having to press a button on the door in order to unlock them is a boon, especially when it's a cold day and you're carrying heavy bags. There's no fumbling in your pocket and it becomes second nature that you occasionally find yourself forgetting about the necessity of keys when it comes to getting in and out of the front door at home.
Similarly, cruise control has become so useful to me, given my regular long journeys from London to the North East, that I think I'd feel a little lost without it. It makes life incredibly easy when the motorway is quiet and is especially handy when there's a 50mph zone to navigate, of which there seem to be increasingly many. The easy to tune radio and USB connectivity also make the tedium of the motorway pass more enjoyably. 
They haven't been the only impressive features though. Fuel economy has been good, with the final average figure standing at 48.1mpg. This is short of the claimed figure of 56.5mpg, but as that's established in a laboratory it's fair to expect a real life figure to fall a little short. The Swift's also been an enjoyable car to drive, with fun handling on B-roads and lively performance from the 1.2-litre 94PS engine.
It's not all been great news, though. The long motorway cruises would have been a lot more pleasant of there was a sixth gear, because at 70mph the engine can be a little loud and intrusive. Plus while the cabin is handsomely styled and pretty well screwed together, some of the materials feel a bit cheap. Finally and most frustrating, is the rear parcel shelf, which you have to consciously pop back into place after loading. If you don't it blocks your rear visibility entirely.
Overall though, the car has been impressive. It's frugal, well styled, enjoyable and reliable. With its good level of standard equipment it'll leave those people in the market for a small hatchback wanting for very little.
The chart below is interactive and shows some of the statistics from our six months with the car, including mileage, fuel economy and costs. Click the bubbles for more details. 
« Earlier: Better weather, better car