Our Cars: Skoda Rapid 1.6 TDI SE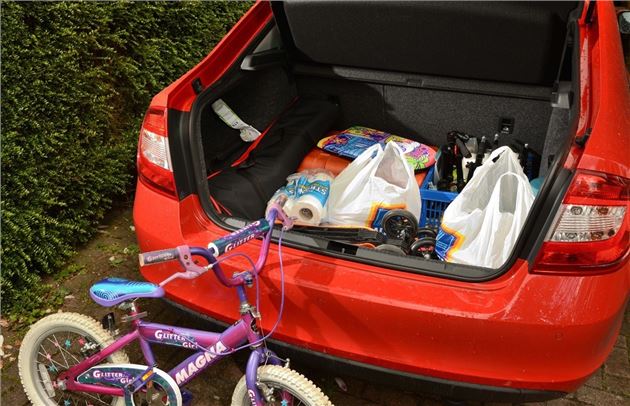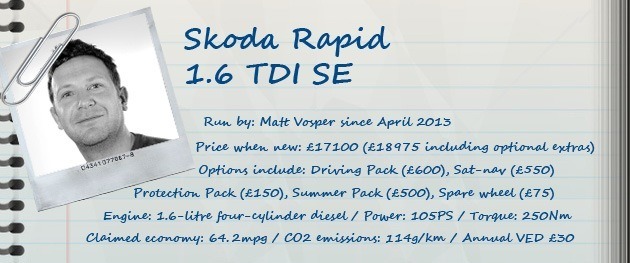 24 May 2013: The Tardis-like Rapid
The Details
| | |
| --- | --- |
| Current mileage | 4032 |
| Claimed economy | 64.2mpg |
| Actual economy | 75.0mpg |
| | |
I've been driving the Rapid for just over a month now and I have to say I'm very impressed. Lifting the tailgate reveals a very large boot that's 550 litres. Compare that with say, a Golf, which has around 380 litres you get an idea of how good this is. It looks like a saloon, but it's actually a hatchback and I can easily get all my equipment in.
On a recent trip with my children I managed to fit my daughter's bike and both of their scooters, as well as all my camera equipment, into the boot without folding  the seats. Plus some food shopping. That wouldn't be possible in a standard hatchback.
The extra space doesn't just stop there as there's a wealth of legroom in the back. This one of the Rapid's big strengths and what makes it so attractive - you get masses of space in a small car. There's enough room for three adults to sit comfortably without feeling cramped. I've even found myself sitting in the back with my laptop editing photos helped by the privacy glass which makes it dark enough to clearly see the screen. My children benefit being able to watch DVDs without complaining of not being able to see the screen.

I chose the 1.6 TDI for its economy and I have to admit that it really does seem to be achieving its claimed figure of 64.2 mpg. In fact it's exceeding it. My latest journey took in some 175 miles of M25 and A1 traffic with the Rapid returning an average of 75mpg. Mightly impressive.
Disappointingly, the cruise control doesn't seem to work which is a pain on long motorway journeys and would probably improve the economy further. It's something I need to investigate so a trip to the local Skoda dealer might be in order.
Our car is also fitted with the media interface and Sat Nav system. It's an all in one job including radio, sat nav and an aux-in. First impressions are that it's very intuitive to use but the guidance system has found itself lost on two occasions already. Seeing as how I've only used it twice, I've already decided to not rely on it too heavily .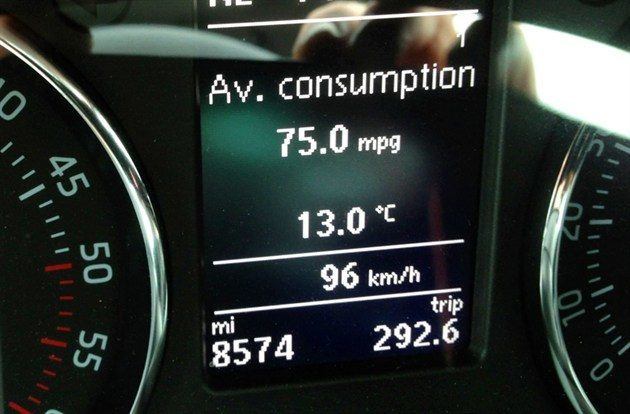 « Earlier: Rapid by name, Skoda by nature Later: Rapid on the road »
Updates

Our Rapid is leaving us after six months and while the leaky door problem remains unresolved, we still think the Rapid is an impressively practical small family car.

We've been keeping an eye on the Rapid's fuel economy over the past few weeks which has been a distraction from the leaky doors problem.

Our Rapid is back after its fix but it seems the water leak problem has returned, leaving us with a bit of a headache as to what to do next.

Our Rapid has gone off to Skoda HQ in the hope that the leaky doors problem can be solved. In the meantime, we've been looking back at how it's performed so far.

The recent thunderstorms and heavy rain have highlighted a worrying issue with our Rapid which sees the rear doors get filled with water when it's been left parked.

Goodwood may be all about performance and glamour but that didn't stop our Rapid getting a run down the hill. Even if it was under a 10mph restriction...

The sat nav in our Rapid is a good value system that also adds Bluetooth but it can be a little too keen to divert you around imaginary traffic problems.

Our Rapid is proving a bit like Fort Knox when it comes to actually unlocking all the doors and getting in.

We've been impressed with the space and practicality of our Rapid but after several thousand miles already, what's the verdict on the handling?

24 May 2013: The Tardis-like Rapid
The Rapid may look like a saloon but it's actually a hatchback - and a very practical one and that - with a huge boot and loads of rear space.

The new Skoda Rapid is the latest addition to Our Cars and with its practical space and economical TDI engine it should prove the perfect car for our resident photographer.